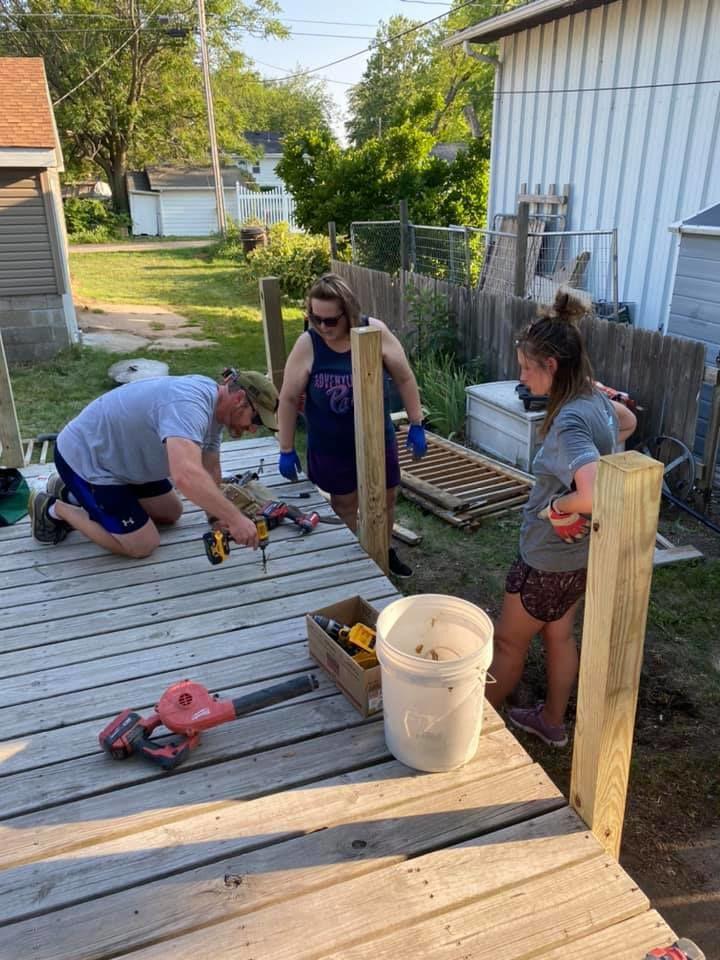 Habitat for Humanity of Columbus has been busy this summer with the completion of its first veteran home repair project. The nonprofit is also nearing the end of this year's home build and starting on the development of its new subdivision.
The local Habitat chapter began planning a veterans cause after the international organization began theirs, said Lori Peters, executive director of Habitat for Humanity of Columbus.
Tlali Garcia, who's currently serving the National Guard in Africa, receiving a Habitat home last year was the first step in that effort. Habitat officials began speaking with veteran groups on what would be the best approach for the community.
"What we found is the veterans in our Columbus community are really aging and we wanted to help them age in place as long as we could. So that's when we decided the repair program was the best route to take," Peters said.
The repair program helps aging veterans unable to perform tasks for their home, such as painting the outside of the house, patching up the roof or making the bathroom handicap accessible. A newly-formed Veterans Committee, consisting of veteran and non-veteran community members, spearheads those projects.
Rodger Hanak is the first veteran benefitting from the new program. His home repairs, which Peters said are completed, included establishing a handrail on his front steps. But, as Habitat officials met with Hanak, it turned out there were other small home improvement projects that they could help him get done.
"It turns out that he had been purchasing the siding for his home for the last two years. … It was sitting in his garage, so we said, 'well, we can help you with that,'" Peters said, adding that soffit, fascia and gutters were replaced with donations by businesses.
A few men saw that Hanak's backdoor was weathered and rotten and replaced that as well. Hanak also had materials sitting around for his partially-built deck, so Habitat finished that and another business did some landscaping around his home that will be easy for him to maintain. A group from DNA Genetics, which is where Hanak works part time, assisted with putting on deck rails.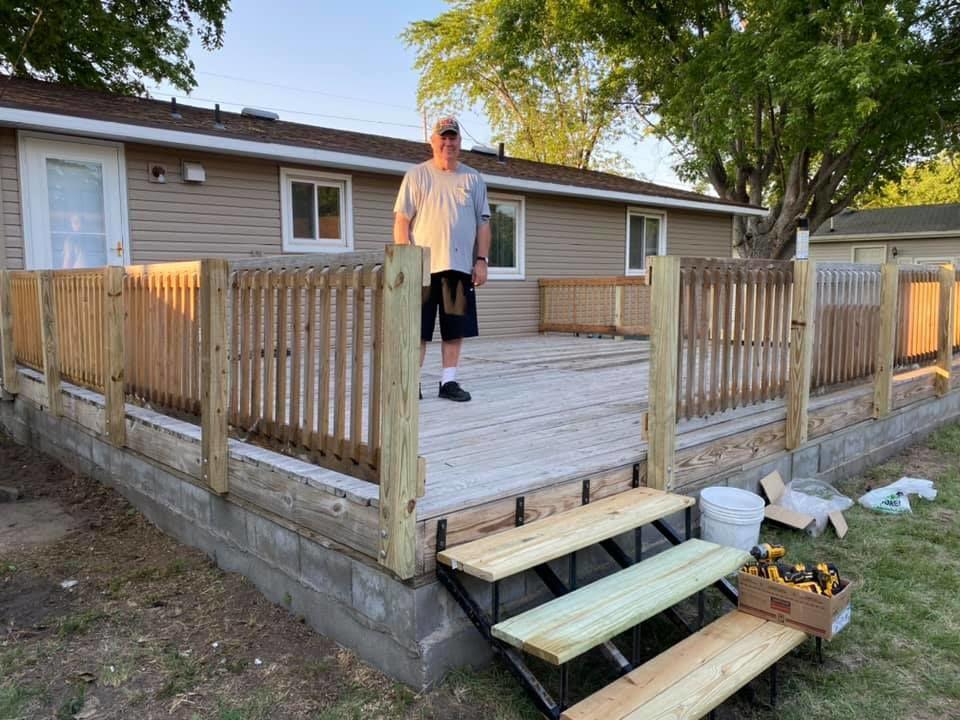 Tyler Engstrom, who serves on the Veterans Committee, said the improvements will make a big impact on Hanak's life. Engstrom said he became involved because his employer, BankFirst, is a corporate sponsor for the program.
"The house looks completely different than what it did if you've seen the before and after pictures," Engstrom said.
Engstrom added that Hanak appeared glad to finally see some of those repairs getting completed.
"It was nice to be able to help them out and get it all taken care of and now he doesn't have to worry about it," Engstrom said.
One of Hanak's two daughters surprised him by coming by this past weekend, Peters noted.
"Both the daughters stained the deck that we had put on and bought him a table and chairs this weekend," she added.
A reception for Hanak will be held at 5:30 p.m. on Aug. 13 in his backyard. The public is invited to attend.
The following month, Habitat will be holding a dedication for this year's new Habitat home, which will be owned by Maria Ortiz. It's a fully handicap-accessible house as Ortiz's son, Moises, has cerebral palsy, which is a group of disorders that affects a person's movement, muscle tone and coordination.
Although not currently wheelchair-bound, Moises will most likely be in the future and he'll likely continue living at home the rest of his life, Peters said. Additionally, the student-run Campus Committee built a bed and special desk for Moises that accommodates his wheelchair, she added.
The new Habitat house dedication will be at 5:30 p.m. on Sept. 2.
Infrastructure work has started with Habitat's new subdivision, New Hope 2, located on 41st Avenue between 13th and 14th streets. Habitat broke ground on New Hope 2 in October 2020.
The current sewer line is too high in the lots, Peters said, so Obrist & Company is building a new sewer line that is at least the required 8-foot below ground. The City of Columbus is then going to pave that road, which was previously gravel, she added.
"If everything goes as planned, it'll be done at like the end of October, the street and everything," Peters said.
Peters said she's also been busy attending meetings as Habitat for Humanity of Columbus will be the recipient of this year's Taste of Columbus, which is slated for Oct. 10.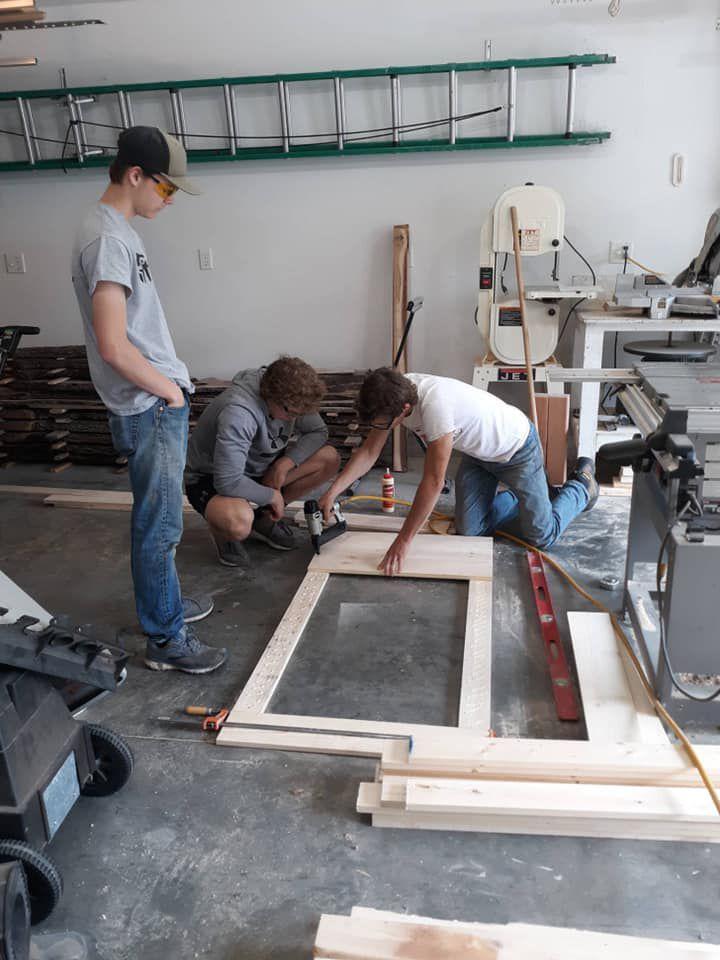 All of the planning, projects and meetings means that those in need in Columbus will hopefully be getting the help they need, she added.
"There's just so many people with needs, we can do more," Peters said. "It's good to be busy because that means we're doing more, we're loving our neighbor."