As homecoming queen, student council president and a multi-sport standout athlete, Gothenburg native Jenna Clark was happy as could be – at least on the surface.
But one morning during her junior year of high school, her guidance counselor, Jerry Wiggins, saw her differently. He saw through her smile.
"'No, I want to know how you're really doing,'" she recalled him saying when she answered his question with a smile and a simple 'fine.' "It was the first time someone had asked me that."
The truth was Clark was not OK, she wasn't happy. She had been witnessing and enduring family struggles at home that, at one time, forced her and her siblings to live in a hotel for an extended period.
"I went through a really dark time where I was very depressed," Clark said. "He said, 'it's OK to not be OK.' He recognized I wasn't OK and loved me through it."
It was a life-changing moment for Clark, as was changing careers multiple times, becoming a mother twice and having to battle cancer while pregnant with her second child. But she's a fighter, a giver, a kind-spirited individual whose less than ideal circumstances at times shaped her. Everything she has been through has done that.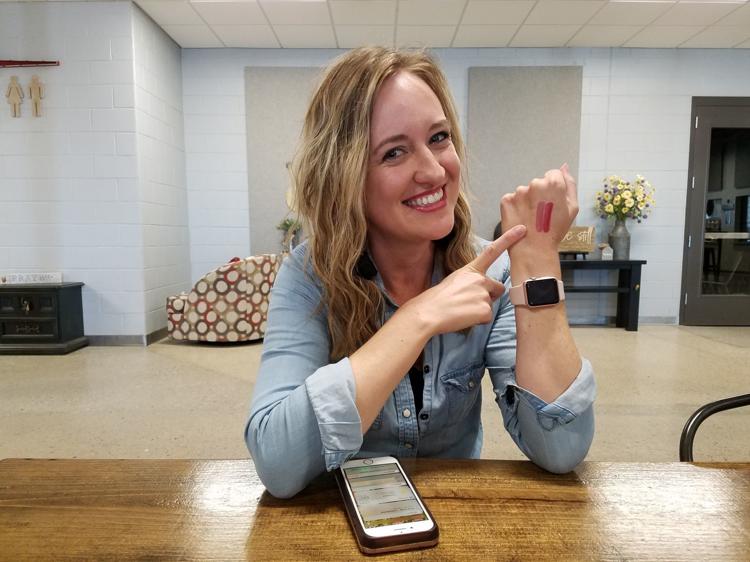 "Jenna is the most kind, giving, honest, the most genuine person. You couldn't find a better friend," said Columbus resident and longtime pal Amy Williams. "She has such a giving heart. She is selfless, whether it was when she was doing social work and giving to all the people who were needing her or for a friend in need. She is always giving and never expecting to receive."
GROWING UP IN GOTHENBURG
Born and raised in the small town of Gothenburg (almost three hours southwest of Columbus), Clark was the oldest of three children (she has a brother and sister). With her home life rocky throughout her childhood, Clark found comfort by diving into athletics and extra-curricular activities.
"I used the outlets as my safe place essentially," Clark explained.
Besides student council, she jumped into athletics by competing in basketball, track and cross country. She was also a member of the 1999 Gothenburg High girls Class C state champions cross country unit, which took the top spot the year before Scotus Central Catholic girls' three-year-consecutive run that started the 2000s. Sports and activities gave Clark not only the chance to get her mind off of home but also to develop leadership skills and make friends.
"I'm a sports enthusiast; I love the team aspect and it was good for me," she said. "I loved my coaches – they were great role models for me. They were like family. So I was active in everything, I volunteered for everything."
Despite all her success in high school, Clark's unhappiness weighed on her. That fateful day her counselor said something to her will always stick out because it set the tone for the rest of her life. Soon after that conversation and taking care of herself, Clark knew she wanted to pay it forward. It further enhanced her desire to help others find happiness.
FINDING HER WAY
Clark went to Doane University in the early 2000s with the intention of becoming a teacher. But quickly after the start of her freshman year, she knew there was a problem.
"I realized when I got there that while I love working with people and children, I was actually so shy that the idea of getting in front of a classroom made me sick to my stomach," Clark said, with a laugh. "I didn't have a fear of interacting with people, but I had significant fears of public speaking and being in the limelight."
Despite those fears, there was no way she was going to let her passion for leading and making a difference go by the wayside. Instead, she decided to pursue and obtain a degree in psychology.
"I found that I loved being able to still work and help people, but just do it in small groups," she said.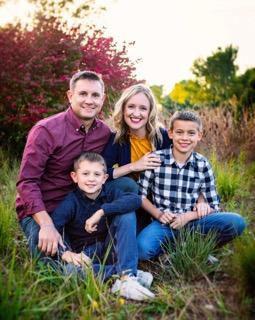 Her freshman year also brought romance, as soon enough she married the love of her life, Patrick, also of Gothenburg. Midway through college, she had found her "happy place" – married and working toward turning her passion into a full-time career. They welcomed their first son shortly after she graduated college.
HELPING HANDS
Only a month into starting her new job as a child and adolescent advocate for Columbus nonprofit Center for Survivors after graduating college, Clark found herself in the local police department calming a young boy who had been the victim of physical abuse at the hands of family members.
"I would go to the shelter every day and there was a little boy whose parents hurt him so badly," she said, recalling how the boy had been tossed down the stairs and hurt in many ways. "His face was almost unrecognizable. I was the only one he felt comfortable with."
That night while she comforted him, the young boy asked her if she would be his mom. She admittedly cried once she got home and got emotional – it was heart-wrenching. It also made her understand the importance of getting more of the community involved with the nonprofit that serves victims of domestic and sexual assault, dating violence and human trafficking in Platte, Colfax, Butler, Polk, Nance and Boone counties.
"At that moment, I knew I had to bring in more people to make a difference because there are so many kids in our community who need love and I couldn't do it alone, because my heart wouldn't have survived it," she said, noting she heard stories from hundreds of young girls and boys in the community who witnessed abuse, or were physically or sexually abused firsthand. "I got a true taste of hurt in our community."
The Clarks moved to Columbus in 2006 for their careers (Jenna worked at the Center initially while Patrick was hired and remains a teacher at Columbus High School).
As part of her role with the Center, Clark went into area schools and talked with students about different kinds of abuse and dating violence. It was tough work, but she loved it and was fully committed to it for a long time.
CHANGE OF PLANS
By mid-summer 2009, the Clarks were happy and expecting their second son. But as months went by, Clark began noticing one of her ears kept popping. It was admittedly annoying; however, she didn't want to go to the doctor out of fear of getting sick while pregnant.
Her ear had actually been popping all day, every day for three months before she relented and went to the doctor thanks to much encouragement from friends and family.
On Sept. 8, 2009, her life changed. Suddenly, everything stopped.
That was the day Clark had that ear-popping checked out. After being told it looked fine, the doctor questioned a nodule on her neck.
You have free articles remaining.
"She just said, 'have you always had that bump?' And I laughed and said, 'you mean my Adam's apple?'" she recalled.
A thorough exam would result in a diagnosis of papillary thyroid cancer about a week later. The Clarks faced a scary unknown future all while she was several months pregnant with their second son and they were raising a then-2-year-old.
On Sept. 15, she had surgery to remove the lump. That resulted in a total thyroidectomy and more bad news: The cancer had spread to the lymph nodes.
Despite the horrific news, Clark said she is grateful she went to the doctor when she did. Had she not, she might not have known she had cancer until it was too late.
Clark chronicled her experience almost a decade ago in a blog, "Jenna's Journal."
"What? Did she just say cancer? Now? While I'm pregnant? What about my baby boy? Seriously … cancer? I'm 25," she wrote in a post from Tuesday, Sept. 29, 2009.
The timing of the diagnosis came just in time, though. She was in her second trimester when she had the surgery. Had she had been in the third, the risk associated with the surgery would have been much higher.
She decided to put her cancer treatment on hold because she was pregnant. After the total thyroidectomy, she was put on Synthroid, a medication designed to replace the thyroid hormone her body was no longer able to make on its own. She was on medication, but the combination of being pregnant and fighting cancer left her drained.
"I just needed to get well," she said.
Once her second son was born, Clark eventually got back to treatment. It began with her going off the medication in order to rid her body of the thyroid-stimulating hormones (TSH). That process was needed in order for the radio-iodine treatments to work most effectively. It was difficult for many reasons, she noted.
"It basically makes you radioactive. You can't be around anyone else; I couldn't hold my baby or anything," she said. "It was really hard – it was just terrible.
"I hurt all over; I would sleep 18 hours a day. My body couldn't function; it was pretty intense, but it worked."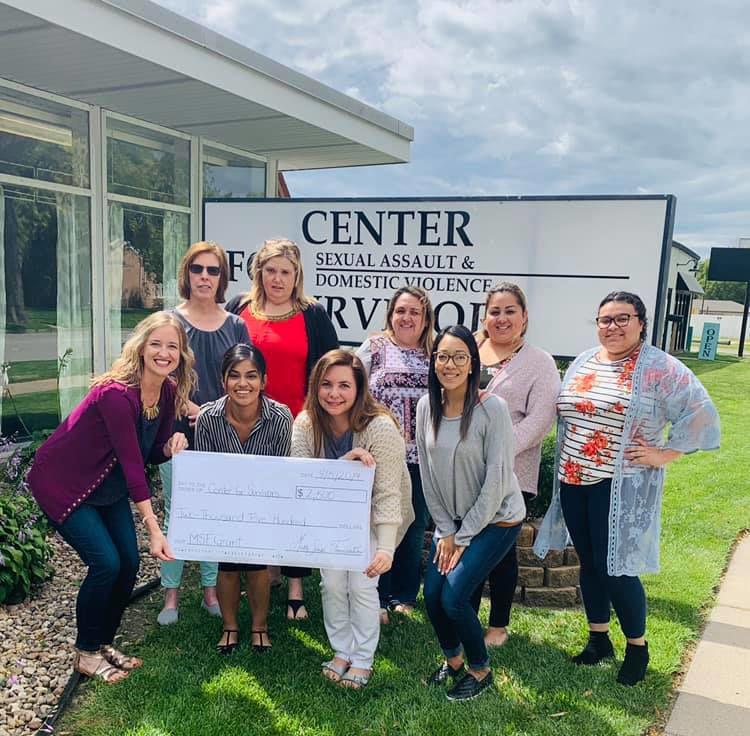 LIVING LIFE STRONG
After about eight months of recovery, Clark returned to the Center for Survivors. She continued to love what she was doing professionally but decided to step away from that role after a while to focus on other efforts.
"I started to realize I needed to do something different for myself. I was starting to bring work home with me and it burdened my heart," said Clark, who remains a big advocate for the nonprofit to this day.
Clark spent a few years employed as a social worker of sorts at Columbus High School, among other things, but for the last four years has been working for SeneGence International, helping sell makeup and skincare products. The career change came about after Clark happened to come across a friend's social media post about the company's unique lipstick.
"It was a lipstick that didn't budge. I bought some and thought, 'this stuff is incredible,'" she said, pulling out a tube of it and showing how it didn't smear on her arm on a recent morning.
She's flourished in the role, now leading a team of about 1,000 people throughout Nebraska and another 2,000 outside of the Husker state. She said her Nebraska team has sold millions of dollars' worth of product and ascended to third overall in the company among states across the country in sales.
"It's great, it's fun. I call it my hashtag makeup ministry," she said, laughing. "It allows me to still help women and make them feel confident, just without the burden I was living with before."
Clark is also quite the active community member. She's highly involved with her church, Columbus Berean, where she serves as women's ministry coordinator, among other things. She's also helped with Sammy's Superheroes, Night to Shine, and of course, Center for Survivors.
She and Patrick, along with their children, 12-year-old Grady and 9-year-old Gavin, also have made it a point of baking cookies and delivering them to various law enforcement and first responder agencies during the holidays throughout the years.
"We just want them to know how thankful we are and brighten their day," she said. "We feel it's important to give back to those who give the community so much on a daily basis."
The Clark family is a special bunch, according to close friend and Columbus resident Erin Nahorny.
"They are just some of the kindest people we know. Their whole life is about service to other people, their church and their community," Nahorny said, adding that she's proud to call them friends and a personal cheerleader of Jenna's.
On Thursday, Clark learned that her tumor markers went up significantly and was planning to undergo an ultrasound and CT scan to find out what exactly was going on.
"First of all, thank you for all of your prayers and well wishes. I am truly blessed to have so many friends in my corner," she wrote in a Facebook post announcing the unfortunate circumstances.
Although the past has been less than ideal, Clark counts her blessings and is thankful for what she has in her life. She said days before her latest diagnosis that everything she has experienced made her who she is today.
And though she won't say it, those who know her best will tell you:
She's a special person; a loving wife and mother, daughter, dear friend, a hard worker, caring and selfless individual. She's a fighter, a giver, someone who desires to only live life to the fullest, help others, and hopefully, inspire others to do the same.
"I often look back on (my childhood) with a grateful heart, which sounds crazy to a lot of people. But without my upbringing I wouldn't have the compassion I do or interest I do in helping and serving others," she said. "And a cancer diagnosis will change you forever because I will always remember that day and always remember how terrible it was not being able to hold my babies.
"So I truly try to live each day in a new way and to love others well each day because you just don't know what tomorrow brings. As cliché as that sounds, it's truly the truth."
Matt Lindberg is the managing editor of The Columbus Telegram. Reach him via email at matt.lindberg@lee.net.