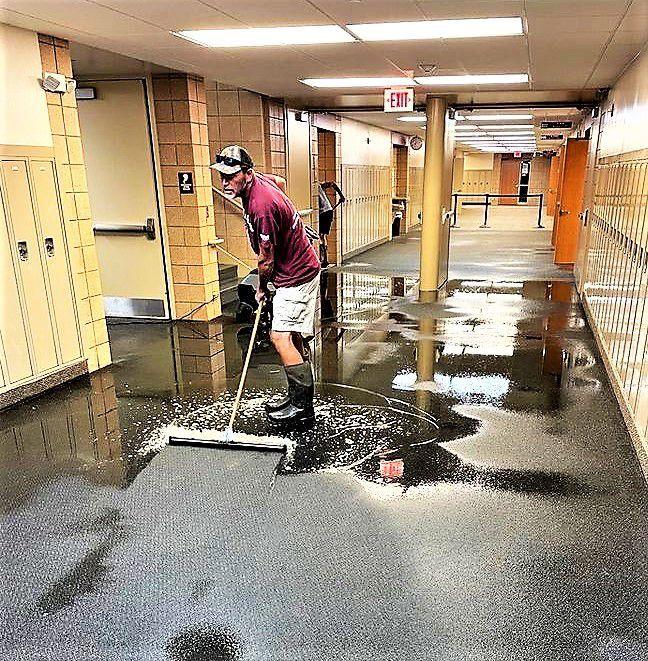 Columbus Middle School, North Park Elementary and Cassette House classes were called off Tuesday due to a heavy rainstorm occurring earlier that morning.
CMS, 2200 26th St., suffered the worst of it. Columbus Public Schools Superintendent Troy Loeffelholz said the north hallway, south entrance, six to eight classrooms and part of the cafeteria were partially flooded.
"We're lucky it wasn't sewer back-up; it was just water back-up," Loeffelholz said. "The city pumps and drains outside on the street just couldn't keep up so the water was backing up inside."
North Park, 2200 31st St., didn't experience any flooding, but 31st Street and the school's parking lot were submerged.
Loeffelholz said although the building itself was fine, CPS felt it was best to call off school at North Park as well. Water in the parking lot was drained later that morning.
"I think by 8:30 it was completely dry," Loeffelholz said. "But at 7 we had to make a decision because families are getting ready for work and you just don't know (the flood condition). … It would have been hard for people to get to the school."
Staff from CMS and Cassette House – a program for students with special needs held in a separate building from the middle school - reported later at 8:30 a.m. North Park staff also came into work at around 10 a.m.
Loeffelholz said the teachers and staff used the day as a "teacher workday." The schools reopened on Wednesday. 
However, for CMS right now, it won't have all of its classrooms available.
The custodial staff is fixing the submerged rooms to prevent mold from growing, Loeffelholz said. Meanwhile, Columbus Middle School administrators are figuring out where the classes whose rooms are temporally inaccessible should meet, he added.
Platte County Emergency Management Director Tim Hofbauer said Loup Power District reported 1.96 inches of rain. But, he said he's heard from others that they received more than 2 inches.
Hofbauer also said he is not aware of any buildings outside of Columbus Middle that experienced flooding. The rainfall did create flooding at numerous intersections but Hofbauer said it wasn't too bad.
"When you get this amount of rain, it's a common occurrence," he said. "There was some runoff into the streets."
Meanwhile, the rivers and creeks are still and did not contribute to any flooding, Hofbauer said.
That isn't the only rainstorm that could come through Columbus this week.
According to the National Weather Service's Omaha/Valley office, there is a 50% chance of showers and thunderstorms starting after 1 p.m. on Thursday with a 70% chance of rain later that night. The National Weather Service noted precipitation can range anywhere from half an inch to over an inch or move.
Because the recent storm made the ground saturated - not accounting for runoff - Columbus could see additional street flooding on Thursday, Hofbauer said.
"We could have another inch of rain," he said.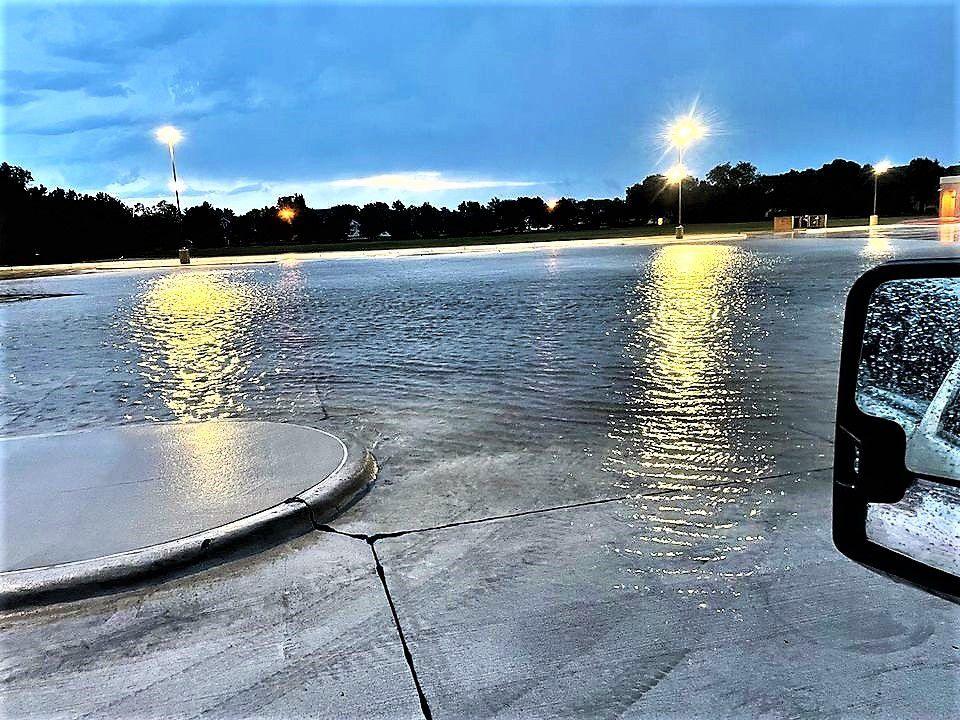 Loeffelholz thanked the custodial staff for their work in cleaning the middle school. He said many of them worked late Monday to only have to come in early the next day to remove water.
"We have an awesome maintenance and custodial crew," Loeffelholz said. "... To be honest, it's further along now than we thought. We're buying them lunch because they do fantastic work."