COLUMBUS — Janell Epp hunched down to eye level at the edge of the pool table.
The Grand Island native set her stance and steadied her cue at the perfect angle. Moments later, she sank three balls in the corner pocket, winning her second game of the day.
Epp is among the roughly 600 players participating in the annual Tournament of the Heartland at Platte County Agricultural Park. The three-day event gives pool sharks across the state a chance to test their skills and win some money.
Like many of the participants, Epp has spent years behind a cue.
"I've been playing for around 12 years, I think," she said. "I've competed in this tournament just about seven or eight times. I'm not sure, but I'll always keep coming back as long as I am playing. There is a lot of competition here and it's a good place to play."
Another competitor was warming up for the day ahead.
Ray Kuta of Columbus has spent the better part of a decade honing his pool skills. However, life has taken him down other paths, leaving less time for the game.
"I've been at this for about 15 years," Kuta said. "But now it's just a thing to do on the side. I've got a couple of kids now and I spend all my time with them."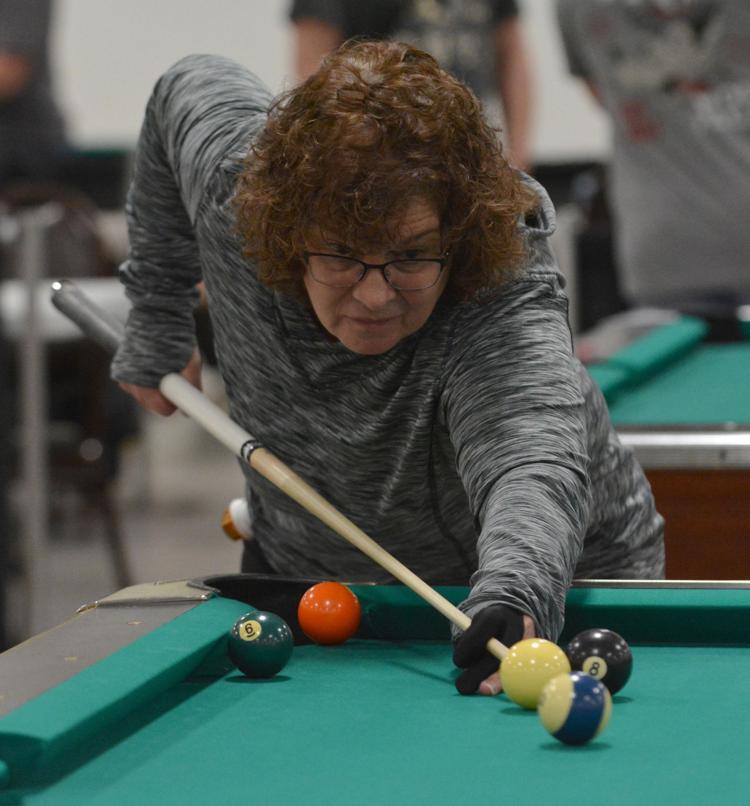 The Tournament of the Heartland has been an annual event for 17 years, according to Jason Miller, who helps host the tournament.
Miller, of Top Score Games, said the tournament is a way to "give back" to the players.
"It's what we like to call a 'reward tournament,'" he said. "People from all over Nebraska come to play together, drink and just have a good time. We like to offer them all this as a way to give back to the league players."
Among the crowd of seasoned players Friday was a younger face.
Ten-year-old M.J. Myers of Fremont hasn't played in many leagues in his career, but he still finds time to make his mark.
"Playing pool is kind of fun to me," Myers said. "I played a lot of pool a while ago, but now I'm into hockey. I was on a league in Hooper a little bit ago and I even had a nickname. I got a buzz cut one day so everyone started calling me Q-Ball."
Myers said his interest in pool comes from his father Jack, who taught him how to play.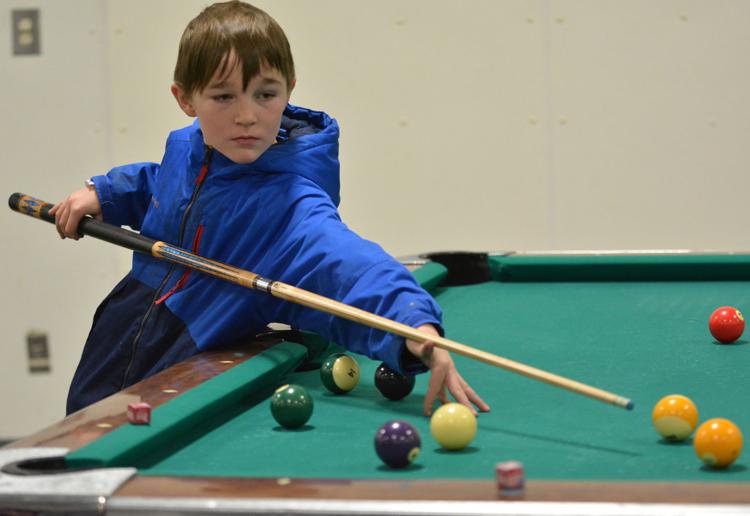 The second floor of Ag Park was filled with even more tables.
That's where Shari Rice of Omaha expertly won two games in five minutes.
"My brother taught me how to play about 10 years ago," Rice said with a smile. "He was killed in a motorcycle accident, but I kept playing. I figure I should do his memory right by keeping on playing for him."
Her dedication has paid off. Rice is part of a women's team in Omaha called Which Witch is Which. The team has won five state championships and made it to nationals three times, according to Rice.
The reasons why the Tournament of the Heartland is so successful are plenty.
Maybe it's the prospect of winning thousands of dollars in cash prizes, or maybe the rush of the game keeps players coming back.
Miller's wife Beth offered her own take.
"We only get to see most of these people once a year," she said. "They've become like family. Then there are new people all the time, so the family equation just keeps growing. It's just great."