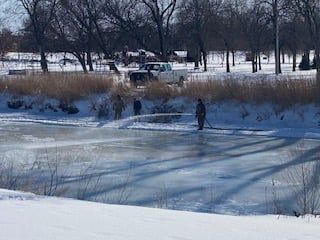 Those wanting to partake in winter activities can still do so as ice skating is open at Pawnee Park in Columbus.
Area residents and visitors can take advantage of the frozen body of water located near the City's water park.
"…Just east of the Pawnee Plunge, right by the Pawnee Plunge parking lot, is where we have ice skating," Parks and Recreation Coordinator Betsy Eckhardt said.
The City offers the opportunity yearly as long as the weather is cooperative. Eckhardt noted temperatures can't be too warm in order for the water to remain frozen.
"We definitely want it to be below freezing," she said. "We have been layering it so that the ice is pretty thick."
Some years, it hasn't been cold enough to offer ice skating at Pawnee, Eckhardt said.
Throughout the rest of this week, temperatures are forecasted to be in the 40s and upper 30s. But, she added, it will be safe for visitors to skate on.
"The ice is thick enough that it will stay this thick for some time," Eckhardt said. "This week people will be just fine. The only other thing we'd like to say is that if you fall, your bottom's going to get wet."
Public Property Director Doug Moore said that's because it's warm enough for the top layer of ice to melt. Usually, he noted, ice skaters prefer enjoying the activity when it's below freezing to avoid getting wet.
Ice skating at Pawnee Park has been a longtime Columbus tradition, Moore said. He estimated the opportunity has been offered since Pawnee opened in 1927.
"Before Pawnee Plunge was there, there was actually a skating shed," Moore said. "Where the Pawnee Plunge parking lot is, the old pool used to sit where the parking lot is and right next to that was, well it was called the park shop but in the evening it was used as a warming shed."
The Aquatics Club would keep the stoves running for when the ice skaters needed to warm up, he said.
"The heating shed had two warming stoves in it," Moore added. "First thing when I went to work in the morning, I'd get the stoves going so they were ready to go all day so if you wanted to go in and get warmed up … it was a big deal back in the day."
According to Moore, it was especially a popular activity for area kids during the 1960s and 1970s.
But, Pawnee Park hasn't seen as many people ice skating.
"Many years ago, it was a big activity for the City of Columbus," Eckhardt said. "As of the last few years, it has not been as popular, but we'd like to see it come back."
Those wanting to take advantage of the opportunity can do so anytime during park hours, Eckhardt noted.
"It's open anytime during daylight hours," Moore said. "We do have signs there, so you skate at your own risk."
It's free for the community and Columbus visitors who want to enjoy winter activities during their stay.
"It's bring your own skates, stay out there as long as you'd like and have a great time," Eckhardt said.