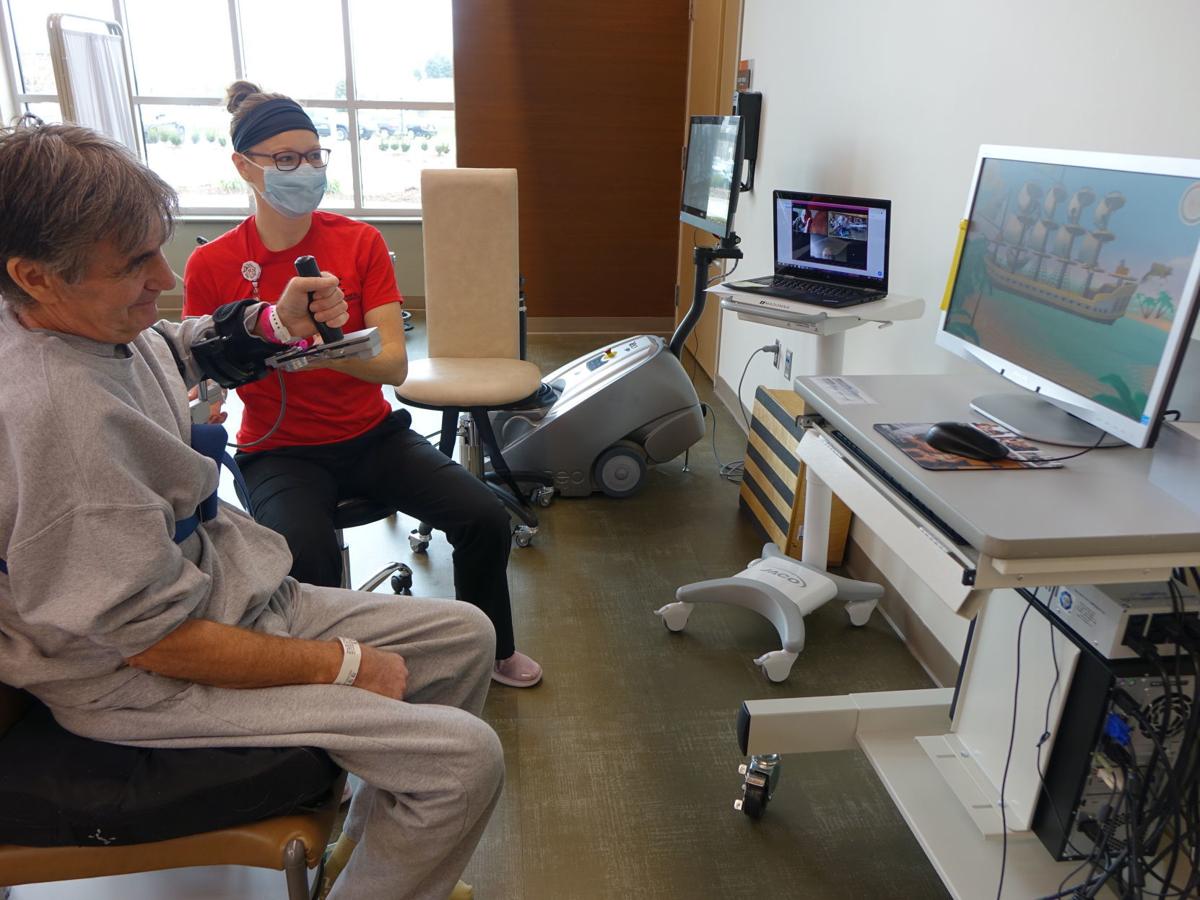 Gary Preister remembers saying "oh, please stop, stop, stop," but it was too late. His voice was gone. The drill rig was already climbing on top of him.
The accident happened Dec. 17, 2019, at a Columbus worksite for his Platte County-based business Preister Well and Backhoe. That day was life-changing, and now just a few weeks into out-patient care, Preister is reflecting on his journey over the last six months.
Preister was crushed by a drill rig; his injuries included a torn ligament, extensive broken bones, and extensive internal injuries.
After he passed out, he woke up on the Columbus bypass and watched the sheriff's cars and ambulances coming down 48th Avenue. He yelled at people to get him out from under the rig, stood up and then collapsed.
"I didn't realize I was hurt that bad. My whole backside was ripped out from underneath me, so I don't even know how I stood up at that point," he said. "The next thing I do remember is waking up, in Omaha, after I suspect I went through quite a few surgeries already. My family was all around the bed."
Later that day, Preister said he realized what really happened but he does not remember the helicopter ride to Nebraska Medicine, during which he coded. They took him off the helicopter and performed CPR for "about 15 minutes."
"They got me back," he said.
Preister's significant other, P.J. Babcock, received updates after the accident from Preister's son.
"When he first got into the accident and his son called me, it seemed like no big deal, he said he got run over by a truck, but might be just one surgery and a little bit of physical therapy," she said. "I was driving to Columbus, but then he called and said turn around, they're life-flighting him."
She got to Fremont and then turned around and got back to Omaha. His son called again and said they were taking him off life-flight, and to turn around and go back to Columbus.
"I drove back, got to Fremont, he called again. They're putting him back on life-flight," she said. "At that point, we went from a little bit of physical therapy to he won't make it. You know, seeing him in the ICU and on the ventilator, it's been such a difficult road."
His whole recovery process began when he went to Nebraska Medicine for three-and-a-half months and then Madonna's Rehabilitation Hospitals in Omaha for about three weeks, he said.
Then Preister went back to the medical center for skin grafts for a week, after which he went back to Madonna's to a less intensive level of care for another three weeks, he said. After that, Preister was released as an outpatient in the beginning of May.
Preister did two weeks of in-home care with a different organization because he developed such a backache after he came home he wasn't able to get back to Madonna's. Then he went back to Madonna's as an outpatient for the last two weeks.
The difficult road also included the COVID-19 pandemic, after Madonna's closed to visitors. Preister's family was unable to see him from March 19 through May 1.
Babcock said she would have never imagined in a million years they would be going through this, but family and faith got them through.
"It changes absolutely everything in your life," she said. "When you love somebody, it's family. I think everyone finds the strength that they need in their faith. We're Catholic and we have the strongest faith and we rely on God."
She said no one knows how they will react until it happens to them.
Preister said it was mentally life-changing for him.
"Life can change in a heartbeat," he said. "And it sure did for me."
He is doing much better, he said, and walking with a walker. There will be some life-long physical changes. For example, the doctors don't think they will be able to repair his shoulder, he said. He also might end up with a limp since his knee was broken in several different places, and he might never be able to straighten his leg completely again.
"I've learned to appreciate things more. I am a go-getter and I was always 'go, go, go.' At work, with my son, we've always been so crazy busy that I've always, you know, 'let's get there in the morning let's get out and let's get going,'" he said. "And now I haven't been able to go back to work and I probably won't be for a couple more months."
They always practiced safety, Preister said, but now it's even more important for them to be safe.
"It ain't always about getting everything done," he said.
Preister said he has four kids and seven grandchildren, with one more on the way.
"Coming home to all of them, and you know, because I went to the hospital and then I was in Madonna's and then the COVID-19 pandemic started here. I wasn't able to see them all for quite some time," he said. "So when I came home it was just, a, I don't know how to explain it. You just know how good you really have it."
Work is important, but family is more important, he said.
In March, Madonna's had to get creative with 'visitors'. For example, they tried to incorporate family into therapy sessions via Zoom.
"The very first Zoom session that we set up, I open my computer and Gary's family is on there," said Kayla Hoge, an occupational therapist at Madonna's who treated Preister. "And everyone is just quiet and I look and they're all crying like teared up, they're smiling, but they're like we haven't seen Gary in person in, at that point, well over a month.
Hoge said his family was really excited.
"It was a really touching moment for me as a therapist to see how big of an impact something as small as setting up a video chat could make on an individual and their day," she said.
Initially, Hoge said, they planned for Preister to go home in a wheelchair.
"When we first met him he could not stand on his own, he could not stand for very long. He needed help with most things," she said. "By the time he left, he was walking everywhere. He was on his own. He was determined to be independent."
Preister said he credits his success partially to his willpower but also to Madonna's.
"My leg was broken in several different places. I had some actual bars holding me from moving my legs and my pelvis was shattered," he said.
After the bars came off, he tried to stand up and said he couldn't even move. He said he couldn't believe his body basically forgot how to walk. Now, he can't believe how far he has come.
"Knowing how hard it was to get to that point, I was being lifted out of bed in a hoist," he said. "My body just wouldn't function."
He said he will be walking without the walker in about two months. He has about three or four more surgeries left after he said he's had more than 30. One of those remaining operations is to get skin grafts to fix an open wound on his back since only about 95 percent of his skin grafts took.
It's a blessing in disguise his significant other is able to be home with him while she's working from their place, he said.
"I don't know what I would do if I didn't have her here to help me every morning with getting wound changes and helping me out of bed," he said. "Everything and every day is just a challenge and every day I get a little bit better."
Get local news delivered to your inbox!
Subscribe to our Daily Headlines newsletter.