BELLWOOD — Aaron Rerucha's landscaping business kept him busy when the weather was good, but during the winter he had a lot of spare time.
One winter four years ago, he started experimenting with woodworking inside a small room of his grandfather's workshop.
"I came home one day with a little end table that was supposed to be a chair and I told Bri, I said, 'I think I'm going to be a woodworker,'" he said, referring to his wife Brianna. "From then on it's just never stopped."
He named the business Oxbow Rustic Furniture in tribute to his grandfather Gerald Mick, who built the Oxbow Pioneer Memorial Park that commemorates the Oxbow/Mormon Trail that ran through Mick's property.
After Mick passed away in 2008, his wife Pat Mick maintained the campground, but his workshop fell into disrepair. Pat said Rerucha could use the shop for his woodworking.
"I remember the first winter out here we froze. We couldn't get it above 30 degrees in here because of all the holes in the wall," Rerucha said. "The next year we insulated three-fourths of it. We can get it up to 55 now, which feels like a heat box compared to 30 degrees."
Rerucha's father-in-law, Fred Ritter, who used to teach vocal music at Columbus High School, has been helping him out since the beginning, sometimes putting in long hours sanding and working the large slabs of wood that will be transformed into desks, dining room tables, benches and more.
"I try to get out here when I can because it's almost therapeutic," said Ritter. "You sit out here amongst the cottonwoods and the dogs. It's a very relaxing, very neat thing for me to do in my retirement."
Both men are drawn to the beauty and stories hidden in the tree trunks. Oxbow takes materials many other woodworkers would turn away and embraces the character and story.
"Most woodworkers are looking for a slab of wood or piece of lumber that is perfect. There's no marks, no checks or cracks or bug damage or anything like that," said Rerucha. "Whereas we find that that's a lot of the natural beauty that's in the wood. Those are our favorite pieces to use because the figure of the grain changes so much with those characteristics."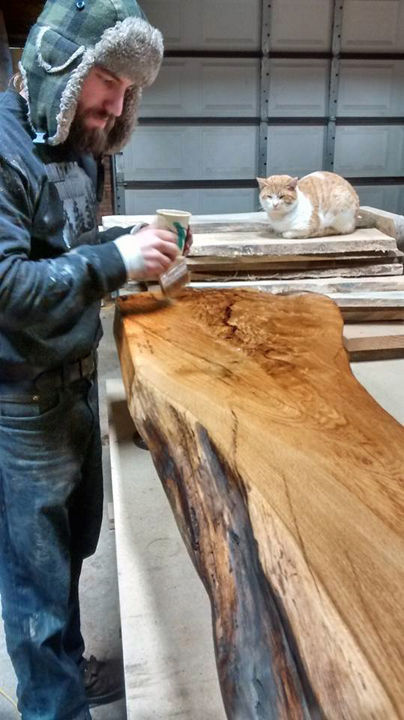 Rerucha uses a special burning technique to clear the rot out of bug trails and other damage. Sometimes they'll work through a slab of wood and find a nail or bullet inside. And sometimes the grain itself, once it's been sanded, turns out to be a work of art.
"You'll be sanding along and all of a sudden these beautiful designs will pop up and I'll go, 'Aaron, come here quick!'" said Ritter. "And we'll just discover all this beauty in this wood."
Through home and art shows, Oxbow's business has grown to the point where they're receiving a custom order a month from across the Midwest. Most orders take an average of four to six months to complete.
For a 4-by-10-foot dining room table, the cost can range from $3,000 to $12,000, depending on the type of wood and delivery. But the result is a piece of furniture unlike anything else.
"You can come out there and you can pick your own slab of wood and there's never going to be anything like it again," said Rerucha. "It's like heirloom furniture, you can hand it down to your kids and their kids and so on for 100 years."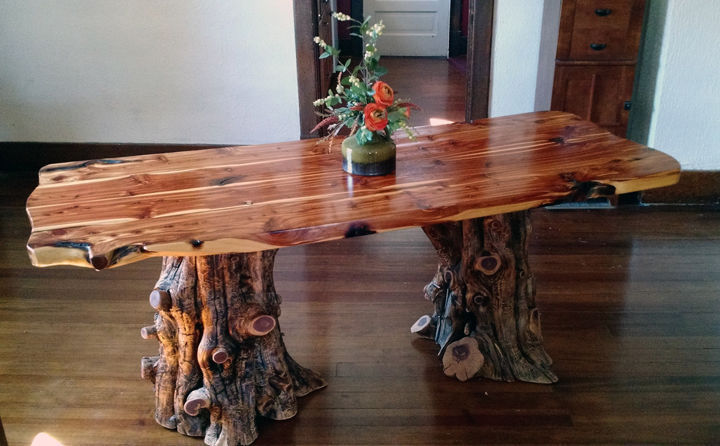 They've had some customers use the services to memorialize loved ones.
One client had pine logs from trees their grandfather planted that were later killed by beetles. The grandchildren didn't know what to do with the wood until they contacted Rerucha. He turned the wood into kitchen cabinets and an island.
"So all grandpa's trees are now inside their house," said Ritter. "How cool is that?"
Throughout its growth, Oxbow has remained a family business. Rerucha's wife helped around the shop but is now expecting their first child later this month.
Rerucha seems ready to slow down with the arrival of his child.
"I think I'll be excited to go in and be able to shut all this down by 4 o'clock or 5 o'clock, instead of 9, 10, 11, 12 o'clock," he said. "I'm kind of tired of that."
He'll continue woodworking, not only to support his family but also to fulfill what he sees as a higher purpose.
"I hope I can always continue to do what I love to do forever, until my time is up, but more importantly do what I love to do and still reflect the beauty of God's creation through woodworking," Rerucha said. "I pray that I never lose that mindset because that's what I think people fall in love with is that beauty that's in the wood. And it's all created by a single stroke of God's hand. We just get to enhance it."