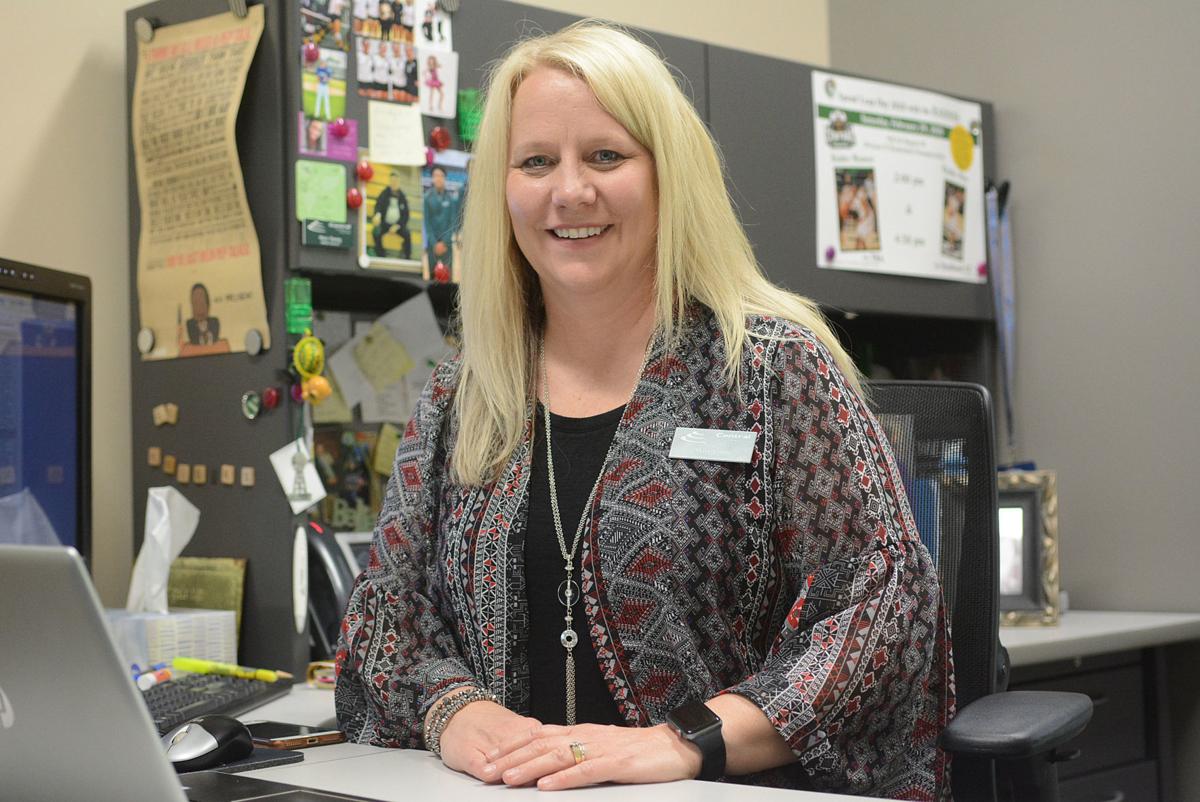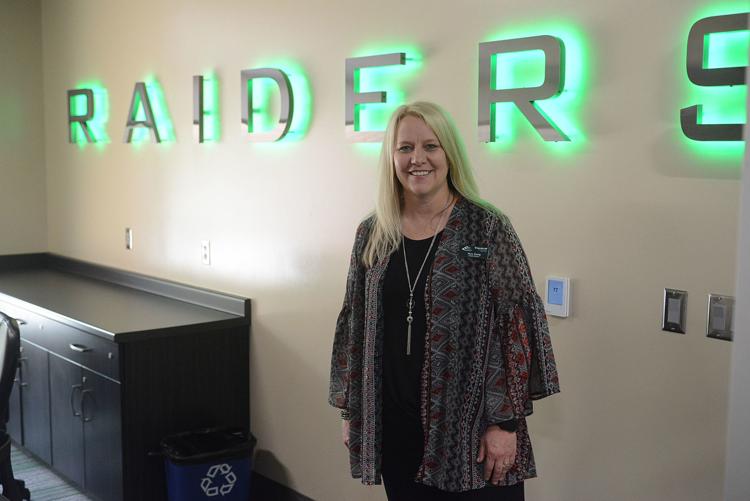 Central Community College-Columbus Athletic Directory Mary Young smiles from across her desk on a late May afternoon. It's a scene hundreds of student-athletes have experienced on campus over the last quarter-century, albeit, normally in a different setting.
Young, more accustomed to addressing players from the sidelines or in the locker room, has traded in those days for conversations with coaches and staff members in the Central athletic offices.
She's been in the position of athletic director for about a year, unofficially Jack Gutierrez's replacement who became official when the interim tag was taken off in January.
When she celebrates her birthday next month, Young can say she's spent half her life as a Raider.
The proof of that is littered around her as she shows her pearly whites from her office. Photos of family, former players and former teams dot the landscape of Young's new normal.
It's a career and a life Young refused, laughingly at first, before becoming so invested that it sometimes required a kind word from dad to bring her out of the disappointment she felt for simply losing a volleyball game.
The best coaches seem to be the ones who always linger on the losses rather than celebrate the wins. And while that's somewhat of a philosophical clichè, proof of her quality as a coach is no longer a priority.
The day-to-day is different, to be sure. Young is learning how to apply her intensity, her leadership skills and her organizational abilities from a team-focused, win-or-lose approach to a more long-term, culture-building one.
Although her successes and failures can't be as easily measured, she's not about to take a step back in giving it her all.
Twenty-five years later, Central is as much her home as the one of her childhood in Arcadia. The Raiders are as much her family as her parents and 11 other siblings.
Who Mary Young is cannot be properly identified without assigning a large portion of the credit to CCC.
Finding her way
Mary Young was born the youngest of 12 in Arcadia. A miscarriage and an auto accident of another sibling when she was 2 meant Young grew up knowing nine of her brothers and sisters.
Athletically, she was most in love with basketball. Track came second, and to be honest, volleyball was probably third.
The Arcadia girls were 6-11 in hoops her sophomore season then won 20 straight on their way to the 1987 title game before a loss to Lawrence in the D-2 state championship. The following year, prior to the wildcard system, Arcadia lost a top-five district final to Chambers and missed state.
In volleyball earlier that fall, there was yet another Arcadia runner-up. In track, Young was always a contributor but said since she never specialized in any one or two events, she never quite became state gold material.
After high school, she wasn't ready to be done mostly because of the way basketball ended. Central said she could play both volleyball and hoops and she had her new home. But it was tough -- the Raiders struggled her freshman season in both sports before more respectable campaigns the next year.
Still, after somewhat taking winning for granted back home, she was adjusting to the struggles. While her way of handling losses improved over the years, it's a story about her first college volleyball game that perhaps provides the most accurate context for the type of competitor that always lives inside of her.
"We were playing the Doane JV my first game and my best friend was on that team. We lost," Young recalled. "I remember we went to eat after the game and I couldn't eat. I couldn't believe how people could eat after we lost. That was an adjustment to me."
She was ready to leave after the first year but stayed in Columbus and then went to South Dakota and finished her volleyball career. There was, again, a lot of losing.
A degree in recreation set her up with a job at a hospital in Sioux Falls, where she helped therapists in rehabilitation. Young assisted individuals coming off injuries and surgeries with returning to workplace tasks and recreational activities.
She enjoyed it but didn't necessarily see it as a lifelong career. In Columbus, one weekend visiting her brother Dwayne, Gutierrez, the men's basketball coach at the time, happened to come across them both while out on his bike and encouraged Young to apply for the women's volleyball open position.
Gutierrez had mentioned it to Dwayne before but now had the chance to give it directly to Young face to face.
"Even when she was an athlete, she was a solid person," Gutierrez said about why he spoke up. "She had the potential and she had the background. Her dad was a good role model for her, and her brothers, too, growing up."
On the job learning
Young didn't see it. After Jack rode away on his bike, she told Dwayne she'd never apply for that job.
But when she came to campus to visit a friend, history instructor Dave Fulton, he agreed she should apply and forced her to at least follow him down to the athletic office and pick up an application.
It would never happen today, but Young, with zero coaching experience, took over Raider volleyball in 1995.
"I knew enough as far as Xs and 0s, but as a young 25-year-old, you have to know how to manage your team," she said.
At 25 and coaching 18 to 21-year-olds, she felt her best approach was a firm one. Looking back on it now, she might not have been so uncompromising if she had to do it again; but it also set the standard upon which the program was built.
Many of her players were looking to move on and saw Central as a stepping stone. Many others were about to be done with their careers and may have been short on motivation.
But though the purpose of players on her rosters varied widely, Young was going to do everything she could to put those players in a position to win.
She wasn't afraid to call recruits that might have been out of her league, forcing them to tell her "No." Occasionally, she heard "Yes."
"I was going to work hard and we weren't going to fail because of my lack of working hard," she said.
Central Events Coordinator Jennifer Wurdeman has seen that attitude in practice for the 19 years she's been with the college. Wurdeman, who's family is in the Raider Hall of Fame because of its commitment to Central athletics, was Young's administrative assistant.
For many years, the Wurdeman's hosted a spaghetti feed at the beginning of each season. She and the clan always had the same message for new players.
"Trust the process because you're in good hands," Wurdeman said. "She's a tough coach, but she always finds a way to get the right group of women out there to make them successful."
Building a legacy
Young went on to have a coaching career that included multiple trips to the national tournament. Central's best finish with Young at the helm are two fifth-place medals. She also coached the Raiders to sixth, seventh, eighth, ninth, 10th, and if she remembers correctly, 11th also.
The first group that made the national tournament was in 2005 in a district title win in Williston, North Dakota. She and the ladies checked into what turned out to be a seedy hotel with the ugliest green wallpaper you've ever seen.
"Just win and get us to Phoenix and I'll treat you like queens," she promised the team.
It took five sets and overcoming an 8-2 deficit in the deciding set, but the trip to Arizona happened.
The 2011 team left the national tournament in sixth but vowed to Young to be back next year. She looked at a group of four freshmen, none taller than 5-6, and immediately doubted that possibility. But 2012 turned out to be maybe not her best team, but her most determined.
It came back and fulfilled its prediction, taking fifth place. Yet, that team led its quarterfinal match 12-9 in the fifth, one win from the final four. It's a match Young says, "still haunts her every night."
But maybe her favorite season and almost certainly the most meaningful was two years later.
Her father, Raymond "Bud" Owens, was at nearly every game she coached and played. Although he still lived in Arcadia, Bud was there 90 percent of the time, and he drove back home every night. It's easier for Young to remember the games he missed than the ones he did not.
He was the one there early on when, after a loss at Hastings College, she broke down in the parking lot because of a loss. He was the one that always tried to soften the blow for a coach and an athlete who took every loss hard. He was the only parent she had left after her mother passed away in 2001.
Before the 2014 season, he too passed and left a gaping hole in Young's heart. Her team joined her in the grieving process and brought her through to the other side.
That was her 20th season and the one she thought might be her last. When it was over, a fifth-place finish after a loss to the eventual national champion, her mind was quickly changed.
"They were great young people, and they held me together, and when that ends you just think, 'Well, now what?' Young said. "They didn't really do anything besides be themselves. But that was just what I needed; I needed them and who they were. Who could walk away from that?"
Reinvention
Young was again planning on one more year leading the volleyball program when Gutierrez decided to step away. She began considering one day taking the AD job four or five years earlier. While she wanted another season on the bench, the timing was right.
Gutierrez didn't handpick Young. There was an application and review process, but he certainly had a favorite. The two spent 25 years together, many of those as the only two coaches on campus, learning from and encouraging one another.
Gutierrez was always impressed with Young's organizational skills but also had to fend off her jabs on his fashion sense, or lack thereof. He wasn't known much for formal attire while coaching let alone matching colors when he did decide to dress up.
And while he might have been the butt of Young's jokes, more than two decades of seeing her in action as a coach convinced him that Young could guide more than just volleyball players.
"Trust is probably the word with Mary and her players. They trusted each other, they trusted her and she trusted them," he said. "She was a good leader; without question"
Wurdeman agrees and has seen Young lead on the court, in the office in admissions and in the classroom as a teacher.
"She's somebody that's going to make things happen, and she's not afraid of the work it takes to do it," Wurdeman said. "She's always got what's best for students at Central in mind."
Young had some taste of administrative duties before being elevated to athletic director. In leadership roles as part of the board of directors for both the American Volleyball Coaches Association (AVCA) and NJCAA DII committee, she's helped promote and improve the game alongside some of the best minds in the sport.
At the first NCAA beach volleyball championship, she was inspired to push for the sport at the junior college level and helped accomplish that a few years ago.
Now she's tasked with guiding Central athletics into a new era during a pandemic, or perhaps, just after one when student-athletes either do or do not return to campus later this summer.
Although her new duties don't include the same intensity or the same black and white appraisal of her performance, it still inspires drive and determination because, after all, she's still doing it for the Raiders.
"I guess, in a nutshell, coaching volleyball led me to a lot of different opportunities and wonderful moments that have been super meaningful. You can't put a price tag on that," she said. "There are so many things I could reflect on about my career at Central, so many things about being a Raider, that have been pretty cool."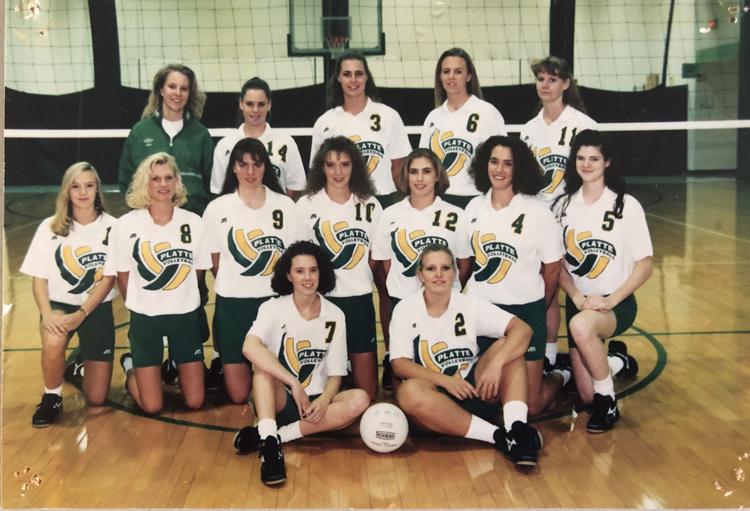 Get local news delivered to your inbox!
Subscribe to our Daily Headlines newsletter.