Maryland vs. Nebraska, 2/4/18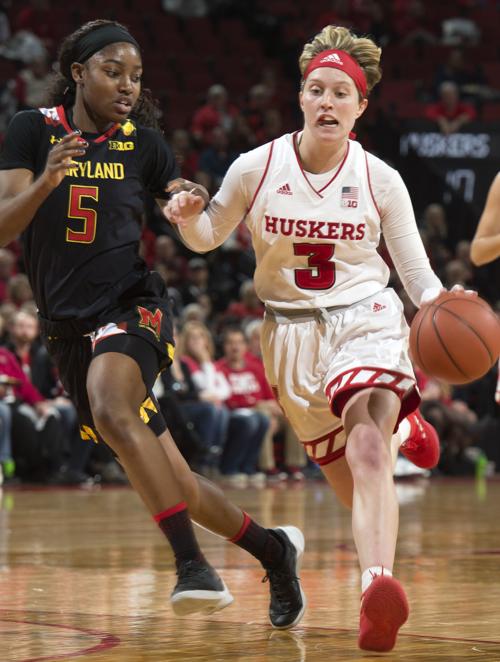 Tags
As featured on
Nebraska wasn't ready for a big-time win just yet — you can't usually get outrebounded by 20 and beat a top-15 team — but there hasn't been a scene like Sunday for a women's basketball game at Pinnacle Bank Arena in a few years.When it was over, 11th-ranked Maryland left with a 64-57 victory. Maryland led from start to finish for its fifth straight win and 18th in its past 19 games. Sophomore guard Kaila Charles led Maryland (20-3, 9-1 Big Ten) with 25 points and a career-high 16 rebounds.For Nebraska, Sunday was a good position to be in after last year's horrible season. There was a crowd of 6,185, which was 1,500 more fans than at any other game this season, and the largest since the 7,550 for the game against UConn last season.Nebraska lost by 44 points against Maryland last season, but the fans came Sunday because this season the team had showed they had a chance to get the big win, and they wanted to help.After getting behind by 10 points in the second quarter, Nebraska went on an 8-0 run to gets its deficit to 24-22 with 1 minute, 12 seconds left in the first half on a basket inside by Darrien Washington.The fans were locked in, and many stood and cheered for the final minute of the first half. They wanted a stop.Some fans groaned when the Huskers missed free throws and threw the ball out of bounds early in the game. They roared for big three-pointers.The crowd was amazing, senior guard Jasmine Cincore said. It was special to be playing in a game like this, after being in so many games last season that didn't mean much. Now the Huskers were playing for first place in the Big Ten standings, and are playing for a spot in the NCAA Tournament."Going from last year to this year, it's almost like day and night," Cincore said. "We're putting ourselves in that position. Like within 12 (points), within 10. The whole game. There's not a big gap."It's been a great journey, and I'm excited to continue it, and compete for that No. 1 title."Nebraska had never played Maryland this close, but for coach Amy Williams, now it's time to win, instead of just show progress."We're not happy anymore with that moral victory of being competitive," Williams said. "We want to find a way to get over the hump, particularly in front of this incredible crowd that came out to support us."The Huskers (17-7, 8-3 Big Ten) had their five-game win streak come to an end.Maryland again showed why it's the best program in the Big Ten. The Terrapins outrebounded NU 49-29. Maryland's 18 offensive rebounds were converted into 13 second-chance points. Maryland used its quickness to get rebounds, and speed to get layups. Maryland forward Brianna Fraser scored 12 of her 14 points in the second half.The Terrapins' edge in rebounding was the cause for much of Williams' disappointment after the game. And this week during film review she plans to show the players that if they would have rebounded better they may have had a chance to win."We got outrebounded by 20, and feel like that type of domination on the boards is something that we take very personal, and something that has to be corrected," Williams said.Nebraska had eight turnovers in the first half, but just two the rest of the game."I think in the first half we kind of shot our own self in the foot with a lot of turnovers that were unforced from Maryland," Cincore said. "Also, looking at the rebounding battle at the end of the game, we didn't rebound like we should have."Freshman guard Taylor Kissinger led the Huskers with 18 points, including making 4 of 8 three-pointers. Kate Cain added eight points for the Huskers, and Cincore and Hannah Whitish scored seven each.But Nebraska rushed too many shots, Williams said, instead of making the extra pass. The Nebraska starters combined to shoot 12-of-39 from the field. Nebraska was 8-of-14 on free throws.Cain's three blocked shots Sunday pushed her season total to 79 to set a single-season school record, passing Olympic bronze medalist Danielle Page's previous mark of 78.After Nebraska closed the gap at the end of the first half, Maryland had a great start to the third quarter, getting a basket inside by Charles, a three-pointer by Kristen Confroy and a put-back by Stephanie Jones. That was a 7-0 run in just two minutes, giving the Terrapins their largest lead of the game at 12 points.Maryland led 47-39 to start the fourth quarter. Nebraska got its deficit to six points with 2:49 left in the game, and then five points with 58 seconds left on a three-pointer by Kissinger.But Maryland made five free throws in the final minute of the game, Kissinger missed her final two three-point attempts and Nebraska never got any closer than five points, even after a three-pointer by Whitish with 10 seconds left.
The Huskers put up a fight against the Big Ten's top women's basketball team, Maryland, befo…
Vacation photographs often capture a perfect moment in a favorite place.