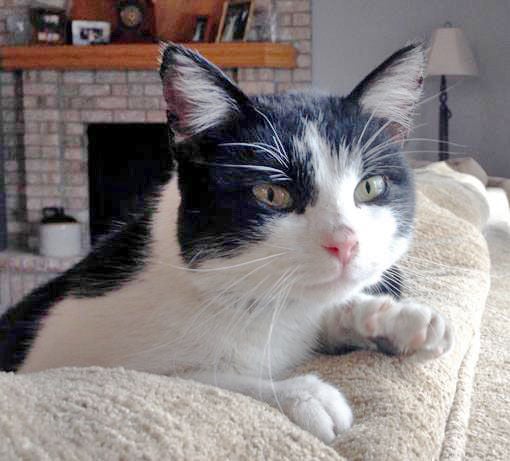 Marcy McClenahan's cat always came when she called until one evening when he never returned.
She was only 11 years old at the time. As an adult, the feeling of hopelessness and sadness she felt from losing a pet is unforgettable.
"I was absolutely devastated," she said.
Now, McClenahan and her husband, Dan, are searching Columbus to make sure one cat's owner doesn't have to go through the same experience.
A lost cat was discovered Friday afternoon inside a semitrailer at NC Minerals in Lakeville, Minnesota, where Dan works.
He believes the black and white feline hopped inside the trailer at the driver's previous stop — BD Medical East in Columbus — before being transported around 400 miles to the Minneapolis suburb.
The second the trailer's doors opened, the collarless cat walked out, warming up to the workers. Dan knew by its temperament that the animal wasn't a stray because the cat was friendly and clean.
McClenahan said it's unusual for her husband to warm up to any cat, but the feline has been cuddly with him, another sign the cat is likely someone's pet.
"(Dan) even stopped at the store on the way home, buying him a litter box and food," she said. "It's so unlike him. He doesn't hate cats, but they're not his favorite so I was surprised he went to this much work and brought him home."
The couple has housed the cat since they found it last week, but aren't giving up on finding its owners.
"This could be some little boy's or girl's favorite pet. I want to make the effort to get it back to them," McClenahan said, adding that their dog isn't fond of the newfound friend so they're trying to work quickly to find the cat's owner.
McClenahan has spent the last few days calling area animal shelters and law enforcement for reports of missing cats, along with posting on social media sites in hopes of finding the owner. She has yet to get it checked for a microchip.
She said someone posting on Facebook offered to embark on the nearly seven-hour drive to fetch the cat and bring him back to Columbus.
McClenahan believes the cat might belong to someone in the Christopher's Cove area because that's the closest neighborhood to the BD facility.
If anyone recognizes the green-eyed, calico cat, the McClenahans can be reached at 630-901-0167.