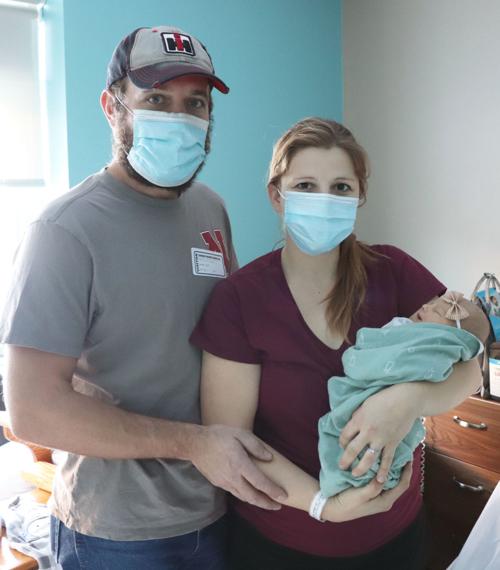 Amber and Chuck Kudera started 2021 on an extremely high note – a new addition to the family and a year's supply of diapers.
The couple, which operates a farm approximately 8 miles north of Schuyler, welcomed their daughter, Mavis Rose, at 11:19 p.m. New Year's Day. Mavis, who weighed 6 pounds, 8 ounces and was 19 ¾ inches long, was the first baby born at Columbus Community Hospital in 2021.
"It's kind of different being in a hospital when everyone is in a mask, but we're excited," Amber said, referencing the COVID-19 pandemic. "We made it through. Everything is very good. We're excited to go home."
The little one's name had been settled on before she was born.
"Not every kid in the county has it," Amber said, with Chuck mentioning it's a name that was more common among the older generation these days. "We haven't heard it around the area."
As for Mavis' middle name, it was inspired by Amber's mother, Rosean, who she noted was a great influence on her.
The last year was certainly interesting for the two. Work-wise, things operated as usual. Amber is an agronomist, while Chuck raises cattle and pigs, as well as drives truck. The biggest challenge they had, like so many others, was staying at home for most of the year.
"We were social people prior to the pandemic, so it was good, but a little different," Amber said of 2020. "But it was a nice pregnancy, not having to be out and about and everything."
The two on Sunday afternoon were looking forward to heading home that day, though acknowledged it was a bit disappointing they couldn't see family in the immediate future in light of the pandemic. They both said Mavis has about 30 cousins and an 11-year-old sister, so they're eager to see them all down the line when things improve pandemic-wise.
"As long as she keeps healthy and happy, we couldn't ask for anything else," Amber said of their hopes for their newborn daughter. "This kid is going to get passed around a lot the next couple of months once she's able to meet them all."
Columbus Community Hospital, which announced 576 babies were born there in 2020, gifted the couple a year's supply of diapers and a new Pack 'N Play in honor of having the entity's first baby of 2021. Chuck and Amber praised the hospital's staff for their efforts, calling them "amazing." The diapers and the Pack 'N Play were just added bonuses that came along with their new family member.
"This is a good way to start the year," Chuck said, noting they were married July 4, 2020. "We're pretty excited."
Matt Lindberg is the managing editor of The Columbus Telegram. Reach him via email at matt.lindberg@lee.net.