COLUMBUS — It is beginning to feel more like home at Columbus Middle School.
Banners and artwork hung on the walls put a new stamp on the building that for years served as Columbus High School.
After months of renovation work, the building opened in September as the district's new middle school.
"It's just like moving into a new house. When you get things on the wall it feels like home," said Principal Amy Haynes as she walked through the busy cafeteria.
Chatting children were eating lunch in a more-spacious area than they were used to at the middle school's former 2410 16th St. location. The cafeteria/commons area gives students about 3,000 more square feet and 120 additional seats than before.
This spaciousness can be felt throughout the building, one of the positives of the new site, according to teachers and students.
"There is a lot more room for us. It's easier to get around. I like having more space," said eighth-grader Mya Nickels. "It was kind of tight and the classrooms were a little smaller (at the old location). Having a new building is nice. It feels like a new building."
After the new high school opened at 33rd Avenue and Lost Creek Parkway, middle schoolers shifted to the former CHS at 2200 26th St.
Planning for the transition started more than two years earlier.
"We put a lot of things in place to not only create the space that would work, but also to create a schedule that would be beneficial, as well," Haynes said.
A $3.5 million renovation occurred over six months to create a building that fits a middle school and adds fifth-graders to the mix to address overcrowding at the elementary level.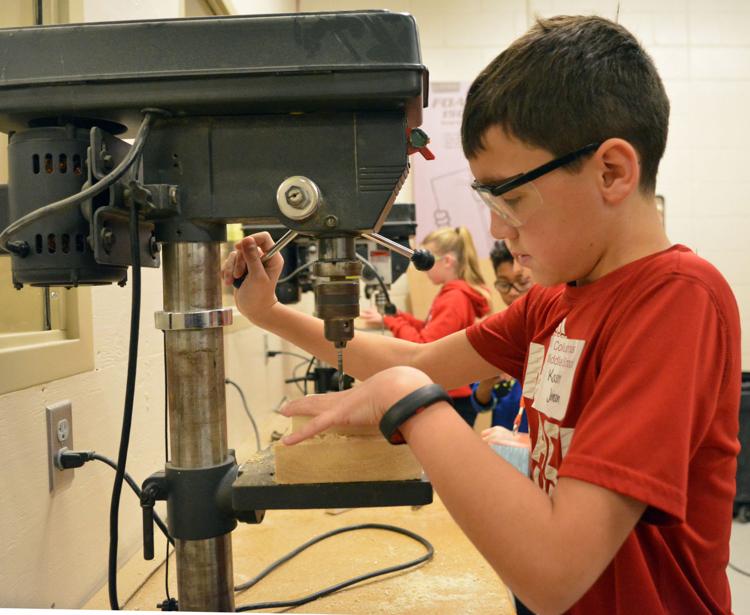 There were concerns from parents about having fifth-grade students with students in grades six through eight that needed to be addressed.
"We wanted to make a space that would have fifth and sixth (grades) separate from seventh and eighth, so there is very little interaction between all four grades because of how the schedule is set up," Haynes said.
The lower grades spend the majority of their day on the second floor while the upper grades are on the first floor. An advisory class is held every day to help students become more familiar with their new surroundings.
For some students, the transition didn't take long.
Sixth-grader Alan Adame said he already knew his way around the building pretty well because he went there to watch high school sporting events.
"There are a lot of halls, but I know where everything is," he said.
There are still times when students need help opening their lockers or finding their way around the building. On a recent day, a student paused by a stairwell, not quite sure which direction to take.
"I forgot where the music room is," he said.
Haynes quickly pointed him the right way.
"It's probably easier to go down here," she said, motioning to the stairs. "Do you know how to get to the middle hallway?"
With a quick nod and a "thank you," the student was off.
Fifth-grade students are led through the school by their teachers, much like what's done at the elementary level. That's helped curb student apprehension.
"There was some anxiety with some of them, but I think after we got through the routine and taught them expectations and that they knew the big kids weren't going to be here in our area, they felt safer. I don't know if that stemmed from parents' anxiety or not," said Abie Wulf, a fifth-grade math and reading teacher.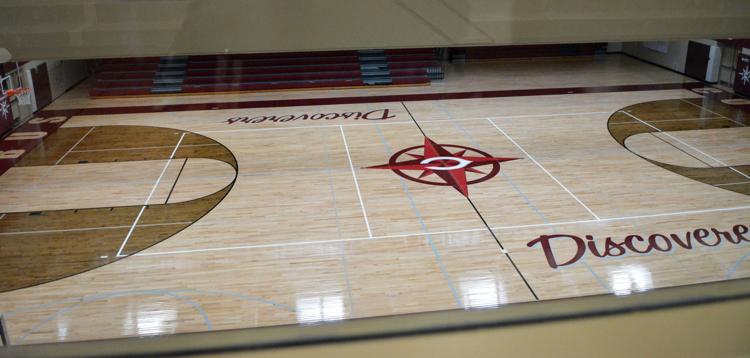 There are more than 1,100 students at CMS, compared to 860 last year. No square footage was added to the building, but renovations created a new hallway on the first floor and more classrooms throughout the building. A special education wing was added, gyms were redone, fitness space was created and rooms were shifted to cluster departments together.
"The biggest difference is the usable space. It feels that within the classrooms that it is not so congested. The hallways are full, but it seems like the traffic moves," said sixth-grade science, social studies and reading teacher Justin Wardyn.
One issue that was prevalent at the old site came from vehicle traffic, especially at the start and end of school days.
Haynes said it's still a struggle with route changes, but driving patterns have developed to improve traffic flow and make it safer for children.
"The first two weeks, it was challenging and I was out there with a stop sign until after 4, but it is no longer like that. People are getting used to drop-off and pick-up patterns," she said.
The small parking lot near the south entrance is closed except for school business and deliveries to help curb congestion. Parking is also banned on the north side of 26th Street during the school day.
The new building is 236,000 square feet, making it the largest middle school in the state.
Haynes said the new location also has a couple of other benefits.
One is better internet access, and the goal is to have one internet-capable device for each student. That wouldn't have been possible at the old site because of infrastructure issues.
Safety is also improved, according to Haynes.
Wider hallways and additional space lessen overcrowding inside the building, and the fenced-in track and practice fields provide a more-secure environment for children to exercise in.
"The safety piece is huge and I think kids feel that and they feel safer in the building," Haynes said.