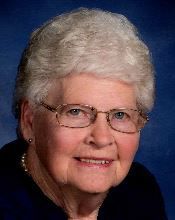 Arlene Kurtenbach
July 2, 1929-November 18, 2019
Arlene Kurtenbach, 90, of Newman Grove, died Monday, Nov. 18, 2019, at the Boone County Hospital, Albion, Nebraska.
A Celebration of Life Mass will be at 10 a.m., Thursday, Nov. 21 at Holy Family Catholic Church in Lindsay with The Rev. Fr Eric Olson and The Rev. Fr Jim Novotny celebrating the mass. Visitation will be from 4 p.m.-8 p.m. on Wednesday, Nov. 20, with a 7 p.m. vigil service and rosary at the church. Visitation will continue from 9 a.m. until time of service on Thursday at the church. Interment will be at the Holy family Cemetery.
You have free articles remaining.
Arlene was born on July 2, 1929, in Creighton, Nebraska, to Joseph and Minnie (Wiese) Lindhorst. She was united in marriage to Vernon (Swede) Kurtenbach on Aug. 18, 1947, at Holy Family Catholic Church in Lindsay. To this union, eight children were born.
Swede and Arlene farmed and made their home in the Lindsayewman Grove area. Arlene was a lifelong member of the Holy Family Catholic Parish, Christian Mothers, Ladies Guild, and the Lindsay American Legion Auxiliary. Arlene appreciated and enjoyed her children, grandchildren and great-grandchildren. She always had time for everyone. She also enjoyed baking chocolate cakes, playing cards, and unselfishly giving her time to anyone who stopped to visit or have a cup of coffee.
Arlene is survived by her son, James (Beth) Kurtenbach, of St. Edward, Nebraska; son, Larry (Jeanne) Kurtenbach of Newman Grove, Nebraska; daughter, Deb (Garry) Thompson of Newman Grove, Nebraska; son, Harry (Jane) Kurtenbach, Lindsay, Nebraska; son, Dale (Cindy) Kurtenbach, St. Edward, Nebraska; son, Bob (Jane) Kurtenbach, Lindsay, Nebraska; daughter, Diane (John) Misgen, Brighton, Colorado; 23 grandchildren; and 27 great-grandchildren; sister, Mardelle (Alvin) Preister, Humphrey, Nebraska; brother, Charles (Arlene) Lindhorst, Carter Lake, Iowa; and sister-in-law Joan (Dwayne) Lindhorst, Lindsay, Nebraska; along with many other family and friends.
Arlene was preceded in death by her husband, Vernon (Swede) Kurtenbach; son, Jerry Kurtenbach; parents, Joseph and Minni Lindhorst; parents-in-law, Bill and Helen Kurtenbach; sons-in-law, Garry Thompson and David Sueper; brother, Bob Lindhorst; sister-in-law, Alma Lindhorst; brother, Dwayne Lindhorst; brother-in-law Alvin Preister; and great-grandson, Meyer Urban.
Condolences may be sent to Newman Grove Memorial Funeral Home – Facebook page.
To plant a tree in memory of Arlene Kurtenbach as a living tribute, please visit Tribute Store.