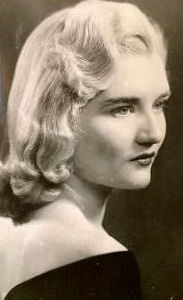 Deloris Ann (Nekl) Svoboda
February 7, 1934-March 16, 2020
Deloris Ann (Nekl) Svoboda, 86, of Lyle, Minnesota, passed away at Stacyville Community Nursing Home in Stacyville, Iowa on March 16, 2020.
Visitation will be from 5-7 p.m. on July 30, at Clasen-Jordan Mortuary. Graveside services will be held at 1 p.m. on Saturday, Aug. 1 at the Sacred Heart Catholic Cemetery in Shelby, Nebraska.
Deloris was born an only child on Feb. 7, 1934, to George and Anna Nekl in Surprise. She was baptized on Feb. 15, 1934, at Sacred Heart Church in Shelby, with Emil and Cecilia Vrbka as her sponsors. Deloris was a 1952 graduate of St. Bonaventure High School in Columbus. After high school, Deloris attended dental assistant school followed by beauty school in Chicago. After beauty school, Deloris worked as a dental assistant in Columbus, where she met Dennis. On March 2, 1957, Deloris married Dennis Svoboda at St. Bonaventure Church in Columbus. From this marriage, their four children, Doreen, Darlisa, Donny and Dale, were born.
She was a farmer's wife and a stay-at-home mother in Varina, Iowa. Dennis and Deloris then moved to their farm between Lyle and Rose Creek, Minnesota to raise their children. They divorced in 1984. Deloris then moved to Lyle, Minnesota and worked for Gerard Academy and The Salvation Army in Austin. Deloris enjoyed being able to visit with her many friends while working at these jobs. In her spare time, Deloris enjoyed going to garage sales and thrift shops as well as playing the card games of 500, 10 point pitch, and scrabble with her family.
Deloris is survived by her four children: Doreen Coleman of Lyle, Minnesota, Darlisa Meger (Matt) of Veseli, Minnesota, Donald Svoboda of Lyle, Dale Svoboda of Austin, Minnesota; grandchildren: Adam Coleman, Emily (Mike) Paulson, Alexandria Amick, Amanda (Brien-fiancé) Wold, Joe Meger, Natalie Meger, Nicole (Scott) Miller, Jenna and Dylan Svoboda; seven great-grandchildren and one great-grandchild on the way.
She was preceded in death by her parents, George and Anna.
To plant a tree in memory of Deloris Svoboda as a living tribute, please visit Tribute Store.
Obituaries Newsletter
Sign up to get the most recent local obituaries delivered to your inbox.