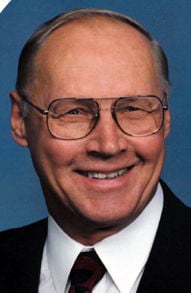 Donald L. Henke
July 27, 1930-October 26, 2019
Donald L. Henke, 89, of Wahoo, entered the arms of his Lord on Saturday, Oct. 26, 2019, just five months after being diagnosed with gallbladder cancer.
A memorial service will be held at 10:30 a.m. on Thursday, Oct. 31, at Gass Haney Funeral Home in Columbus, with seminarian Bryce Rosche and the Rev. Zachary Courie officiating. Visitation will be from 5-7 p.m. on Wednesday, Oct. 30, and will continue from 9:30 a.m. until service time on Thursday, all at the funeral home. Interment will be in the Roselawn Memorial Cemetery in Columbus. Memorials may be directed to the Creston Rescue Unit or Creston Fireworks Fund.
Don was born on July 27, 1930, to Adolf and Alice (Moeller) Henke in Creston. He was baptized and confirmed at Christ Lutheran Church in rural Columbus. He attended Kramer High School in Columbus and graduated from Leigh High School in 1948. He was active in sports, playing high school football, running track and playing softball for many years. On Dec. 29, 1948, he married the love of his life, Delores Korfhage, at her parent's home in Leigh. They were happily married for 70 years.
Don had a long and varied career. He farmed near Leigh for many years, while working part-time at Habco. In 1966, Don left farming to operate Henke Service, a gas station and auto repair shop in Creston. In 1970, he sold the station and accepted a leadership position at Creston Manufacturing. While working there, he was awarded his first patent and would go on to receive a total of 12 U.S. Patents for farm and sludge remediation equipment. In 1978, he became head of Engineering at Van Dale, Inc. in Long Lake, Minnesota, and relocated to that area. In 1987, he and Delores moved to Eau Claire, Wisconsin, where Don led Engineering for Northwest Motors. A gifted self-taught engineer, Don was named to Who's Who in Mechanical Engineering & Materials Science and was appointed to the advisory board of Princeton Valley Technical College. He retired in 1997. He and Delores divided their time between Eau Claire and their home in Mesa, Arizona. In retirement, Don worked on his golf game and eventually hit a hole in one at the Hickory Hills Golf Course in Eau Claire. He loved to amaze his golf partners with the remote-control golf cart he invented. They moved to Wahoo in 2017, to be closer to their children.
Don was a member of Our Redeemer Lutheran Church in Wahoo. He was a former volunteer fireman, a past member of the Creston Rescue Unit, Creston Lions Club, Creston Bank Board, Zion Lutheran School Board, and was on the church counsel at every congregation where he was a member.
Don's family wants to thank the caring staff at Hospice and Home Healthcare of Saunders County and South Haven Living Center for the kindness, love and support shown to Don and the entire Henke family over the last few months.
Don is survived by wife, Delores Henke of Wahoo; sister, Betty Rosche of Columbus; son, Randy Henke of Shorewood, Minnesota; grandchildren: Peter (Kerry) Henke of Minnetrista, Minnesota, Ryan (Jenny) Henke of Carver, Minnesota; daughter, Judie (Bill) Krings of Dwight; grandchildren, Kimberly (Bret) Haney of Dwight; daughter, Barbara (Craig) Bellinghausen of Elkhorn; grandchildren: Grant (Sheeren) Bellinghausen of Weymouth, Massachusetts, Garrett (Julie) Bellinghausen of Kingston, Massachusetts, Grace Bellinghausen of Omaha; son, Terry (Rachel) Henke of Spring Hill, Kansas; grandchildren: Jake, Ashley and Amanda Henke of Spring Hill, Kansas; 11 great-grandchildren.
Don was preceded in death by parents, Adolf and Alice Henke; parents-in-law, Harry and Myrtle Korfhage; daughter-in-law, Margaret Henke; great-grandson, Charles Grant Bellinghausen; sisters, Marilyn (Fred) Schreiber, Darlene (Jon) Santi; in-laws: Harry Rosche, Gordon (June) Korfhage, Kenneth Korfhage; nephews: Roger Rosche, Jay Santi and Rick Korfhage.
Obituaries Newsletter
Sign up to get the most recent local obituaries delivered to your inbox.