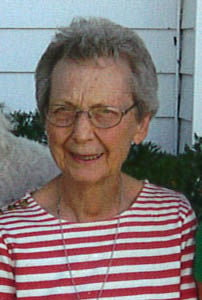 Ethel Lucille Johnson
October 17, 1917-February 8, 2020
Ethel Lucille Johnson passed away peacefully at Cottonwood Place in Columbus on Feb. 8, 2020, at the age of 102 years.
A memorial service for Ethel Johnson and Holly Johnson will be held the Friday of Memorial weekend, May 22, at the Shickley United Methodist Church. Memorials are to be sent to Shickley United Methodist Church or to Shickley Public School.
You have free articles remaining.
Ethel Lucille Wight was born Oct. 17, 1917, to Harry and Nellie Wight of Ong. Ethel attended Star Country School and graduated from Ong High School in 1935. She attended Kearney State Teachers College and then taught country school in Filmore County. Ethel married Duane Johnson on Oct. 8, 1940. When World War II was over, Ethel and Duane moved to Shickley, and had three daughters: Holly, Carol and Kay. Ethel was very active in the Federated Women's Club, the Women's Society of the United Methodist Church, Kensington Club and was active at the Shickley Public School as a foster grandparent for years.
Ethel is survived by her brother, Frank Richard Wight of Tuscon, Arizona; sister, Bonnie Cartledge of Dallas; and daughters, Carol Mischke of Austin, Texas, and Kay Johnson (Ken Barnes) of Minneapolis. Ethel is also survived by her granddaughters, Ciel Mischke of Dallas, and Jennie Barnes Manning (Sam Manning) of Minneapolis; and great-grandchildren, Soren Manning and Nellie Manning of Minneapolis.
Ethel was preceded in death by her husband, Duane Johnson and her oldest daughter, Holly Johnson as well as her brother, Dean Wight, sisters, Louise Maki and Majorie Asper and son-in-law Robert Mischke.
Thanks for the loving care of Cottonwood Place and Aseracare Hospice.
Please send condolences to Kay Johnson, 5521 Village Drive, Edina, MN 55439-1951.
To send flowers to the family of Ethel Johnson, please visit Tribute Store.