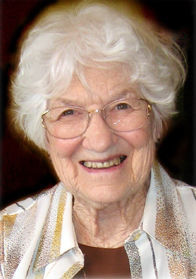 Janette "Tuddy" Schure
May 1, 1925-November 24, 2019
Janette "Tuddy" Schure, 94, of Columbus, formerly of Humphrey, died Sunday, Nov. 24, 2019, at Prairie Village in Columbus.
Mass of Christian Burial will be at 10 a.m. on Friday, Nov. 29, at St. Francis Catholic Church, with the Rev. Eric Olsen celebrating the Mass. Interment will be in the St. Francis Cemetery. Visitation will be from 5-7:30 p.m. on Thursday, Nov. 28, at the church, with a 7:30 p.m. vigil service. Visitation will continue from 9-10 a.m. on Friday at the church.
You have free articles remaining.
Janette "Tuddy" Gertrude Schure was born May 1, 1925, in Lindsay, to Henry Joseph and Gertrude Mary (Schaecher) Albracht. She attended school in Humphrey and graduated from Humphrey St. Francis High School in 1943, later attending classes at Platte Community College in Columbus. On Aug. 22, 1945, Tuddy was united in marriage to Richard "Dick" George Schure in Humphrey. They farmed south of Humphrey for many years before moving into Humphrey in 1990. Tuddy helped on the farm and also helped as a USDA statistician. Tuddy enjoyed playing games, especially 500 Rummy, sewing, traveling to national parks or wherever a car would take her. She liked studying family history and going to family gatherings.
Our beloved Tuddy radiated kindness, love, strength and a zest for life to all she met. She showed us all an amazing example of how to live. She had an uncanny ability to make everyone around her feel like they had a special place in her heart, and they probably did. Her heart was endless! Her powerful smile and twinkle in her eyes would light up any room. Tuddy was selfless, always worrying about someone else, even during her final days. Her laughter, her joy, her comedic timing, her spunk, her kindness will be her legacy. She could one-up everyone with her always ready and final spoken words, "I love you more".
Tuddy is survived by daughter, Gayle (Lee) Mausbach of Wheatland, Wyoming; grandchildren: Lisa (Andrew) Bailey and son Ethan, Becky Mausbach (Ben) and daughter Alisha, Brenda (Jamin) Camp and children Cole, Chloe and Cooper; son Richard Schure of Humphrey; grandchildren: John (Cyndi) Schure and stepson Joe and grandchild Keoni, Tom Schure and daughter Chloe; daughter, Janice "Mitzi" (Randy) Vavrina of Clarkson; grandchildren: Kristin (Ed) Mikkelsen and children Isabella, Theodore and twins Anna and Katherine, Matthew (Patty) Vavrina and sons Marcos and Lucas, Joseph (fiancée Jessica) Vavrina, Nicholas Vavrina; son, Jess (Sheri) Schure of Columbus; grandchildren: Nathan Schure, Ryan (Rachel) Schure and children Cash and Charlie, Mike (Rebecca) Schure and children Ivy, Owen and Josie, Ashley (Jed) Taff and sons Henry, Jack and Nolan; granddaughter, Brandy (James) Davies and sons Ezekiel and Theodore; grandson, Jason Miksch; brother, Clarence "Bud" (Germaine) Albracht of Humphrey; sister, Mary Ann "Babe" (Carroll) Kraus of Florida; brother, William "Bill" (Marge) Albracht of Humphrey.
Tuddy was preceded in death by parents, Henry and Gertrude Albracht; husband, Dick Schure; daughters, Louise Miksch, Sherry Mills; sisters: Sister Leona Emanuel Albracht, Hildegard (Joe) Fassbinder, Rosella (Louis) Evans, Elizabeth "Betty" (Paul) VanHoozer, Bernadette Albracht, Clara "Arlie" "Bernie" (Jack) Hannon; brothers: Leander "Shorty" (Germaine) Albracht, Sylvester (Evelyn) Albracht, Harold Albracht, Edward (Yvonne) Albracht, Theodore (Rita) Albracht; daughter-in-law, Marilyn Schure.
To plant a tree in memory of Janette Schure as a living tribute, please visit Tribute Store.