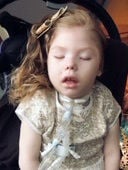 Jurnee Paige Wiese
September 11, 2016-December 28, 2019
Jurnee Paige Wiese took her big sister Joselyn's hand and entered the gates of heaven on Dec. 28, 2019. Jurnee passed away peacefully in mommy and daddy's bed surrounded by her mommy, daddy, big brother, Weston and baby sister, Faith.
Mass of Christian Burial will be at 10:30 a.m. on Thursday, Jan. 2, at Holy Family Catholic Church in Lindsay. Visitation will be one hour before the services.
You have free articles remaining.
Jurnee Paige, daughter of Shawn and Paige Wiese, was born on Sept. 11, 2016, in Columbus. Jurnee brought so much joy to our lives. She had the most beautiful, contagious smile that melted everyone's heart. Jurnee was destined to move mountains, and she did just that. Jurnee endured so much in her short life; she was a true example of a fighter. Despite her disabilities Jurnee exhibited superhuman strength daily and was absolutely, unequivocally a spiritual giant in this world. She was always sure to let mommy and daddy know when something was wrong. Jurnee was loved by so many in her short life, and left an everlasting imprint on all who had the joy and pleasure of knowing and caring for her.
Jurnee enjoyed getting dressed up daily. She had a love for shoes and hair bows. She enjoyed getting her fingernails and toenails painted. Mommy got to give Jurnee her last and final pedicureanicure here on earth on Dec. 28 at her home. Jurnee enjoyed being read to, and also had a love for music. Most importantly, Jurnee loved the presence of her big brother, Weston and big sister, Alexus and her baby sister, Faith. These siblings were inseparable.
We would like to extend a heartfelt thank you to all of Jurnee's special caregivers, Ambassador of Omaha, Children's Hospital, Craig Homecare and VNA Hospice of Omaha.
Jurnee is survived by her mom and dad; brother, Weston, sister, Alexus and sister, Faith of Omaha; grandparents, Gary and Amy Wiese of Lindsay, Chris and Deb Nolan of McCool Junction, and Dave and Cindy Engel of Silver Creek; great-grandparents, Gene and Alice Wiese of Lindsay and LaVonne Engel of Silver Creek; and many aunts, uncles and cousins.
She was preceded in death by her sister, Joselyn Sue.
To plant a tree in memory of Jurnee Wiese as a living tribute, please visit Tribute Store.