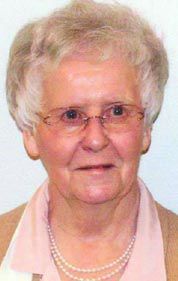 Norma Schaufelberger
April 15, 1925-June 16, 2020
Norma Schaufelberger, 95, of Columbus, died Tuesday, June 16, 2020, at St. Elizabeth Hospital in Lincoln.
The funeral service will be held at 10:30 a.m. on Saturday, June 20, at Gass Haney Funeral Home, with Pastor Linda Mohr officiating. Visitation will be held from 5-7 p.m. on Friday, June 19, and will continue from 9:30 a.m. until service time on Saturday, all at the funeral home. Interment will be at 3 p.m. on Saturday at Lincoln Memorial Cemetery in Lincoln. Everyone is asked to follow CDC guidelines while attending the visitation and funeral service. Memorials may be directed to the Federated Church in Columbus or the Masonic Children's Home in Fremont.
Norma Elaine Schaufelberger was born on April 15, 1925, in Lincoln, to Wilmer and Elsie (Williams) Bomberger. She attended school in Lincoln and graduated from Lincoln High School in 1943. On Dec. 24, 1943, Norma was united in marriage to her forever love, Donald Schaufelberger, in Lincoln.
Norma Elaine (as she liked to call herself) was a loving wife, supporting Don during his life-long power company career. She enjoyed accompanying him on various business trips but stayed home to do the worrying when he rode his motorcycle to various places. Norma shared her time and talents volunteering in many different organizations during her lifetime. She was a member of the Eastern Star, served as Worthy Matron and held various state offices. She was a member of the Daughters of the Nile, a board member governing Jobs Daughters, a board member of Friends of the Library, and enjoyed all of the years she spent as a board member for the Masonic Children's Home in Fremont.
Norma was a loving mother to her children, Linda and Rob, and supported all of the activities they were a part of throughout their lives. While they were in school, Norma was a room parent for many years and served on various PTA organizations for the schools they attended. She was fondly known by Linda and Rob's friends as "Mrs. S".
Norma was a long-time member of the Presbyterian Church, serving on many of the women's work committees, and served as a Sunday school and Bible school teacher for many years. When Norma and Don moved to Columbus in 1964, she helped to organize, run and teach at the Federated Church Pre-School. Norma's faith was strong and she instilled the understanding of a loving, faithful God in the lives of so many.
Norma Elaine was a gracious woman who shared her heart and love with all who knew her, and she will be greatly missed. On June 16, 2020, Norma was welcomed to God's eternal care and reunited with her husband of 75 years whom she loved deeply and dearly and missed terribly since his death on Oct. 7, 2019.
Norma is survived by daughter, Linda Mohr of Columbus; son, Robert (Geraldine) Schaufelberger of Lincoln; granddaughter, Traci Shepherd of Wichita, Kansas; granddaughter, Wendy (Jack) Strum of Wichita; grandson, Christian Mohr of Columbus; great-grandchildren: Natalie, Kaitlyn, Hayden, Nathan and Connor; several nieces and nephews.
Norma was preceded in death by parents, Wilmer and Elsie Bomberger; brothers, Delmar Bomberger, Donald Bomberger and Robert Bomberger; sister, Esther Bomberger; two brothers-in-law, Robert Schaufelberger and Gerald Schaufelberger.
Obituaries Newsletter
Sign up to get the most recent local obituaries delivered to your inbox.