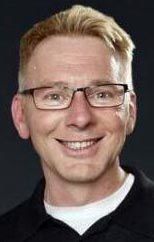 Robert A. Groke
October 25, 1968-December 19, 2019
Beloved brother, uncle, and friend, Robert Arthur Groke, passed away on Dec. 19, 2019, in Indian, Alaska. He was 51.
A Celebration of Life Mass will be held at 10:30 a.m. on Friday, Jan. 24, at St. Isidore Catholic Church in Columbus, followed by interment at St. Bonaventure Cemetery. Friends and family are then invited to a luncheon at Wunderlich's Catering and Barley Shoppe in Columbus. In lieu of flowers, we suggest making a donation to the American Heart Association or a charity of your choosing.
You have free articles remaining.
Robert was born on Oct. 25, 1968, in Columbus, to Herman and Gennene Groke. He grew up in Columbus and graduated from Columbus High School in 1987. Robert earned a B.A. in Journalism with an emphasis in advertising and public relations and a minor in art from Creighton University in 1992, and an Alaskan Real Estate License in 2019.
Robert worked for the USO in Japan, Twelveacres, Inc. (a not-for-profit residential adult care provider) in California, and as a personnel manager at the Wal-Mart Supercenter in Columbus for many years before moving to Alaska to manage the Holland America Princess Alaska-Yukon Rail Division and joining Northern Trust Real Estate up until the time of his death.
A talented artist, avid gardener, animal lover and world traveler, Robert was also a passionate baker and carried on his mom's tradition of Christmas baking, which he shared with friends and family. Robert put his faith into action by visiting the homebound, ill and elderly on a regular basis. His easy-going personality meant Robert made friends everywhere he went and he always made an effort to visit with his family and friends throughout the year.
Robert is survived by his sisters: Susan Rowley, Robin (Brad) Atkins and Renee (Charles) Sins; and his brother, Rendell Groke. He is also survived by his nieces and nephews: Thaine Rowley, Karissa Rowley, Gennene (Cody) Schwartz, Quinten (Abbie) Rowley, Sabrina Rowley, Rachel Atkins, Spencer Sins and Sydney Sins; and great-niece, Victoria Rowley.
He was preceded in death by his parents, Herman and Gennene Groke.
To plant a tree in memory of Robert Groke as a living tribute, please visit Tribute Store.