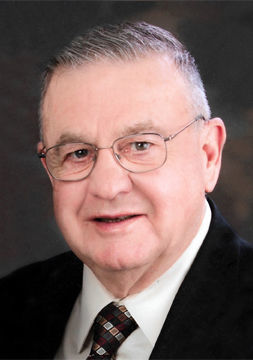 William "Bill" Werner
June 19, 1943-November 7, 2019
William "Bill" Werner, 76, of Humphrey, died Thursday, Nov. 7, 2019, at Columbus Community Hospital.
Mass of Christian Burial will be at 10 a.m. on Tuesday, Nov. 12 at St. Francis Catholic Church in Humphrey, with the Rev. Eric Olsen celebrating the Mass. Visitation will be from 4-7 p.m. on Monday, Nov. 11, with a 7 p.m. vigil service at the church. Visitation will continue from 9 a.m. until service time on Tuesday, also at the church. Interment will be in the parish cemetery.
You have free articles remaining.
Bill was born on June 19, 1943, in Humphrey, to Martin and Mildred (Bender) Werner. He graduated from St. Francis High School, and on June 29, 1963, married Karen Schnitzler at St. Francis Catholic Church. Bill started a hardware store and appliance business in Humphrey and later expanded to Madison and Norfolk. He served as a two-term mayor, dedicating his time to Humphrey's needs, and was instrumental in ensuring that a new housing development came into fruition. Bill aided many people in their recovery efforts of alcohol abuse. He also served several years on the Humphrey Fire and Rescue Squad.
Bill served as President and Vice President of the Athletic Department, Parish Council, Extraordinary Ministers of the Eucharist, financial supporters of both church and school, as well as countless hours volunteering his time and talent. He loved to travel and for many years fished and hunted with family and friends. Bill loved wildlife and enjoyed watching the birds, rabbits and squirrels run around the yard. He was especially proud of his grandchildren and later on his six great-grandchildren.
Bill is survived by wife, Karen Werner of Humphrey; son, Tim (Jill Herink) Werner of Humphrey; daughter, Lisa (Jim) Danson of Lincoln; daughter, Julie (Keith) Frauendorfer of Royse City, Texas; son, Mike (Jill Pelzer) Werner of Colorado Springs, Colorado; 9 grandchildren and 6 great-grandchildren: Taylor and Chelsea Werner, Hartley and Hank; Jameson and Sara Werner, Jack and Kasen; Jake and Marissa Werner; Jessica Danson Gul and Ugras Sidar Gul, Defne and Ellis; Jonathon Danson; Megan and Ryan Oliver; Kendall Frauendorfer; Creighton and Sierra Werner; sisters, Betty Pfeifer of York; Mary (Melvin) Dohmen of Sergeant Bluff, Iowa; Cathy (Ralph) Capazo of Omaha; Pat (Rich) Backes of Broomfield, Colorado; Sharon (Gary) Babel of Omaha; Peggy (Bob) Peterson of San Tan Valley, Arizona; Connie Golden of Omaha; Sue Wackel of Crete; Rebecca (Dennis) Pick of Oakton, Virginia; Cindy Renfro of Ida Grove, Iowa; and Judy (Mike) Slattery of Lincoln; brothers: Richard (Maureen) Werner of Lincoln, Tom Werner of Wahoo, Jack Werner of Davis, California, Bob (Donna) Werner of Columbus and Terry (Mary) Werner of Lincoln; numerous nieces and nephews.
Bill was preceded in death by parents, Martin and Mildred Werner; infant brother, Joseph Werner; brothers-in-law, David Golden and Ralph Pfeifer.
To plant a tree in memory of William Werner as a living tribute, please visit Tribute Store.