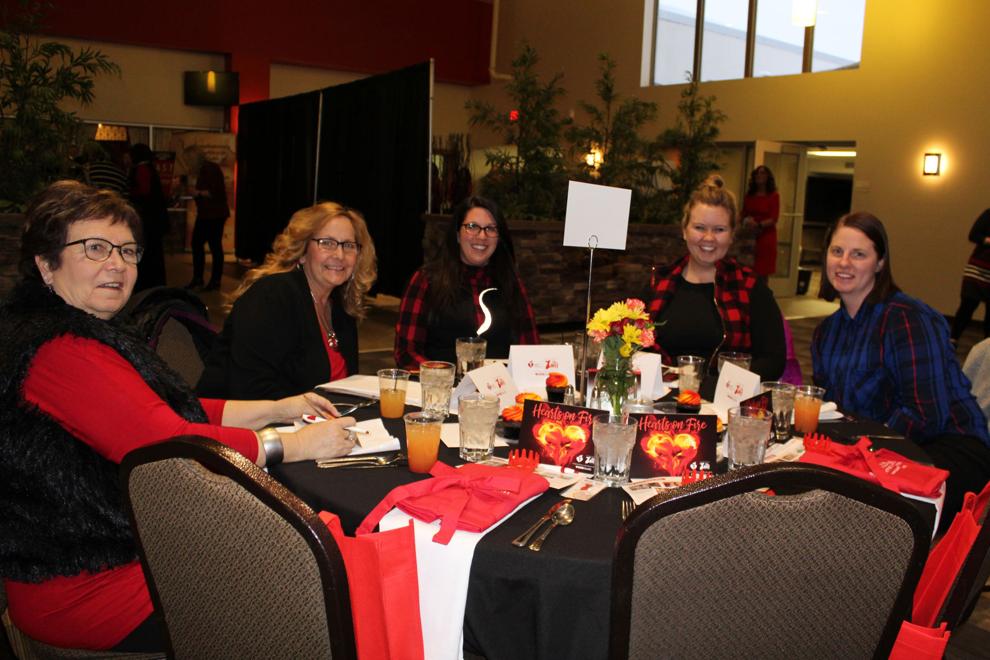 In place of its traditional dinner fundraiser, Columbus' Go Red for Women is holding a virtual event next week with its silent auction having opened on Friday.
"Because the safety of our attendees is our priority, the American Heart Association has decided that all events throughout the end of June will be in a digital or virtual mode," American Heart Association Development Director Cori Lamm said. "Because of that we are trying to, and the ladies on the Columbus leadership team (are trying to), make this event as close to our in-person event as we can."
Set for Thursday, Feb. 25, the fundraiser will be held via Zoom starting at 5:30 p.m. The presentation will feature Dr. Todd Tessendorf, cardiologist at Bryan Heart in Lincoln; a cooking demonstration from Joan Plummer, dietitian and diabetes educator at Columbus Community Hospital (CCH); and area resident Dianne Moural, a heart disease survivor. The cooking demonstration will feature heart-healthy soups, Lamm added.
Although being held virtually, attendees are encouraged to wear red and post a picture of themselves on social media with the tags @HeartNebraska and #ColumbusGoesRed. Registration for Columbus Go Red for Women can be done at https://bit.ly/3ayfjLM.
The online auction has more than $1,200 worth of items, Lamm said, and it closes Friday, Feb. 26. The online auction can be found at https://bit.ly/2ZyucaQ. You do not have to attend the Zoom presentation to participate in the auction, she noted.
"After the survivor and other stories, we'll ask people if they will donate to the American Heart Association for the research," Lamm said. "Right now with everything going on with COVID and the relationship it has with heart disease, it's vital that we continue with the education and that we don't skip a year ... The life-saving, the fundraising are more important than ever."
The important part of the event, besides raising money for the American Heart Association, will be spreading information on heart disease. Lamm noted that 80% of heart-related issues are preventable.
According to the Centers for Disease Control and Prevention (CDC), heart disease is the leading cause of death for women in the United States. Some women have no symptoms of heart disease, the CDC website states, but others may have pain or discomfort in the chest; pain in the neck, jaw or throat; or pain in the upper abdomen or back.
"Raising awareness and encouraging women to know the facts about their heart health is important," said Lisa Perrin, event chair and manager of cardiopulmonary rehabilitation at CCH, in a provided statement. "I see women on a daily basis who are recovering from cardiovascular diseases. Go Red for Women helps women learn about their risk factors and the steps they can take to lower their chances of developing heart disease."
Lamm added the Columbus community has always shown great support for the Go Red for Women event, and the local Go Red group is dedicated to the cause.
"In Columbus, the group of ladies on the committee, they are just so energetic and supportive and willing to do anything," Lamm said. "This year is going to look different than any event we've ever done, and they just jumped right in and took charge ... they're trying to make it the absolute best that they can in a year where everything is kind of uncertain."
Go Red for Women events have been held for the past 17 years to empower and educate women to make healthy lifestyle choices, according to a Go Red press release from CCH.
"One in three women are going to die from a heart disease-related incident," Lamm said. "One in three – that's huge, and one is too many."