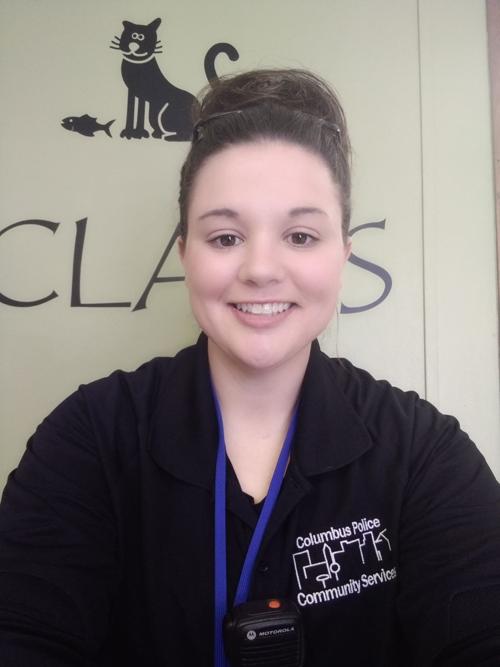 As the fairly new animal control officer at the Columbus Police Department, Michelle Oppliger helps keep the community safe by reuniting lost pets with their owners and ensuring that city ordinances are being followed.
"Basically my duties are to make sure that any animals that are running loose go back to their owners, that the dogs we do have are up to date on their licensing and vaccinations, make sure the citizens are following the ordinances here in town when it comes to animals and just helping people out," Oppliger said.
Residents also contact animal control when licensing exotic pets which commonly include hedgehogs, bearded dragons, snakes such as pythons, parrots and tortoiseshell turtles.
When Oppliger is unable to find an animal's owner, a 72-hour notice is posted.
"Within an hour it is brought to the Paws and Claws Adoption Center, where shelter employees will post the pet's photo on social media in hopes of finding an owner.
"Within an hour of the dog coming in during the day hours, Paws and Claws is very good about getting a picture on social media, trying to find an owner for the dog," Oppliger said. "If we do not have an owner by the 72-hour mark, the dog will then get vet-checked and put up for adoption."
She added that if an owner is located but unable to pick up their pet within the 72-hour timeframe, the animal will be held for them.
The appearance of the coronavirus has decreased the number of animals running loose, Oppliger said.
"Now with the COVID-19 and everyone pretty much being at home with the quarantine, we really do have as high number of calls as we should be having," Oppliger noted.
One part she likes about her job is working with the community.
"I like being able to interact with the people of Columbus," Oppliger said.
Oppliger is the only animal control officer; she works full time from Tuesday through Saturday.
CPD Capt. Doug Molczyk noted that when the Columbus Police Department went through reorganization last year, community service technicians (CST) were established. Oppliger's position is technically considered as a CST, though she is also called animal control.
"We went from 2.5 animal control people to one, but we have CSTs who can cover the call if they need to," Molczyk explained.
On Oppliger's days off, a CST will be assigned to handle any animal control cases that may pop up.
Molczyk, who heads the animal control office, said he has been pleased with having Oppliger in the department.
"She's doing a fantastic job for us," he noted.
Molczyk added that though COVID-19 has halted their animal licensing, they plan on getting right back to it once able.
"As soon as we get the restrictions listed, we'll work hard at licensing," he said.
Molczyk also shared a reminder that those who just moved from the country to inside city limits must update licensing with the city in the case of their pet getting loose.
"That's one way we have of tracking down the owner," he explained.
Oppliger started in her position Oct. 1 of last year. Formerly a dispatcher, Oppliger took the job as an animal control officer once the Joint Communication Center was established because she didn't want to leave the Columbus Police Department.
"I enjoyed the interaction with the officers," Oppliger said. "That's the one thing I didn't want to give up so I left dispatch.
The police department is like a family. I wanted, No. 1, to stay with the department, and two, go up (career-wise) eventually."
Oppliger considers herself an animal lover and has two dogs: A black lab and golden retriever mix.
Born and raised in Columbus, Oppliger said she enjoys camping and fishing with her fiancé and two stepchildren. Before working as a dispatcher, she was employed at BD Pharmaceuticals for eight to nine years.
"I'm just here to help," Oppliger said. "I'm here to make sure citizens are following the city ordinances… I'm not trying to be a bad guy, I'm trying to help them and make sure everyone is following the ordinances."
Get local news delivered to your inbox!
Subscribe to our Daily Headlines newsletter.