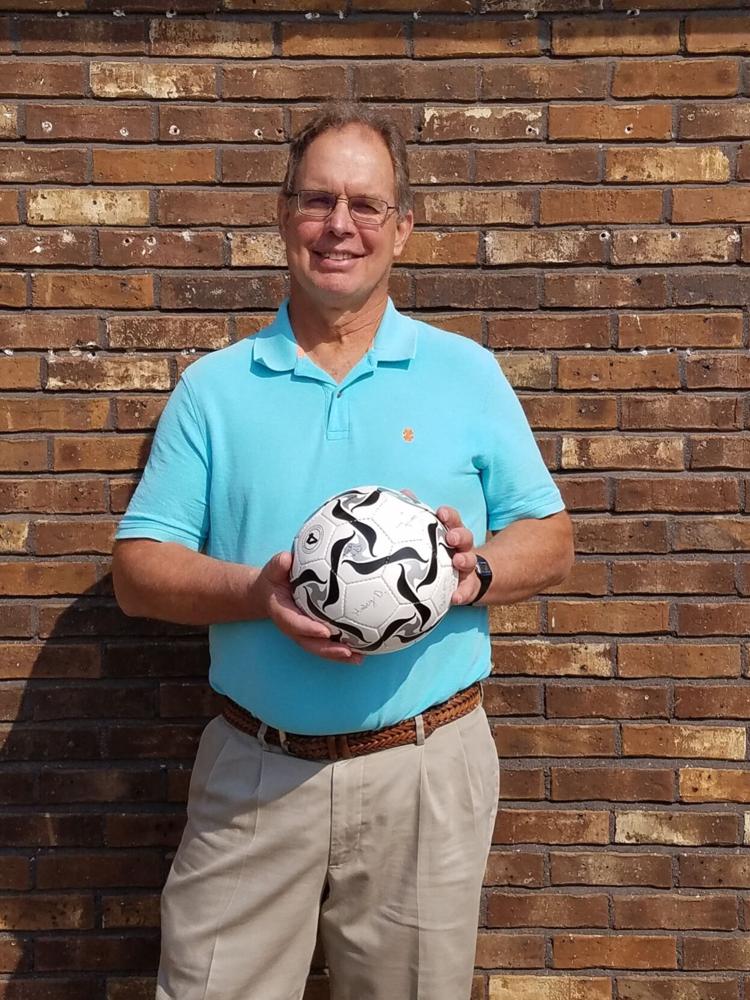 For years during halftime of Columbus American Youth Soccer Organization games volunteer referee Dan Keiter has made a point to skedaddle from the field over to the sidelines and talk with parents and families watching their loved ones.
"Does anyone have any questions about the game of soccer; anything you don't understand?" he asks.
Sometimes, there's a question. Oftentimes, there's complete silence as most people are in a bit of shock they're being asked.
"Or," he says, with a big grin on his face. "Maybe something you think I don't understand?"
Keiter knows what he's doing. He's been refereeing youth soccer in Columbus for decades and has arguably come across just about every type of parent or family member one could imagine. He made the conscious choice to pose his question to fans at halftime in hopes to help strengthen a culture of good sportsmanship and community building.
"Somewhere along the line, I realized, 'you're going to enjoy what you do if you know what you're doing.' I think that bleeds over to our parents - they're going to enjoy the game more if they know what they're watching," Keiter said.
"I would say it's difficult to know and understand all of the laws of soccer. So if I can help them understand at least one call I made that they don't understand or something that affects their child, that's a step in the right direction. It allows parents to enjoy the game more."
In some ways, 62-year-old Keiter has come full circle. He can still remember the days of decades ago when he was a young parent with kids playing soccer. But he quickly discovered the best way to learn was to take the opportunity to be an assistant coach, which led to the decision to pursue refereeing.
Refereeing is only one way Keiter works to help Columbus, though. An architect by day, Keiter is a permanent deacon at St. Bonaventure Catholic Church and has volunteered his time with numerous boards, church groups and nonprofits throughout the years. These are just some of the many examples of the kind of person he is, according to longtime friend and fellow Columbus resident Bob Lauterbach.
"He's a great person and great friend," said Lauterbach, who has been friends with Keiter for about 30 years. "He's the kind of guy who will do anything for you."
Besides serving on the Downtown Runaround Committee together, Lauterbach and Keiter, along with their wives, played on a recreational volleyball team together for many years. Keiter held his own on the court, Lauterbach said.
"He was a very steady, good player," he said. "He hustled a lot."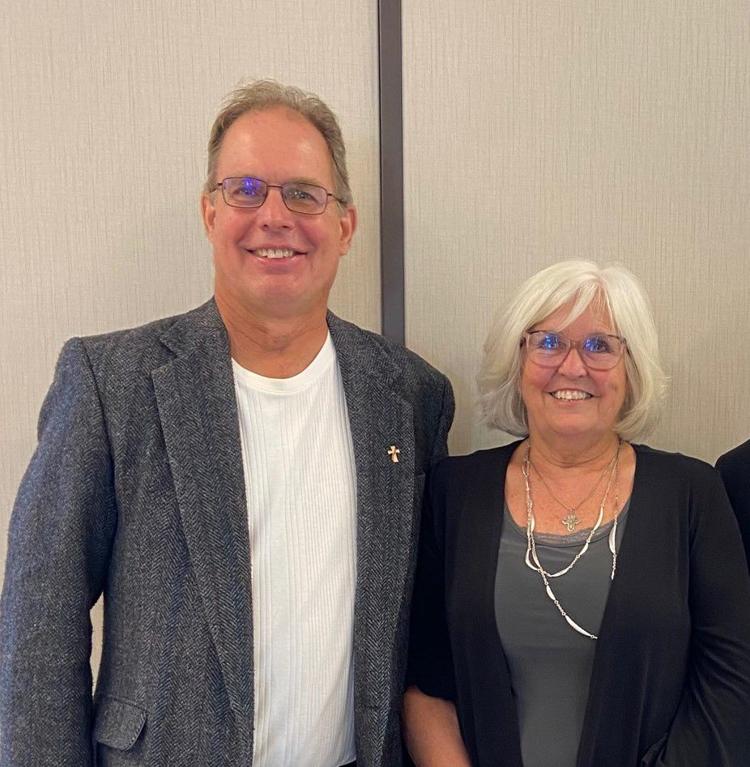 Keiter grew up on the family farm in Hartington, Nebraska, as the fifth of eight children. He learned the importance of a good work ethic early on.
"I had an excellent childhood. We raised livestock. I mostly helped feed our livestock - the cattle, the hogs, the chickens. I put up the hay for the animals," he said. "We had a small farm ..."
When he wasn't tending to farm chores, Keiter enjoyed hunting small game, such as pheasants, quail, and rabbits.
As he got older, he got involved in athletics. He ran track and played basketball in high school, eventually playing rugby in college.
But high school is where he developed his interest in architecture.
"In high school, I took a shop class my senior year that got me into drafting, mechanical drafting," he recalled. "I really enjoyed it - I enjoyed drawing buildings with great detail. I had a good instructor who encouraged my interest in construction and design."
It wasn't exactly a surprise he had taken an interest in the subject. During his childhood, he and his siblings built many things, including some treehouses and "clubhouses" on their farm. One particular treehouse was 40 feet in the air on a cottonwood tree - that house lasted until a sibling fell from the zip line and got injured.
He spent his first-year post-high school at Benedictine College (a Catholic school in Atchison, Kansas) at his parents' request, but transferred to Kansas State University before long to pursue a degree in architecture.
An internship in 1981 with an architecture firm in Lawton, Oklahoma, morphed into a job opportunity upon graduation in 1982.
"Being a Huskers' fan, I had no real interest in going to Oklahoma," he said, with a bit of a laugh while referencing the two schools' football rivalry. "But it was a good opportunity."
Keiter wound up spending nine years in Oklahoma, but it worked out well. He met and married his wife, Belinda, an avid Oklahoma Sooner fan.
"The first five or six years of our marriage was interesting given the Nebraska-Oklahoma football rivalry. We survived," he chuckled. "She's still a Sooner, I'm still a Husker and we're still happily married."
They relocated to Columbus in 1990 so Keiter could take an opportunity to join local architectural firm RVW Inc., where he has been ever since and has served as chief architect for the last two years.
"Architects get involved in everything, and I like to be involved, so it's a good career. I love the being organized," he said. "I've always enjoyed construction - building things and watching things get built. I love communicating with people."
Soccer, or "The Beautiful Game" as former professional footballer Pelé popularized it, was never Keiter's sport growing up. It wasn't until Sarah, the youngest of his three girls, had an interest in playing it in the early-1990s that it came on his radar.
"A year after she started playing, a friend, Rich Albright, asked if Sarah wanted to play club soccer, and asked me to be an assistant coach," he said.
Keiter admittedly had some apprehension because he was new to the sport, but his friend told him it would be a good experience and a way to learn. So, he opted to do it. Still, it wasn't always easy.
"I remember as a young coach, I didn't know much about soccer. But I had some pretty strong opinions about the referees," he recalled.
It was Albright who encouraged him to not get worked up about calls and to try to appreciate the referees. In a way, it also inspired him.
"I realized I had to adjust my attitude. Refereeing can be a thankless job. I wanted to be setting a good example for the kids, for them to have respect for the referees, and I wanted to be a better coach," Keiter said, noting he went on to become a head coach for many years and referee AYSO and club matches.
"I decided the best way to do that was to understand the game better. I thought it would probably be wise to educate myself on what I was seeing on the field - to understand the laws of the game."
Keiter has been rocking his signature yellow jersey and black shorts officiating youth soccer matches for decades. For some time he handled club and AYSO games but has since transitioned to only the latter. And Sarah, now married and an adult, has coached her son in AYSO and Dan has at least one grandchild in AYSO.
But that's not the only reason he continues to hustle up and down the field every fall season. He feels responsible to pay it forward.
"I continue to do it primarily because my daughter and I benefited because of the (AYSO) program and the volunteers, and there are other kids who need that opportunity to play. The league always needs more referees," he said. "The mantra of AYSO is 'to be fun, fair and safe.' Those three words - that's how all these kids should experience this sport and all sports, really. This is an opportunity for me to give back."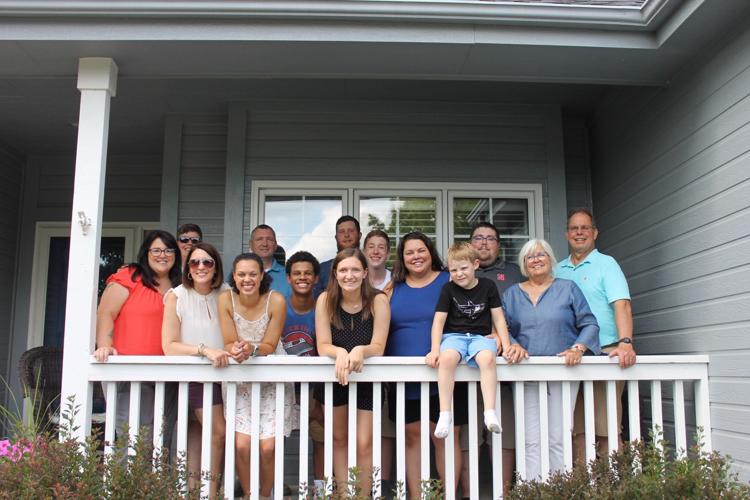 When Keiter isn't refereeing, he's still finding many ways to give back to the community.
"I think what I admire most about him are his honesty and sincerity," said longtime friend and fellow Columbus resident Steve Hollinrake, who has known the volunteer soccer referee for 20-plus years and is part of a small prayer group with him. "I also admire the fact that he is involved in as many projects and initiatives as he is. Sometimes, I don't know how he keeps his schedule straight."
Throughout the years, Keiter has volunteered his time with the Columbus Area United Way, community committees for projects such as viaducts and the Downtown Runaround, on top being a deacon at St. Bons and former cantor and member of its men's choir.
He and his wife also participated in the church's "Godparents' Program," in which a group of 10 to 12 students would come over for a little under two hours once a week, for all four years of high school, to discuss their faith and participate in a fun activity like table tennis, or simply hangout.
Their three daughters (Sarah, Laura and Jenifer) are grown with families of their own. Dan and Belinda relish time with their six grandchildren.
Although he's no longer coaching or refereeing club soccer, he said he doesn't see any point soon where he'll hang up his whistle for good. It's good exercise, he noted. Plus, it's his little way of helping today's young people.
"Hopefully I've been a good example that will allow them to enjoy and live their lives a little more fully. I hope I've had an impact on the youth of the community, because that's our future," Keiter said.
"Respect for people, respect for life, faith in God; we've got to get that back, and that starts with us; being good examples for our children. We need to give them hope and the tools to be productive citizens who are compassionate, patient and caring. They've got to learn that at an early age."
Matt Lindberg is the managing editor of The Columbus Telegram. Reach him via email at matt.lindberg@lee.net.
Get local news delivered to your inbox!
Subscribe to our Daily Headlines newsletter.