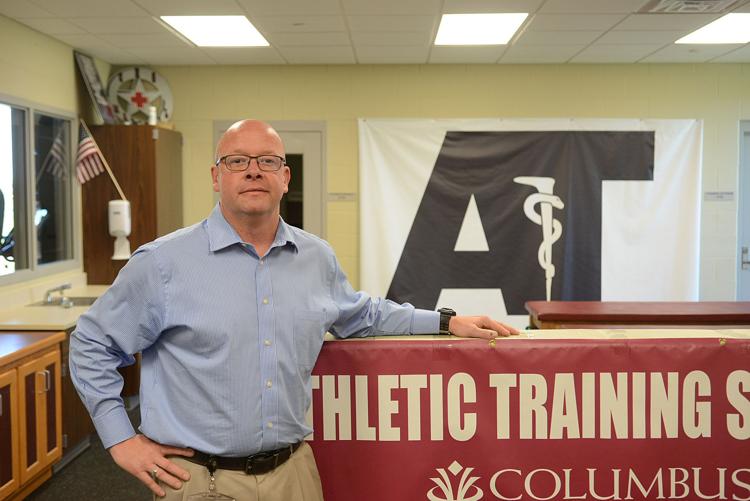 Rob Marshall may be perhaps the most recognizable personality in and around Columbus.
For 25 years he's taken care of student-athletes during training, practices and competitions, and has assisted local patients of all ages in evaluating injuries and undertaking rehabilitation efforts.
There are few other individuals that can claim as high of an interaction rate with the people of the area as him.
That's never more true than when he takes the field, the court or the mat during an injury. As he hustles out to assess the situation, the phone in his pocket starts buzzing and buzzing, and buzzing.
Parents, fans and boosters want to know the details. It's a minor annoyance but one that he understands is a reflection of the trust he's built with the community.
When he arrived in 1995, sports medicine was in its Columbus infancy. In the 25 years since then, Marshall is one of several local athletic trainers that can claim the highest quality of care perhaps in all of the United States.
"It's special here. It's not just the hospital, or just the orthopedics, or just sports medicine, it's family physicians and the physical therapists. It doesn't matter what part of the program you look at. It's all geared towards: 'How do we make this situation as good as it can be?' Marshall said. "It's a shining example for the state, region, nationally, really, when we look at a full sports medicine program for a high school."
Earning a ring
Marshall grew up in St. Edward a multi-sport athlete intent on being one of those guys or gals he saw on TV running out the field in the direction of an injured player. He didn't know exactly what that was, but figured it out pretty quickly once he began his studies at Nebraska.
Although most have to wait until their senior year to join the staff of an athletic program, Marshall was allowed to join the volleyball team in 1993, coincidentally, the only year during an eight-year time span in which the Huskers failed to win the conference.
He was working for baseball in the springtime and then joined the football team in the fall of 1994 when programs flipped athletic trainers. As Big Red fans are well aware, he didn't miss out on a conference championship this time, or an Orange Bowl title, or a national title.
There's a well-known picture of the 1995 Orange Bowl late in the game, a photo Husker fans have always drawn upon as a source of pride. The Nebraska offensive line is staring across the field at a dejected Miami defensive line taking a break on a knee during a timeout. In the middle is a guy handing out water with his back turned to the camera. That guy would be Rob Marshall.
"It was not a season that you would expect a championship to come out of," he said looking back on a year that included injuries to Tommie Frazier and Brooke Berringer among other difficulties. "There were so many monumental things that went wrong that year that. You just kind of look back like, 'This is the year?'"
Marshall has a plethora of stories to share about such characters as Christian Peter and Tommie Frazier, coaches like Tom Osborne and Kevin Steele, and games like the Wyoming win where Berringer's lung collapsed or that Orange Bowl where Nebraska ended decades of frustration. Few are fit for print.
Many of those stories have to do with Steele. Athletic trainers move around practice early on in the season before finding a home. Marshall's home became defense, and specifically, inside linebacker. It seemed like a natural fit because that's where he played for St. Ed. That mattered little to linebackers coach Kevin Steele.
Steele was notorious for playing mind games with his players and anyone in the vicinity. Marshall often became a pawn in those games, as he said he received a tongue-lashing for something the players did that was completely unrelated to his role as the medical support staff.
It was an eye-opening five months. 
Yet, even before that, he had found his calling in high school. Prior to working in NU athletics, he developed a bond with an athletic trainer at Lincoln East that has lasted to this day. His time with Nebraska included a national championship ring for his efforts. Regardless, the politics and power struggles of college sports, in general, were not where he found his passion.
"At this level a little, it's a little more pure," he said. "There are some that are trying to go on to the next level, but the vast majority of these kids are doing it because they love the sport, they have great friends on the team and there's a family atmosphere to it that drew me to this level. I love it."
Finding his home
The stars aligned in Columbus. The athletic trainer in town was a graduate assistant at Nebraska during Marshall's time in Lincoln. He informed Marshall the position would be open after only one year. The plan was for marriage and a move, leaving Columbus High School with a hole to fill.
It was near his hometown and sounded like a great place to start.
Marshall admits he likely had more credibility than he deserved when he started in Columbus thanks to his affiliation with a college football national championship. That, plus the partnership of the coaching staffs at CHS, allowed him to start to build a sports medicine culture.
"The coaching staffs were seasoned. Their attitude was, 'If you can help us, we want it,'" Marshall said. "I walked into a fortunate situation."
He worked for a handful of different clinics in town before athletic training at the high school level was taken under the umbrella of Columbus Community Hospital (CCH) nearly 20 years ago.
That led to some cutting edge developments thanks to a support system that brought several different departments of the hospital into a collaborative effort.
Once that program was in place, Mike Sloup was hired and installed at Lakeview. In the 17 years since that first expansion, athletic training in Columbus has grown to include full-time staff at all three high schools, Central Community College-Columbus, Schuyler Central High School and support for other area schools.
Sloup also indirectly led to another expansion. Following a meeting in Omaha, Sloup ran down a fellow athletic trainer in order to encourage her to apply for an open position in Columbus.
Denise Marshall was hired by CCH in 2007. She and Rob are married and just welcomed their first child, Traedyn, just about a year ago, adding a fifth member to a family that included two more children from a previous marriage.
Cyrus, the oldest, wrestled at Concordia and is entering his senior year. Harper will be in her sophomore year at UNK this fall.
Sparks didn't fly until Denise was in Columbus for four or five years. But, spending enough time around somebody, Rob said, "you just never see it coming."
The relationship is an irregular one due to the strange hours the two work. But there's also an understanding unique among only those who are in the profession.
The Marshall family is part of a larger Columbus athletic training family that is widely recognized as the best in the state. Recently, Children's Hospital has requested help in building a similar setup in Omaha.
Additionally, Sloup is serving as the Nebraska Athletic Trainers Association Executive Board president. Denise is the vice president. Rob is on the board of directors. Other Columbus athletic trainers are involved in the NATA on the committee level.
"When you have a staff that's that committed not only to where they work and the kids they work for but the profession they're in speaks volumes to who you have as a group," Marshall said. "I'd put our staff up against anyone anywhere; I wouldn't even hesitate. They don't just believe in what they do, and they don't just believe in who they work for or where they're at; they believe in the profession and how they further that and advance that. They view it as a responsibility."
And CCH has always been willing to provide its athletic training staff with the resources needed to maintain and grow. Marshall said it's the dedication by the staff in line with the commitment from the hospital that makes Columbus the preeminent place to be a high school athletic trainer.
In his 25 years, he might be most proud to say that everyone who has ever been hired for an athletic training position in Columbus has never left.
It's about the kids
Yet, as invigorating as it is to be a part of such a hard-working group, Marshall's real passion is for the student-athletes he's allowed to build relationships with over the course of their high school careers.
One story he likes to tell about what that means involves a Homecoming football game. Some of the festivities included smashing up an old car painted with the opponent's colors.
One of the players donated his first car, which he sometimes loved, sometimes hated, for the event. However, coach Dick Luebbe warned the football team not to involve themselves in the swinging of sledgehammers prior to the game.
Unfortunately, the former owner of the car couldn't stay away. As he hopped up to take a swing, he landed on a bolt that punctured his boot and drove into his foot.
He came to Marshall limping and looking for help. The boy's personal physician was contacted. He was rushed in, X-rayed and bandaged up in time to play. He tried to make Marshall swear to secrecy but there would be no such pact.
Marshall made him go into coach Luebbe's office and admit his mistake. That player became a coach later on and is now a principal.
"It was one of those neat moments where you see a kid grow up," Marshall said.
That love of interaction with student-athletes is always on full display.
Football coach Craig Williams has seen it for 20 seasons.
"At the meeting at the beginning of the year, he'll give out his personal phone number to all the parents and all the kids. It's a situation where he's always available," Williams said. "Coaches can call him anytime he's needed; and kids can call him at any time. He'll drop everything and meet them at the school."
Dave Licari has worked with Marshall since the late 1990s and has likely more involvement with him than any other coach. Licari leads cross country, girls basketball and girls tennis. Over the years, he said Marshall has never wavered in his commitment or love for what he does.
"He's got a great attitude for working with kids and coaches," Licari said. "I'm sure he's been down at some point about something, but not ever when he's around me or the kids. I've never seen him negative. You send kids to him and...gosh, he just does a lot."
Wrestling coach Adam Keiswetter has competed at the college level, coached in Franklin, Nebraska and in Colorado, but never encountered an athletic trainer as devoted as Marshall until he came to Columbus.
"The athletes we have, they've got it good," Keiswetter said. "And his personality, he's just a helpful person. He thrives on helping that football player with a sprained ankle get back in the game and score the game-winning touchdown. That's the stuff that makes him feel good.
"The kids on our teams, they don't know how lucky they are."
From Marshall's perspective, he's the lucky one. Nearing 30 years on the job in Columbus, he's seen a generation of student-athletes come and go. The most fulfilling part is seeing what they become after leaving the hallways of Columbus High.
Whatever he can do to make some impact in a kid's life, well, that's why he shows up every day.
"I sit in the room with the kids know and think, "I wonder what you're going to do? I wonder where you're going to go with this,'" he said. "For the most, what I try to convey to kids is, regardless of where you go, just know that this is a safe place for you to be. Whether it's an injury or just to sit down and talk, it's a safe place, and if I can help you, that's what we're here to do."
Get local news delivered to your inbox!
Subscribe to our Daily Headlines newsletter.