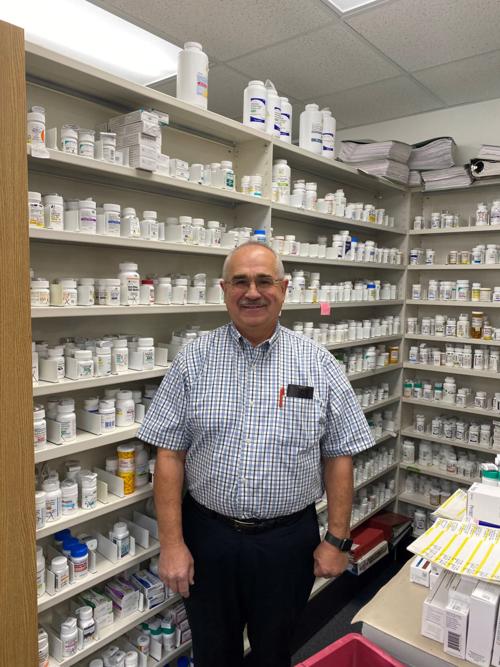 Pharmacist and business owner Bob Ellsworth is retiring after 30 years of service to the Columbus area. His store, Bob's U-Save Pharmacy, 2759 33rd Ave., will shutter its doors next week as Ellsworth has sold the business to CVS, 2307 23rd St.
Ellsworth, 67, said the decision was hard to make, even though he originally planned to retire a few years ago. He decided to finally proceed with the decision over the summer.
"If I was going to sell the drug store, I would have preferred to sell it to someone who would keep it open, but the amount of money that someone can pay for the business as is was far less than what my three primary competitors were offering," Ellsworth said. "Walgreen's, Hy-Vee and CVS were offering me to transfer my business to them. So I figured, 'Well, you're selling it so get the best offer you can.'"
Part of the issue, he noted, is that a large majority of his business is Medicare drug coverage.
"The profit margin that Medicare affords us is so low that it's difficult for somebody to come up with all the money they would need to buy this big of a business. We fill over 100,000 prescriptions a year," Ellsworth said. "It's just too high in relation to the gross margin. But to move the files of the business over to a pharmacy that already exists, it's much more profitable."
Physician information for all of Bob's U-Save customers will be electronically transferred to CVS on Dec. 2. From there, customers can decide if they want to stay with CVS or transfer their prescriptions to another pharmacy.
"Our last day of business here will be Dec. 1. We're going to close at 6 p.m.," Ellsworth said.
The decision was "very, very difficult" to make, especially in regards to his employees.
"That's probably the hardest part for me – the employees," Ellsworth said. "Some of them have been with me for like 20 years. I've got four or five people that have worked for over 20 years and one that's been here over 25 years. Most everybody who works here has been here for 10 years or more."
Some of his employees will work at CVS while others have decided to retire.
"They've all found alternative employment or have been offered it, and we've had a really good time working here together," he said.
Renee Ernst is one of Bob's longest-serving employees, having started working with him 24 years ago when he had a grocery store in the now-gone Family Thrift Center. She has worn many hats at the job but is currently responsible for accounts receivable.
"I just remember when Bob first hired me, he told me, 'There's going to be days you're going to go home and you're going to be so exhausted and your feet are going to hurt and you're going to wonder how you got through the day.' And I thought, 'OK?' While I was going home, I thought, 'It's a pharmacy, surely it's not that busy, really.' After the first day of work, he was 100% right," Ernst said.
Ernst described Ellsworth as a boss who cares about his employees, always asking about their families and allowing them to attend their children's activities.
"We all kind of joke about it but we call ourselves the pharmacy family because many of us have been together for quite a number of years," she said. "We've watched each other's kids grow up, grandsons, granddaughters, weddings and, unfortunately, death too."
Ernst said she's keeping her options open following Bob's U-Save's closure as she's not quite sure what she wants to do yet.
"I still want to find something part-time, for sure, just to keep me out and about," she said.
"He (Ellsworth) deserves to retire and enjoy his success as a pharmacist and a business owner. We'll all wish him the best, I'm sure of that."
The customers have also been an enjoyable part of her 24 years in the pharmacy business, Ernst said.
"It's been great working with them. It's been a joy getting to meet them and talk with them and see them on a regular basis," Ernst said. "Without them, we wouldn't have had jobs for as long as we have."
In 1990, Ellsworth moved to Columbus where he started a pharmacy inside Super Saver. He started another at Family Thrift Center a few years later. In 2002, Ellsworth established his stand-alone business, Bob's U-Save Pharmacy.
"It's been very, very rewarding. I've made a very good living," Ellsworth said. "… The calendar says I'm not getting any younger, which the mirror confirms, and it's time to do something different."
Ellsworth plans to spend more time with his family, especially his eight grandchildren. He also hopes to spend more time fishing and traveling.
"It's been great," Ellsworth said. "This is a great community to be a part of and I would certainly encourage anybody to come here if they desire to."