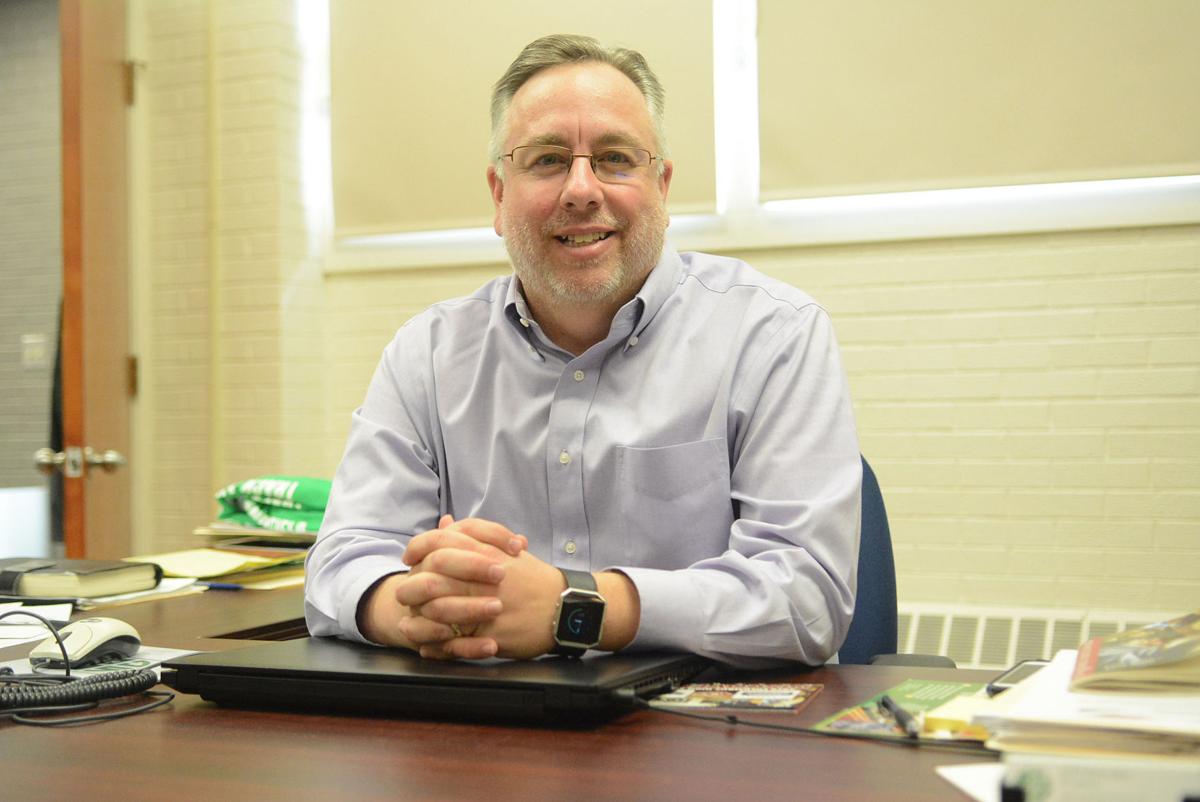 Scotus Central Catholic High School released expectations on Thursday for the upcoming school year, with plans to be in-person using new social distancing measures, such as limiting the number of people who can attend Morning Mass.
Masks will be required where social distancing is not possible, according to the release, which stated masks are "not a political statement" and asked for people to be respectful of each other.
The Catholic elementary schools in town will be putting out information about their school years in the next day or so, said Scotus President Jeff Ohnoutka.
Parents are asked to screen their children for symptoms at home and if they are sick, to keep them at home, according to the release. There will be a relaxed attendance policy this year and parents will also be sent a waiver, which Ohnoutka said is not completed yet.
"I think that this plan that we've developed right now, it's for the current situation that we find ourselves in," Ohnoutka said. "It will be something that will always have to be monitored and possibly adjusted as we go along, because as the situation changes we will have to also."
If there is community-wide spread, temperature checks will be conducted at the school and the number of entrances will be limited.
For students or staff who experience symptoms, test positive, or both, they will be allowed back in the building once they meet certain conditions, including being "fever-free for at least 24 hours without the use of fever-reducing medicine."
Their other symptoms must improve and in some cases, they must wait 10 calendar days since their symptoms first appeared.
Ohnoutka said a student experiencing a COVID-like illness will be treated just like if a student was home sick normally.
"In our rules, they have two days from when they get back to make up the work that they have. In this type of situation, you're going to have lots of different scenarios happening." Ohnoutka said. "Those kinds of things about whether they're able to do the work, at that time while they're gone, is going to be on a case-by-case scenario because it just depends on the severity."
For teachers who are sick, Ohnoutka said the school will get substitutes or fill from within.
"Everyone is provided with 10 days that are COVID-related sick days in addition to the normal sick days that they get," he said.
Students are asked to stay home if sick, wash their hands and social distance. Teachers, parents and students will all be provided with training and/or information on different programs such as Microsoft Teams in the event of remote learning.
Ohnoutka said they would do remote learning if the governor or the Nebraska Department of Education stated they need to shut down fully.
Ohnoutka said he does not know if they know what number or percentage there would be of students testing positive that would make them decide to shut school down.
"Because this situation changes all the time when you develop a plan like we did, it's very hard to be real specific about things because there is so much fluidity to everything," he said. "So that is something that will just have to be looked at by (the) current environment that we're in."
If directed health measures were released, requiring a reduction of the number of students in the building, Scotus will move to a hybrid model, and if community spread requires the building to be closed, they will move online.
All students and staff will be required to wash or sanitize their hands before they enter the cafeteria and social distancing will be required. Self-serve items will be distributed by cafeteria staff and there will be no salad bar or use of a microwave.
Assigned seating will be utilized in the cafeteria and teachers are asked to use assigned seating in the classroom.
Although P.E. classes will be taught as normally as possible, utilizing social distancing, they are still working out the logistics for Chorus and Band classes.
Ohnoutka said they are more concerned about band because when students are playing instruments they can blow into them and they don't know how that will affect the potential spread of COVID.
"We're taking a look at more studies and more guidance about that so that we can come out with a plan in the week prior to school starting that will be the safest way for us to conduct a program that's very important to our school," he said.
Other changes include assigned times students can go to their lockers, only being able to use the bottle filler part of the water fountain and the elimination of a snack break.
Additionally, the building's HVAC system will be updated to allow more outside air in.
Scotus will also be providing two masks to each staff member and student. Ohnoutka said the masks were donated by a variety of entities, including CHI Health and the East-Central District Health Department.
Students will be expected to come to school unless their medical provider says they are unable to participate, at which point they would do remote learning, Ohnoutka said.
School officials will try to enforce everything 100% but Ohnoutka said he is sure there are going to be times they have to remind students of social distancing.
"Our kids, just like they did a great job during the spring, when our building had to be shut down, and they participated extremely well, I know that they want to go to school and they want to be in a school environment," Ohnoutka said. "I believe that they're going to be respectful and do all the things that are necessary in order to make sure that we can continue that."
Columbus Public Schools also announced this week its plans for reopening school, which will be held in-person with masks and social distancing being required.
"We're following East-Central District Health's risk assessment dial. We've developed plans for green, yellow, orange and red. Right now all we are sending out is what we're going to do under yellow, which is what we're currently at," CPS Superintendent Troy Loeffelholz told the Telegram earlier this week.
Lakeview Community Schools announced in a letter to parents that school will begin Aug. 19. Final plans will be announced Aug. 5.
"We are well aware that several school districts will be announcing their re-opening plans prior to Aug. 5th, and we respect their decisions to do so. We believe due to our school size, current preparations, and detailed planning process; we will be able to make the final decisions on Aug. 5th," the letter states.
Concerned about COVID-19?
Sign up now to get the most recent coronavirus headlines and other important local and national news sent to your email inbox daily.