Columbus native Sawyer Dion was admittedly nervous in 2018 when she decided she was going to roll the dice by opening a local storefront for her popular online business, Steele Jayde Boutique.
"You usually see brick-and-mortars closing and going online, and I did it backward," Dion said, noting she was running her operation out of her basement before making the jump to a store. "It grew, grew and grew to the point I had boxes on top of boxes on top of boxes, and it wasn't efficient. It was a hot mess."
Rolling the dice on opening a storefront paid off big, though, as the business is booming. Steele Jayde Boutique is celebrating its first anniversary at 3405 21st St. in Columbus in conjunction with Small Business Saturday from 10 a.m.- 5 p.m. today.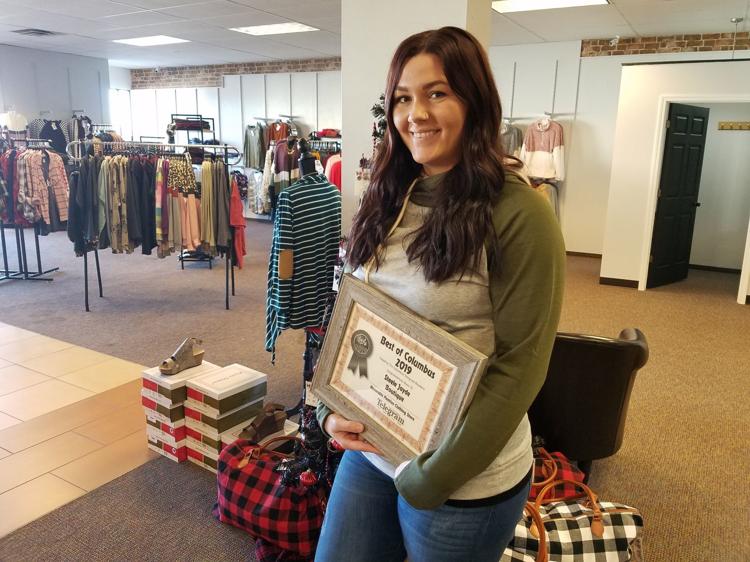 As part of it, there will be doorbusters for the first several people who get to the store when it opens. There will also be various giveaways and other "exciting" happenings throughout the day at the store, which offers "the trendiest of styles in a wide variety of sizes, Small-3XL!" according to its website. She started it as a way to offer types of clothing and accessories (handbags, jewelry, socks, shoes and more) she wished she could find here. Whether it's her personal custom T-shirts that she designs herself with quotes and clever sayings or hundreds of other items she finds and brings in, Dion aims to provide a little something for every woman.
In many ways, the celebration today is the culmination of hard work on Dion's part to grow Steele Jayde. The store and online components have worked hand in hand. Steele Jayde has close to 42,000 likes and followers on Facebook on top of several thousand more part of a private VIP group. She's also grown a steady following on Instagram. All of that is thanks to the constant pictures and videos she's publishing, interacting with her customers.
Those efforts have gotten residents and many from the likes of Kearney, Ainsworth and even Iowa patronizing the business online and traveling to its Columbus store to shop in person.
You have free articles remaining.
Register for more free articles
Stay logged in to skip the surveys
"There have been some challenges … (but) it has been going awesome," Dion said, noting she has a handful of part-time employees who work in the store. "I still get new people coming in all the time."
The latest open house to celebrate the first anniversary came at a perfect time for Dion, who takes pride in being an entrepreneur.
"I love Small Business Saturday," she said, noting she's not looking to compete with the likes of giant retailers like Walmart, Target or JCPenney but rather stick to her niche market of customers who understand the importance of supporting local operations. "I think small businesses are always underrated for sure."
Dion, who graduated from Columbus High School in 2009 and then got her associate degree in business administration from Central Community College-Columbus, is a wife and mother of three children (one son and two daughters). Her family – husband, Josh, and their kiddos – have been tremendously supportive of her business and vision, which keeps her motivated. That's why she said she values all of her customers – who she proudly calls the "Steele Jayde Tribe."
"I will look at my customers and how much we've grown, my sales, and yada, yada, yada … I can't believe they support me the amount they do," Dion said, with a smile. "It almost makes me tear up sometimes because nowadays there are like a bajillion places to shop online ... yet they still choose to support me, my family and my kids, and I'm very thankful for that."
Matt Lindberg is the managing editor of The Columbus Telegram. Reach him via email at matt.lindberg@lee.net.