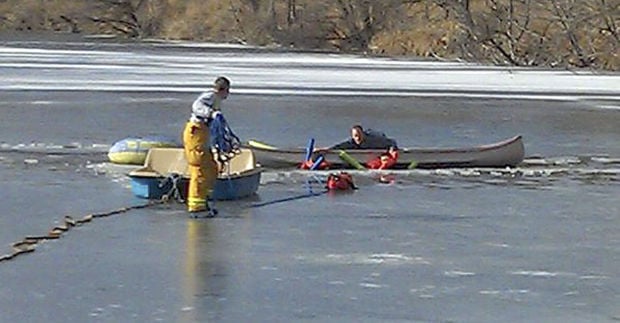 DUNCAN — Two teens are recovering after falling into icy water at Duncan Lakes on Christmas Day.
Bryar Alvarado-Meyer and Seth Albert, both 14, fell into the water about 1 p.m. Wednesday after the ice they were walking on broke.
"At first it was terrifying," Albert said Thursday. "It happened so suddenly.
"All you could feel was the outline of your body ... it was like I was a 2-D object," he said.
When Albert reached land he tried to run, but made it only about 5 feet before doing, in his words, "a face plant." Albert said he doesn't remember much of what happened after that and during the ambulance ride.
Alvarado-Meyer's grandmother, Sue Dush, said the teens were visiting her for the holiday at her and her husband's home on Duncan Lakes, which is south of the village of Duncan and the Platte River.
Dush said she was home alone with the boys, who were walking on the ice-covered lake. She said they were trying to walk across the lake when Albert, of Minnesota, fell through. Alvarado-Meyer, of Columbus, attempted to help him, but fell through, too.
The boys yelled for help and were heard by Rick Blessen, who used a canoe to reach them. Emergency personnel from the Duncan and Columbus fire and rescue teams arrived at the scene and tossed a rope to Blessen, who tied it to the canoe and held onto the boys as they were pulled out of the water to safety.
Dush said they were in the water for about 30 minutes before being rescued and taken to Columbus Community Hospital where they were warmed and treated for minor cuts and scrapes. Both boys were released from the hospital Wednesday evening.
"The people at the hospital said it was a Christmas miracle," Dush said.
Gary Schlesinger, a volunteer with Duncan Fire and Rescue, said the boys were at least 90-100 feet from shore when they fell through.
"That area is pretty thin. There is an underground spring that prevents it from freezing too hard," Schlesinger said.
He said the quick action by Blessen and other neighbors aided in the effort. The boys were given life jackets to wear to help keep them afloat until they were rescued.
"That quick response probably saved their lives," Schlesinger said.
Blessen, of Crete, was in Columbus visiting his mother at Duncan Lakes. He was walking out to throw away some trash when he heard the boys yelling for help.
Blessen acted quickly, enlisting the help of two of his own children to collect life jackets and flotation devices, then made his way out to the teens in the canoe.
"The boys were trying to hang onto chunks of ice. It just kept caving. I had no idea how long they were out there," Blessen said.
Using paddles to break his way through the ice, Blessen got to Albert first and was able to secure a life jacket onto him. Then he did the same to Alvarado-Meyer, who was a few feet away. The boys were unable to climb into the canoe because of the danger of tipping it over, so Blessen held on to both of them until they were rescued.
Blessen was only in Columbus to spend time with his ailing mother. He was going to return home on Christmas Eve, but stayed another day. He said he just reacted on instinct to help save the teens and doesn't believe he is a hero. He just did what he thought needed to be done.
"There's always a time when you have to decide what is the right choice and the wrong choice. That was the right choice," he said.