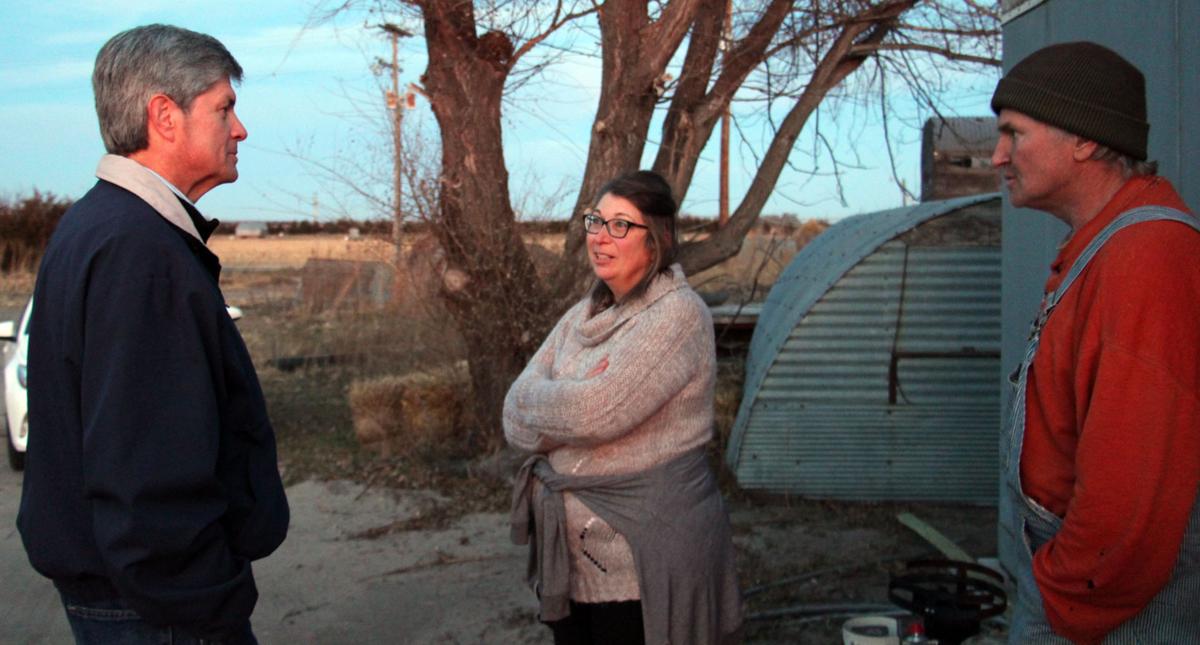 One Platte County-based farm operation recently found out it's a recipient of a sizable federal grant.
Erstwhile Farm LLC, of Columbus, on Wednesday was announced by the Trump administration as one of 11 Nebraska food entrepreneurs and agricultural producers that were awarded funding to develop new products and expand their business lines.
According to the operation's website, Erstwhile Farm, owned by Larry and Lanette Stec, is a "small, sustainable family farm that recognizes the value of food and a simple, fresh, home-cooked meal."
"Our promise is to grow and nurture healthy 'farm goodness' (without the use of chemicals or antibiotics) and help you bring it home to your family... all while maintaining our ongoing commitment to respect the land and animals in our practices," a statement reads on their website.
The Trump administration stated the United States Department of Agriculture (USDA) is investing $1,150,061 to help all recipients. Erstwhile was awarded $49,991 to go toward, according to the USDA, "working capital for the processing and marketing of processed certified organic packaged pork products, including materials for packaging and labeling, print materials, website and branding. The project is expected to increase the customer base by 114 customers."
The funding is being provided through USDA Rural Development's Value-Added Producer Grant (VAPG) program.
"The Value-Added Producer Grant program helps agricultural producers enter into value-added activities related to the processing and marketing of new products. Funds can be used for planning activities or for working capital expenses related to producing and marketing a value-added agricultural product," said USDA Rural Development Nebraska State Director Karl Elmshaeuser, in a statement. "Under the leadership of President Trump and Agriculture Secretary Perdue, USDA has been working tirelessly to be a strong partner to rural Nebraska in building stronger and healthier communities, because we know when rural America thrives, all of America thrives."
Lanette Stec on Thursday afternoon told The Telegram they were "very honored" to be named a recipient of the grant, noting they applied earlier this year. But, she said, a lot has changed since then - including the start of the COVID-19 pandemic and now it being harvest season - so they haven't made a decision on how to proceed.
"We're still evaluating what God is calling us to in the future, and so we've got another month yet to accept (the grant)," she said.
Other Nebraska operations to receive the grant were Jisa Farmstead Cheese LLC of Brainard ($250,000); Straight Arrow Bison LLC of Broken Bow ($17,480); Robert Bernt DBA Grassland Dairy Producers of Spalding ($49,999); Rock Creek Agriculture LLC of Diller ($41,569); Jord Producers LLC of Lincoln ($49,999); Nicholas Ryan DBA Prairie Creek Vineyards of Central City ($141,273); Whiskey Creek Run Vineyard and Winery LLC of Brownville ($200,000); Buzz Savories LLC of Holdrege ($50,000); Western Farms Seed LLC of Scottsbluff ($250,000); and ELTEE Mangalitsa's LLC of Pender ($49,750).
VAPG grants may be used for planning activities or working capital expenses related to producing or marketing a value-added product including feasibility studies, business plans, processing of the value-added product, logo and website development and marketing and distribution. Funds cannot be used for agriculture production or the purchase of land, buildings or equipment.
Independent agricultural producers, farmer or rancher cooperatives and producer-controlled entities are eligible to apply. Veterans, socially disadvantaged groups, beginning farmers and ranchers, operators of small- and medium-sized family farms and ranches, and farmer and rancher cooperatives are given special priority.
Get local news delivered to your inbox!
Subscribe to our Daily Headlines newsletter.