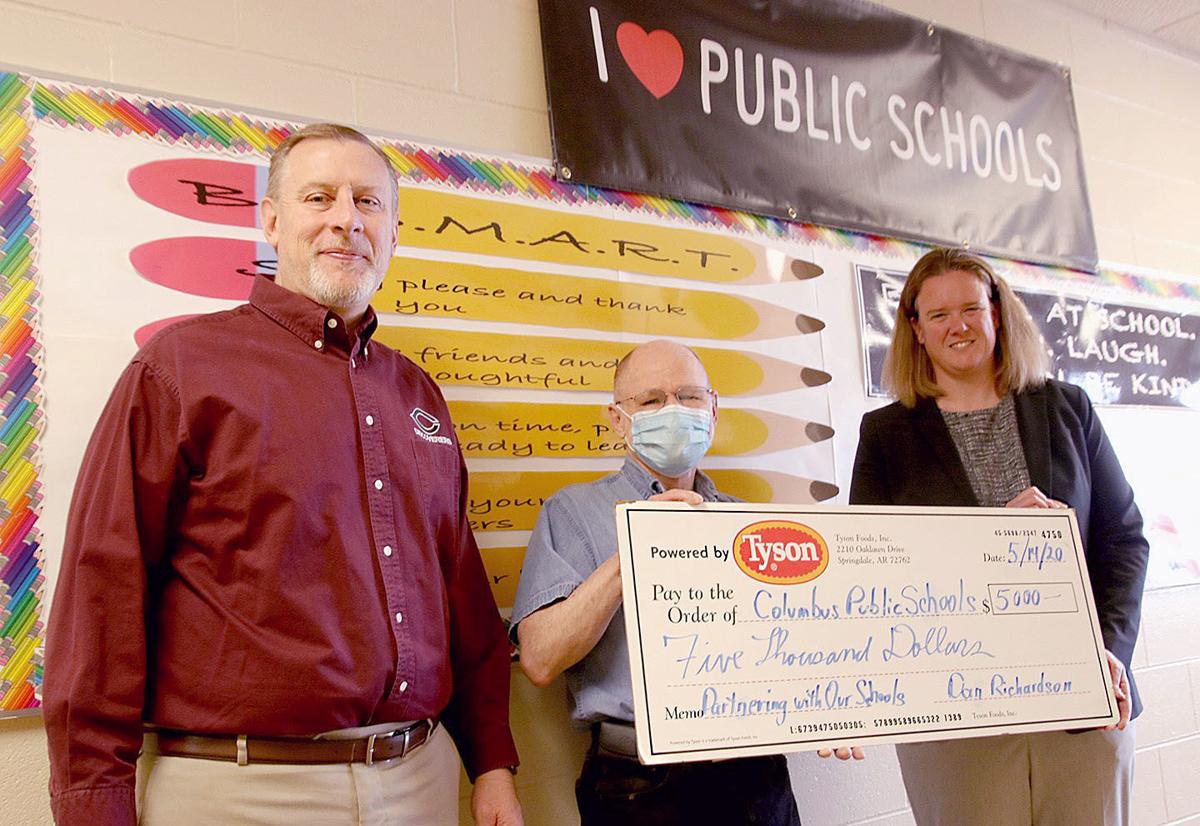 Preschoolers in the Columbus Public Schools district will soon have new iPad covers thanks to a generous donation from Tyson Foods.
Columbus Public Schools Marketing/Foundation Director Nicole Anderson and CPS Superintendent Troy Loeffelholz accepted a check for the foundation Thursday morning from the Tyson Fresh Meats plant in the amount of $5,000. It was one of three checks Randy Rodenborg, chaplain at Tyson Foods in Madison, delivered on Thursday to go with donations to Norfolk and Madison.
CPS has had many unexpected needs arise out of the COVID-19 pandemic. Teaching and instructing students via laptops and iPads as part of distance learning, as well as adding to the school lunch program, are a few issues CPS is trying to address that weren't on the radar just a few months ago.
The money donated Thursday is a partial answer to one of those unplanned obstacles.
"We appreciate the support Tyson is providing to Columbus Public Schools to help the community in which their employees live," Anderson said. "By them donating this $5,000, it gets us about halfway to all the iPad covers we need for the preschool. It gives us a good start, for sure, to complete that project."
The project for the covers is intended to put iPads into the hands of 162 preschoolers. The CPS 1:1 initiative distributes technology to students in the form of laptops and iPads. Currently, kindergarten through fourth graders receive an iPad. Fifth through 12th graders are given a laptop.
But when schools were closed for the remainder of the semester, that left preschool students and their parents in a tough position. Not all of them have the devices necessary to continue education at home. Purchasing the iPads will be completed through another project later this month. But while that had an answer, CPS had to confront another problem.
Some parents are reluctant for their young children to use the iPad due to the potential for damage that is always possible with kids 5 and younger. The protective covers help relieve those fears and encourage usage, and therefore, encourage learning.
The process began about a month ago when Tyson first reached out to determine how and if it could help. Anderson, after consulting Loeffelholz about what current needs the school district had, was back in contact with Tyson two weeks ago and learned that a $5,000 donation was in the works.
Rodenborg said the money is a result of a request from Tyson team members to help schools whom their children attend during the uncertain COVID-19 pandemic. His duties as a workplace chaplain include interacting with Tyson team members when they reach out for help in tough times, but also in the good times.
Thursday was definitely one of the good times.
"These particular donations came from the plant manager," Rodenborg said. "They just wanted to help the schools where children or family of our team members are going."
Tyson has been a regular contributor to the community lately. The plant handed out free chicken products last month and did the same just over a year ago to areas affected by the March flooding.
"The schools are a terrific benefit for our kids. We want to help our schools out. Our schools are taxed by this whole situation a lot – teacher's doing far more work without face-to-face time other than Zoom meetings and that sort of thing. But also, feeding kids and going the extra mile there."
Columbus also faces issues that include transportation costs for delivery to the sites of the school lunch program, assisting with any mental or emotional issues students may have when they, potentially, return to school buildings this fall providing technology to preschoolers.
Thursday's donation was a start in clearing one of those hurdles.
"I'm proud to represent Tyson. I'm proud to help our community," Rodenborg said. "I'm proud of our plant, all that we've done."
Concerned about COVID-19?
Sign up now to get the most recent coronavirus headlines and other important local and national news sent to your email inbox daily.