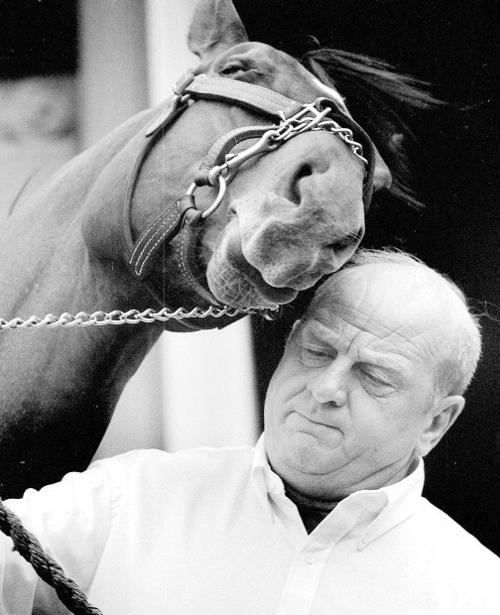 Legendary trainer Jack Van Berg was little more than a toddler when his father Marion Van Berg left Columbus in desperation to seek a friend in the south.
Marion started a sale barn in Columbus in 1936 — the year Jack was born — and it was going horribly. After three sales, the pavilion still was drawing meager crowds and hemorrhaging money, according to Jack's biographer Chris Kotulak.
He writes family and acquaintances would know Marion as a lion of a man with an unmatched will — characteristics young Jack would acquire later in life, too — but in that moment before a moneyed Grand Island business partner he was vulnerable and defeated.
The partner — who proved to be more of a friend, Kotulak writes — casually threw Marion a line and his checkbook.
How fitting that the younger Van Berg returns to Grand Island almost 80 years later with a successful, storied life behind him lovingly retold in Kotulak's biography, "Jack: From Grit to Glory, a Lifetime of Mentoring, Dedication and Perseverance."
The famed Columbus trainer will be at Fonner Park during the horse racing meet Saturday with the author to meet with fans and introduce them to the book.
Though his name leads the book's title, Jack explained this book is as much an homage to his father.
But it's also about him, too.
"(Dad) was the kind of person who — and I got this, too — once you're around him, you respected him so much, that honesty and integrity grew on you."
Marion always had frank advice, like  "When you tell someone something, make ... sure you stick to your word," and, "When you're in an elevator, you take your hat off when a lady steps on and always wait for her to get off first," Jack said in a grizzly tone probably not too different from the one his father might have used.
That relationship was a touchstone for Jack's biography, Kotulak said. He added the book shows the solid gold respect Jack had for his father "and a desire to do what his father wanted him to do whether he was in the presence of him or whether he was hundreds of miles away."
What Marion wanted Jack to do became what was necessary when Jack took over his father's thoroughbred racing business in light of his dad's failing health.
Talk about big shoes. Marion won more than one in five of the races he entered, trained 1,500 winning horses, accrued about $14 million in winnings and was a National Museum of Racing Hall of Fame inductee in 1970.
Jack would counter with his own legacy: winnings of $82 million from more than 6,000 wins resulting in his own hall of fame selection in 1985. In 2009, there was only one trainer alive who had more victories than he did.
Talk about big shoes for a biographer.
"I knew it would be a major undertaking. It's not like all I am is a writer," Kotulak said, explaining that he worked on Jack's biography while doing his normal work at Remington Park in Oklahoma.
Kotulak also has worked at an analyst for TVG Network, a specialty television channel devoted to horse racing. He was the announcer for the races at Platte County Agricultural Park from 1991 to 1993.
Writing the book while juggling a full-time job, Kotulak said there were about six months where he was working 80 hours a week, if not more.
Kotulak said the energy of Jack's narrative and how much of a dent the Van Bergs put in the racing universe was a sort of meeting of the gods for a guy who grew up a few blocks from the Ak-Sar-Ben race track.
"Anyone who knows the Van Berg name knows (Jack's) in rarefied air," he said.
Though what surprised the author most was how little he let his ego get in the way and how passionate Jack is about his craft and the people around him. Kotulak said Jack's dedication owes a debt not only to his dad, but to Columbus itself and the can-do-but-do-well culture of Nebraska.
That became a source of strength during the long nights that followed his accepting the assignment.
"Because of my Nebraska upbringing and Nebraska pride, that made the book easier to write. I never had to fight for that," he said. "It was always a job to write because of the stories I was telling."
Jack now works just a single ranch in California, several levels away from his career high operating a conglomerate of five — "or six," he adds — stables in cities casually tossed out: Philadelphia, Pa., Chicago, Ill., New York, N.Y.
It was an empire he wrought as a college dropout, as a guy who lied about his age to get his trainer's license at age 15. It's a sort of start one could have fairly expected little of, much like his dad's decision to start the Columbus Sales Pavilion, which continues as a vibrant commercial meeting point for ranchers, but was once just a great, palatial building in a bare town: Middle-of-Nowhere, Nebraska.
"It looked like the damn Taj Majal," Jack said.
The same could be said of the esteemed trainer's legacy, something of a world wonder.