The loved ones of Darlene Cepel are working together to give the Columbus woman the send-off she deserves following her unexpected passing earlier this month.
Darlene, who passed away on Sept. 11, had been a realtor at kwElite in Columbus. Now, kwElite Broker and Owner Renee Mueller is teaming up with BeYOUtiful Boutique Owner Nicole Lindhorst and Sammy's Superheroes President Erin Nahorny to honor Darlene's memory while raising money for a good cause.
Mueller said she met Darlene about 20 years ago through mutual friends and the two became quite close when Darlene started working at kwElite. At first, Mueller noted, Darlene seemed hesitant about getting her real estate license.
"When she finally passed her real estate exam, she was super-excited," Mueller said. "From that day forward she realized she could actually do it, that she was going to do it and that she was going to be on the big stage one day and be a big deal."
And to those who knew Darlene, she was a big deal. Nahorny is also a realtor at kwElite and shared an office with Darlene for a number of years. Both Nahorny and Mueller noted Darlene's humor and generosity.
"She was always the first one to volunteer, to help, to donate," Nahorny said.
Mueller said Darlene made those around her laugh, including herself.
Darlene's passing was unexpected, Mueller added. The group is selling T-shirts with Darlene's phrase – "I'm kind of a BIG deal" – printed on the back with the kwElite logo on the front. Half of the proceeds from the sales will benefit Sammy's Superheroes.
Darlene often jokingly called herself a big deal, Mueller said.
"Truly, it started with her getting her license, and she'd tell her kids, 'Remember, I'm going to be in lights one day, I'm going to be on stage and I'm a big deal,'" Mueller said. "When she wrote her first contract and got it accepted, she was just like, 'I'm a big deal,' like she had to keep saying it to convince herself that she really was a big deal."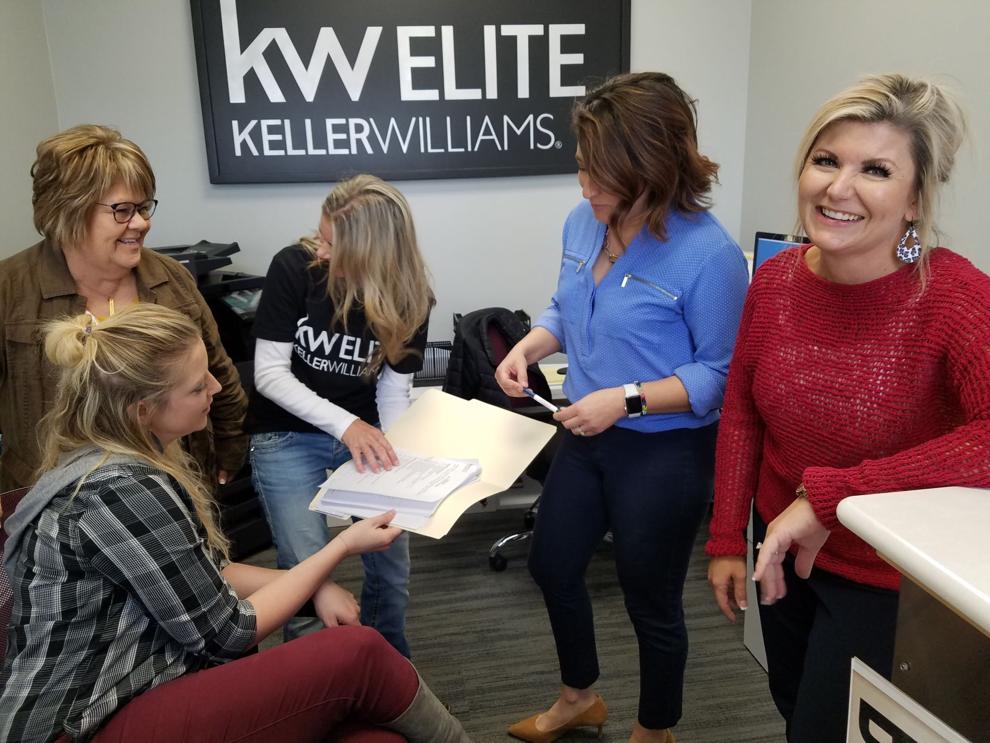 Following Darlene's passing, the kwElite office began talking about how realtors could honor her memory.
"We felt really strongly about recognizing the person that she was," Mueller said. "We looked back at some of the memories, the award and the picture of her … I just recalled her vividly saying, numerous times, 'I'm a big deal.'"
Members of the kwElite office – including those with the seven other offices in Nebraska – wore T-shirts recognizing Darlene's memory to her funeral services.
Additionally, kwElite previously had received an award for receiving multimillion-dollar status, for which each person in the office received a medal. Nahorny said everyone in the kwElite office gave Darlene their awards, with which she was buried.
Community members became interested in the Darlene T-shirts, and Mueller said she soon found herself getting a bunch of order requests. Lindhorst, who is making the T-shirts, took over the ordering process.
"Renee said that they were going to have memorials go to Sammy's and it was just so Darlene. It's exactly what she would do," said Nahorny, who founded the organization in 2012 following the cancer diagnosis of her son, Sammy. Sammy's Superheroes helps fund childhood cancer research.
"She was always the first one to volunteer, to help, to donate."
As of Friday morning, Lindhorst said, 72 T-shirts have been sold. T-shirts can be ordered at https://bit.ly/3zvWBhi.
The Parkway Plaza's last Taco Run of the year, which will be held Sept. 30, will be dedicated to Darlene's memory. The kwElite office is located in the Parkway Plaza, and Mueller owns the building. During the events, attendees have the chance to enjoy the walking paths near the plaza and can receive a free homemade taco.
"We're going to try really hard to have shirts ready for pick up that night, too," Lindhorst said.
Darlene's husband, Tom, said he extends his thanks to the Columbus community's support in benefiting Sammy's in honor of Darlene's memory. He also thanked Lindhorst for printing the T-shirts, Mueller for coordinating the efforts and the kwElite team and Sammy's families, friends and neighbors for their love and support.
"'I'm kind of a big deal,' was just one of the many ways Darlene would laugh at herself and make others laugh," Tom said. "… After her first closing as a licensed realtor, she'd wink and laugh and tell us, 'Look, I'm a big deal now.' Humor was her trademark, but she was also proud of herself and we were quite proud of her.
"She certainly is a 'big deal' to her family, friends and coworkers who desperately miss her."