Students and staff lined the halls of Scotus Central Catholic in Columbus in late April, loudly rooting for 18 journalism students headed to Northeast Community College in Norfolk for state.
A few days later, the journalism students and advisers gathered in Little Theater at Scotus to attend the virtual awards ceremony – for the second time that week, cheers could be heard throughout the school. Scotus Journalism placed first in Class B at state.
"After we won, the whole school could hear us cheer, which is really cool. I didn't know that, but in the science wing and even people on the second floor said they heard us cheering when we won," journalism adviser Angie Rusher said. "So that was exciting, and then the kids wore their medals all day long so these guys clinged-and-clanged around through the halls."
This year, then-seniors Keira Feehan, Janae Rusher and Kade Wiese medaled the most in the competition; Feehan received three while Janae Rusher – who is adviser Rusher's daughter – and Wiese won four medals apiece.
Scotus Journalism is essentially comprised of four classes: Newspaper and yearbook, taught by Angie Rusher; video production, taught by Taylor Dahl and Tyler Swanson; and Clyde Ericson teaches graphic design.
The students put out the Scotus yearbook and a monthly newspaper circulated within the school called Rock Bottom. These publications require students to take photos, report/write stories, design advertisements and compile all that content using a specialized design program – in this case, Adobe InDesign. Once all the pages are completed, the digital files are then sent a press in Norfolk for physical printing. And then, that process is again repeated for the next print deadline in four weeks.
A student isn't required to take more than one class but some do; such as Feehan, Janae Rusher and Wiese. And sometimes, Angie Rusher noted, skills gained or tricks learned in one class can often be applied to another. For example, Angie Rusher added, lessons that Janae Rusher and Wiese learned from graphic design class came in handy while laying out the middle spread of a Rock Bottom edition.
"I enjoy just kind of having an official publication coming out, and just having a fun time being creative instead of focusing on memorizing stuff; you just kind of get to use your own freedom," said Feehan, who served as a copy editor for the yearbook this past school year.
Janae Rusher, Rock Bottom's former front page editor, noted newspaper class "makes the year go really fast" as there are weekly deadlines that students must hit in order for content and pages to be ready before the print deadline. It can also be nostalgic, Wiese added, when reviewing footage – Wiese worked on Rock Bottom and was very involved in video production.
A Nebraska School Activities Association activity, journalism students across the state compete annually.
"By March 1, I submit entries (that) are called preliminary entries in all 24 categories," Angie Rusher said. "And then the state judges them, and they choose the top eight in all of those categories."
Video production makes up 12 of the categories, for which the first round of entries is the last level. For the other 12 categories – writing, advertising and editorial cartooning – students attend the competition in-person for the final round. According to Angie Rusher, the students are given a topic, everything needed for their task then must write a story or make an advertisement using the provided content.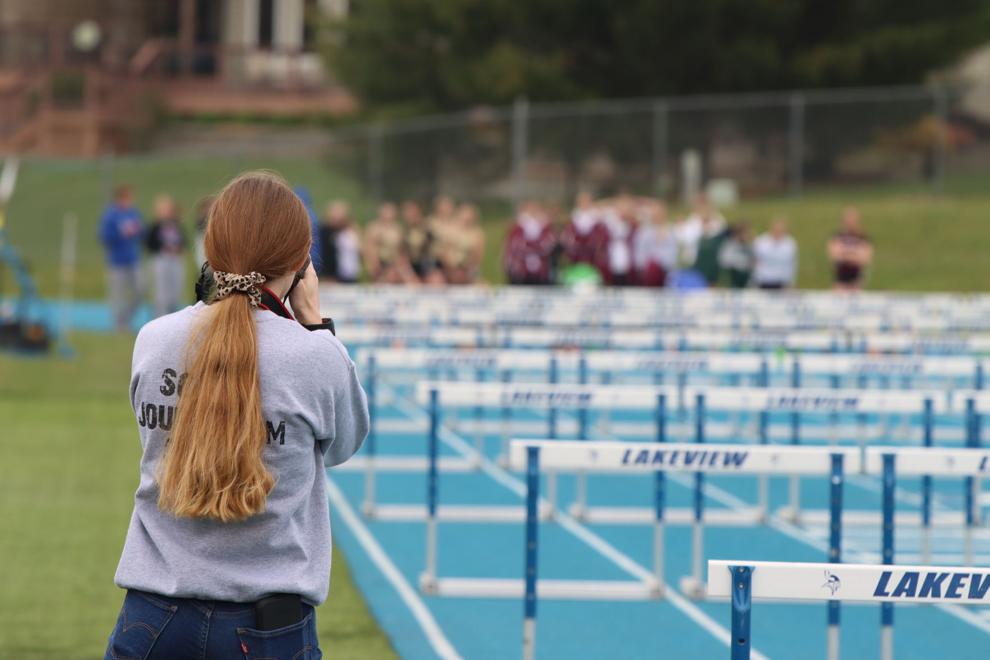 "I really like the competition categories (the final 12) because we really push that the kids can do things themselves, and so I think it makes it more of a student competition than an adviser competition," said Angie Rusher, who has been the adviser for both newspaper and yearbook since starting at Scotus in 2008.
Prior to this year, Scotus Journalism won state championships in 2017 and 2018. The school was third in both 2019 and 2016, The Telegram reported in May 2020; last year, Scotus placed fourth overall.
But 2021 was especially noteworthy as the competition's class organization was restructured, meaning that Scotus Journalism won the championship as one of the smallest schools in Class B this year, said Angie Rusher.
"The first two years we got fourth place, being one of the smaller schools in Class B," she said. "This year we won … beating a whole different group of schools and schools that are much larger than us. I think the biggest school has 900 kids (in grades) 10 through 12, and I think we have 116."
That factor really raised the competition level for Scotus, Angie Rusher noted, and the students delivered.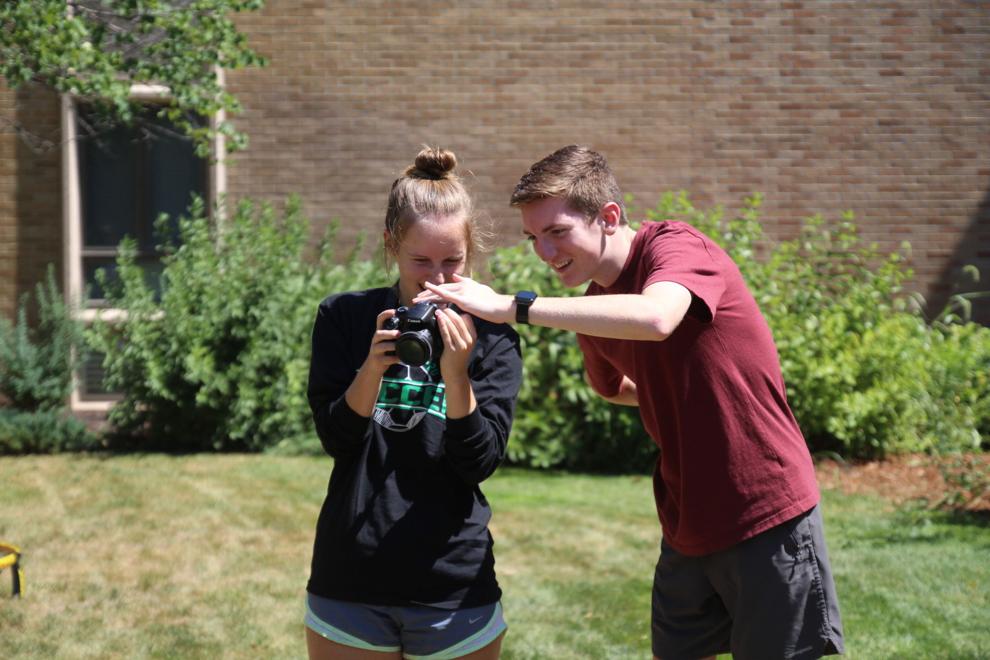 At full capacity, there are 12 students in the newspaper class and 12 in yearbook. Most students only take newspaper for one year, meaning there's a steep learning curve at the beginning of each school year before the Rock Bottom puts out its first edition.
The first edition of the school year is published in October, Angie Rusher said.
"The first issue is always stressful because you have to learn everything the first time through, but then once you get into the rhythm of it, it goes a lot faster," she added.
Those unused to the operations of a publication can often be surprised by the amount of work that goes into producing each edition.
"Putting together a newspaper and making it all fit and how do you do that -- making photos bigger or making an extra ad or something just to make it all fit. Sometimes it ruins it a little bit for them because you never see a newspaper or a yearbook the same after that," Angie Rusher said, with a laugh. "But, I think they really like all the ins and outs of it."
For some, Scotus journalism has had a lasting impact on students.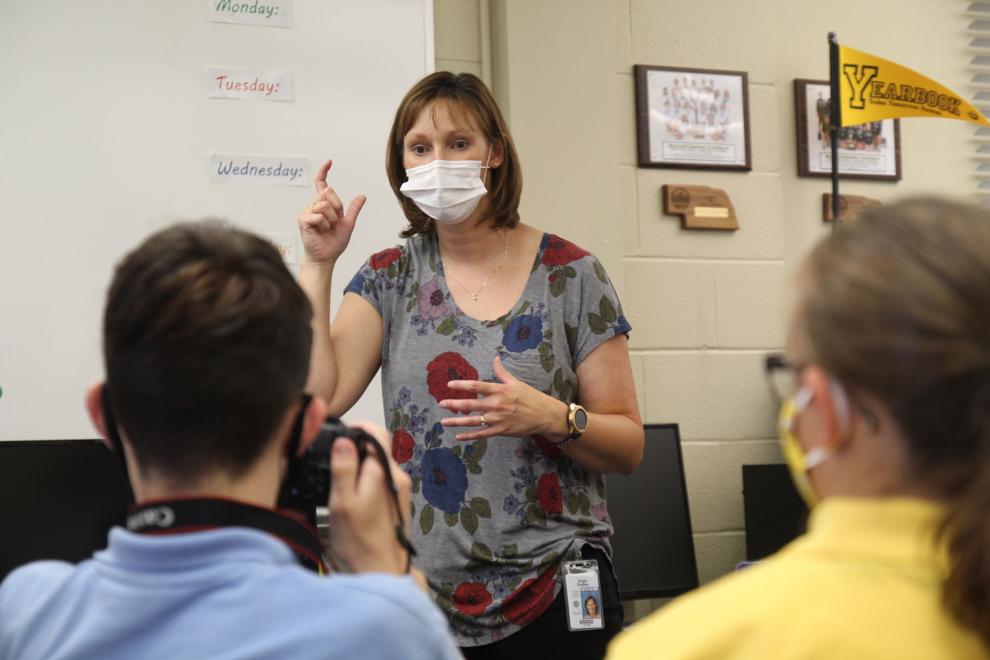 "I think I work better under pressure, that's what I learned," Wiese said, adding he also recognized he's more creative than he previously thought.
For Janae Rusher and Feehan, learning to use their time wisely, being productive and meeting deadlines were their number one skills gleaned from the classes.
Feehan, Janae Rusher and Wiese graduated from Scotus Central Catholic on May 9.
But, their current plans seem to indicate pursuing careers in similar fields. Janae Rusher said she's going to attend South Dakota State University for interior design and graphic design while Feehan noted she plans on attending the University of Nebraska-Omaha to major in graphic design and minor in visual communications.
On the other hand, Wiese said he's setting his sights on the University of Nebraska-Lincoln to study agribusiness.
Newspaper and yearbook are different classes than a typical high school course. It's independent coursework, Angie Rusher noted, as students have more freedom in finding their assignments and tapping into their creativity to produce good content.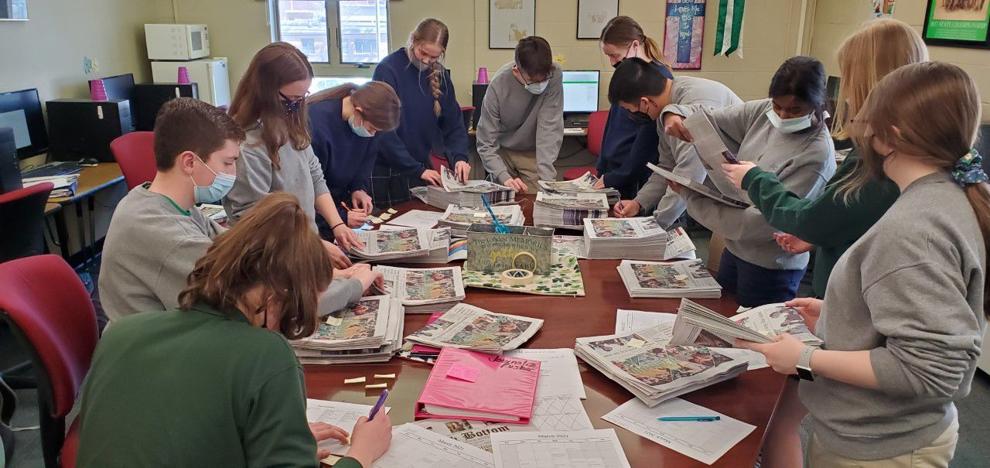 "Sometimes coming up with the idea is the hardest part, but it makes them thinkers," Angie Rusher said. "I really like the critical thinking and freedom that it gives them to do that and to analyze something – is it good or would it be better if we did this? We feel like the kids should come up with the ideas and they do."