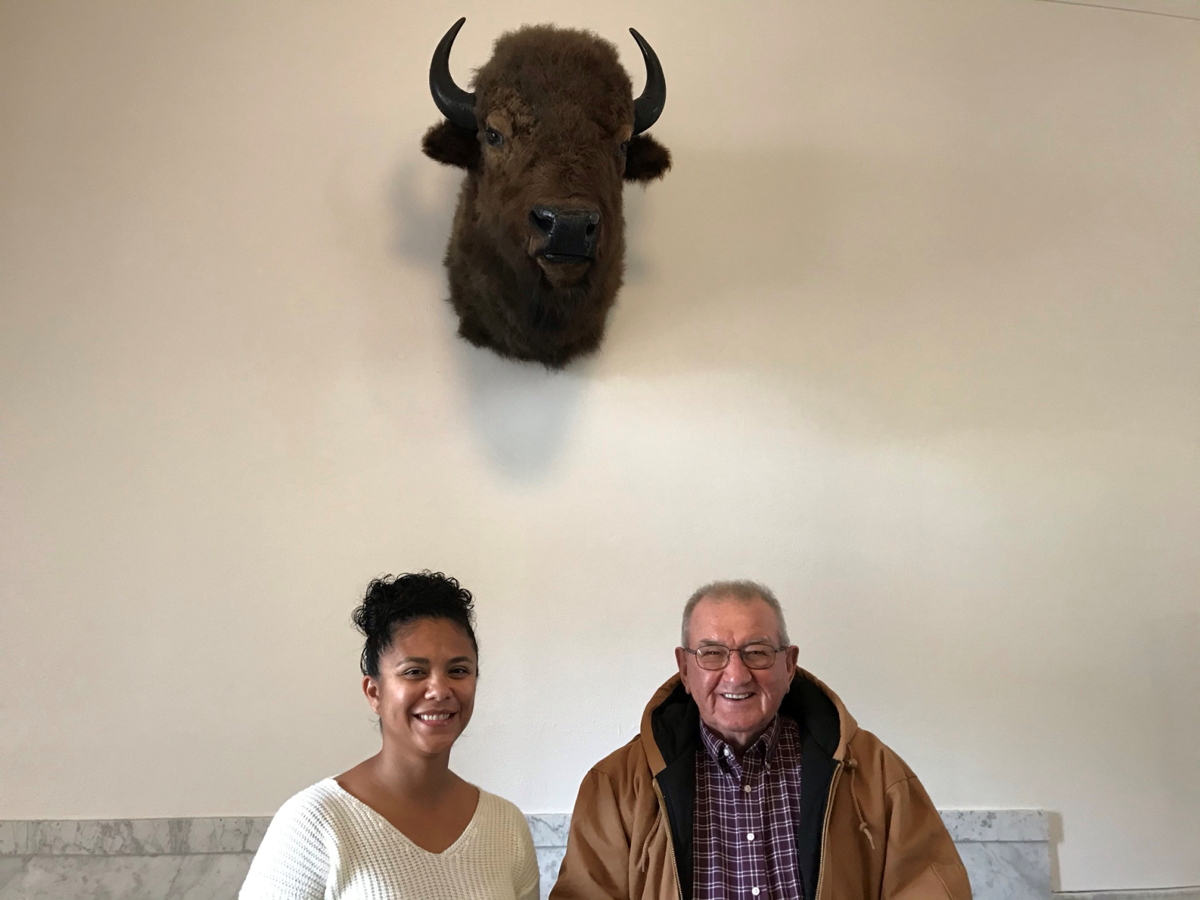 As soon as January, Columbus may have a free recycling program once again.
Keep Columbus Beautiful (KCB) Executive Director Vanessa Oceguera and KCB's recently-hired Recycling Coordinator Udell Podliska appeared before the Platte County Board of Supervisors at its Tuesday morning meeting to request $4,415.20 from the County to help cover the costs of purchasing trailers for the drop-off recycling program.
Supervisors agreed to pitch in the requested amount. Without the County's contribution, Oceguera said the financial burden would have fallen on KCB, which relies heavily on grant money to support its operations.
At the board meeting, several supervisors suggested a plan be made for the trailers to visit communities further out in Platte County. Oceguera said KCB would be happy to discuss options to do that and make the program more accessible for more people.
Oceguera told the Telegram the recycling program is expected to begin in January as long as nothing unexpected happens due to COVID-19.
"Like, the trailers were really supposed to be here by now. Everybody's just kind of behind as far as getting in the parts that they need," Oceguera said.
Others have also been experiencing longer-than-usual wait times for new vehicles and equipment.
At Tuesday's meeting, Platte County Sheriff Ed Wemhoff mentioned experiencing delays in new vehicle availability and delivery stemming from halted or slowed manufacturing due to COVID-19.
Platte County Highway Department Administrative Assistant Jane Cromwell has also spoken about similar problems at other board meetings over the last few months.
Oceguera told the Telegram plans for the recycling program have been in the works since last summer. Columbus has been without free recycling since November 2018, she said, but regular inquiries about recycling from residents demonstrated the community's interest in some kind of program.
"We looked at a few options but nothing was really happening. That's when we decided that if we want recycling, we're going to have to do it ourselves," Oceguera said.
Oceguera said KCB wrote a grant with the Nebraska Department of Environment and Energy (NDEE) in August 2019 to fund the recycling program.
"We knew it was going to be some kind of drop-off program," Oceguera said. "That's when we thought it would be easier to go ahead and utilize Schuyler's recycling facility."
Right now, people in Columbus can pay to participate in a curbside recycling service offered by Waste Connections of Nebraska.
Oceguera said some Columbus residents also take their recyclables to the Schuyler facility, but it's usually not worth it because of limited operating hours and the drive.
"Your carbon footprint is much worse driving all the way there with just a little bit of plastic than taking a full load. Some neighbors pool together and throw their stuff and one person takes it," Oceguera said. "So it is utilized by Columbus residents but not a majority of them."
Oceguera said KCB has used some of the grant money to hire a recycling coordinator, which ended up being Podliska.
Podliska has a background in recycling, having previously worked for U.S. Green Fiber LLC in Norfolk, a company that makes insulation out of recycled materials.
"They also went with a grant to recycle milk jugs and all that, and then the grant ran out and it wasn't feasible for them to keep going so they discontinued the recycling. But they're still making the product," Podliska said.
Podliska said Green Fiber still has a lot of bins in Columbus, which Oceguera elaborated on.
"They're those giant green-looking dumpsters that you put all your paper and cardboard in," Oceguera said.
Get local news delivered to your inbox!
Subscribe to our Daily Headlines newsletter.