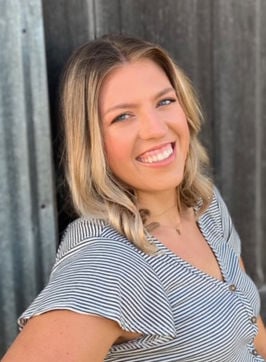 Editor's note: In honor of Scotus Central Catholic High returning to class this week, The Telegram is profiling some of the school's new faculty members throughout the week. This is the fourth story in the series. See previously published stories on our website.
It wasn't until Christmas Break from her job up in Fargo, North Dakota, that Alex Meyer realized she wanted to be teaching.
Meyer, a new history teacher at Scotus Central Catholic, grew up in nearby Superior. She moved to North Dakota after she had already completed her undergraduate studies at the University of Nebraska – Lincoln, where she majored in secondary social science education.
"I think I changed my major three times," Meyer said. "Officially I started in architecture, went to ag economics and then went to education."
Because of her involvement in track and field, Meyer had to graduate early before she was able to student-teach.
"At the time of graduation I was like 'No, I don't want to teach,' but I wasn't really feeling confident in my ability to do so and didn't think that I would enjoy it," she said. "So I wasn't planning on actually student-teaching."
She took graduate-level classes, some in education and some through the community and regional planning program, which she was also considering.
Meyer was still on the fence but went ahead and student-taught in the fall. Meyer said she enjoyed it but still wasn't sure and, after taking more grad classes, she took a year off.
Meyer went up to Fargo to help coach track at North Dakota State University in 2019 and discovered her true path that winter.
To get to this point, Meyer said, has been a challenge, especially with her fear of thinking she won't be good enough.
"I'm not going to know all the answers," Meyer said. "I think in the past I've kind of been in that battle with being a perfectionist in a way."
Part of it is realizing she doesn't know all the answers and being OK with that.
"It's going to be a day-to-day learning process as much for me as it is going to be for the students," Meyer said. "So yeah, just being accepting of that."
Scotus President Jeff Ohnoutka said Meyer wants to learn.
"Alex is going to be a great teacher and coach. She is well organized and has shown a real willingness to develop her skills in the classroom and on the court," Ohnoutka wrote in an email. "She is very easy-going and strikes me as a very patient person. I am confident she will fit right in and be a valuable member of our staff."
As an assistant coach, Meyer is excited to be helping with volleyball. She grew up in a family of athletes who are all competitive and remembers playing flag football with them last Thanksgiving.
She's also happy to be somewhere where she can live out her faith.
"I think everyone has their ups and downs in terms of their relationship with the Lord and just their journey," Meyer said. "That's been something that I've been able to fall back on and really rely on through the tough times and the good times, so I'm excited to be able to freely live that out in the classroom and kind of hopefully model that in a positive way for my students as well."
Get local news delivered to your inbox!
Subscribe to our Daily Headlines newsletter.