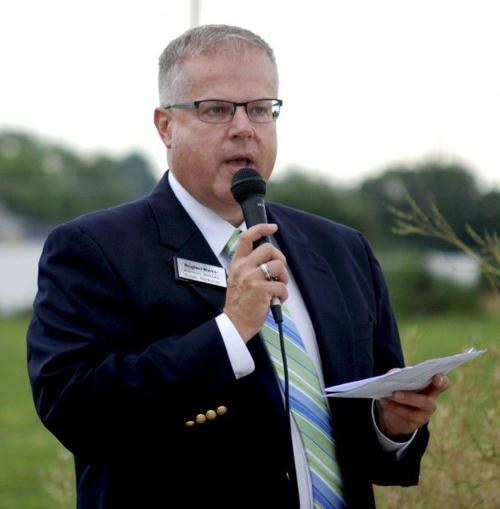 The details of three workforce housing projects in Columbus are formalizing ahead of their spring 2019 projected construction start.
NeighborWorks Northeast Nebraska's Board of Directors recently approved special loan funds to be used on projects that will result in building a couple hundred new rental options and homes for sale in the city.
More specifically, planned for rent is a 180-unit multi-family apartment complex, 34 duplex units and 24 multi-family units. In addition, 31 single-family units will be developed for home ownership. Those three projects alone will result in a 350-percent increase in the annual number of units built over previous years in Columbus, according to City Administrator Tara Vasicek, who noted Columbus has averaged about 70 a year for the past several years.
NeighborWorks Northeast Nebraska, a private nonprofit community-based development corporation that uses federal, state and local funds to help individuals and families achieve homeownership, was announced earlier this year as one of 14 recipients (out of 21 total applications) of the state's Rural Workforce Housing Fund by the Nebraska Department of Economic Development and Gov. Pete Ricketts.
RWHF was created in 2017 in response to growing concerns from rural Nebraska communities claiming they could not attract a skilled, robust workforce and therefore lose out on potential economic development. Legislative Bill 518 (the Nebraska Rural Workforce Housing Investment Act) passed by a unanimous 49-0 vote in Nebraska's Legislature. As a result, about $7 million from the Affordable Housing Trust Fund was channeled into the new fund. NeighborWorks prepared the community's application, handled the application process for developers and builders and is administering the funds.
The grant was for $850,000, but several local entities helped meet the matching requirement to bring the revolving pool total to $1,950,000, according to NeighborWorks Northeast Nebraska Chief Executive Officer Roger Nadrchal. The City of Columbus put in $750,000 from its economic development fund, while $250,000 came from the Nebraska Investment Finance Authority and $60,000 from the Columbus Community Foundation. The Columbus United Way Endowment and Columbus Development Corporation each contributed $20,000.
"We're very excited to have another tool available to build additional housing units in Columbus," Nadrchal said. "This has been a community partnership – a way to bring the entire community together, bring money together to show the community is behind the need for housing."
Vasicek had a similar perspective.
"The workforce housing shortage in Columbus and across Nebraska has reached a critical level, which is why the Rural Workforce Housing Fund was created by the legislature," she said. "The Rural Workforce Housing Fund grant was a great opportunity for the City to utilize some of its Economic Development funding …"
Seven developers applied for the fund and were considered by a NeighborWorks advisory board made of local community leaders, who made a recommendation to the Board of Directors. The latter gave the final approval to 4J Capital LLC, SERC LLC and Granville Custom Homes Inc.
4J Capital LLC is working on Village Meadow Apartments, a 180-multi-family apartment complex that will be located just east of Menards. All units will be available for rent.
SERC is proceeding with its Centennial Rental Project that will boast 34 duplex units for rent and be just west of Centennial Elementary School.
Granville Custom Homes Inc. got the greenlight on its Farmview Subdivision, which is set to go up a little northwest of the Columbus Municipal Airport. When complete, it will boast 31 single-family units for sale and 24 multi-family units for rent.
"No question that's going to have a huge impact," Columbus Area Chamber of Commerce President KC Belitz said. "Obviously, it's exciting to see progress come to fruition as opposed to just talking about it. We've talked about it for a long time."
The lack of housing options in Columbus has been a focal point of discussion among community for leaders for several years now. The three projects funded by the grants, coupled with other independent developments going on in and around Columbus, should spark the surge in affordable housing that has been desperately sought.
"It's great to see now actual projects to the point where they'll break ground in the spring," Belitz said. "It's very gratifying to see the talk become reality for those who are on the housing committee and go to those meetings."
Nadrchal, who is also co-chairman of the chamber's housing committee, said NeighborWorks is lending the money below current market rate, at 2 percent interest. The three companies are doing their due diligence in pre-development activities with the intent to start construction in the spring, he reiterated.
"There is a planning process," he said. "But things are moving forward. We hope to provide these loans to the borrowers with the intent to revolve back into the fund."
Matt Lindberg is the managing editor of The Columbus Telegram. Reach him via email at matt.lindberg@lee.net.