FREMONT — Jack Hoffman made headlines in 2013 when the 7-year-old battling pediatric brain cancer dashed 69 yards for a touchdown at the Nebraska football team's Red-White Spring Game.
Now 14 and with a year of junior high football in the books, Hoffman has a head start on his college career, picking up a four-year, full-tuition scholarship offer from Midland University.
"Everything that our program's about here at Midland, that's who he is, and I couldn't be more proud to have administration step up to the plate," Midland football coach Jeff Jamrog said. "We know you're going to probably have other options, but I'll tell you this: No one's going to recruit you harder than us."
Jamrog presented the scholarship offer at a meeting of the football team on Thursday afternoon attended by Hoffman and his parents, Andy and Bri.
Players and coaches stood and cheered as Hoffman, the namesake for the Team Jack Foundation, was presented a Midland jersey.
"Our goal is to build a championship-level football program with leaders who thrive in the community, classroom and on the field of competition," Jamrog said. "If you choose to accept this offer, you are committing to excellence not only athletically, but in all aspects of your life."
Jamrog, now in his fourth season at Midland, played a key role in getting Hoffman onto the field in the 2013 Spring Game.
As Nebraska's assistant athletic director for football at the time, Jamrog was talking with Husker assistant coach Rich Fisher about ideas for the game. Fisher said he wanted to have a Make-A-Wish child participate, and Jamrog wondered if he could get Hoffman on the field.
After checking with then-head coach Bo Pelini, Jamrog called former player Rex Burkhead, who had befriended Hoffman in 2011. Burkhead directed Jamrog to Andy Hoffman and the wheels were in motion the night before the game.
"He goes, 'Well, I'd love to ask Jack right now, but he's in bed. But I'll let you know first thing in the morning,'" Jamrog said, recalling the conversation. "First thing in the morning, he called up and said, 'Yup, he'll be down there.'"
Hoffman's run led to a 2013 ESPY Award win, a meeting with President Barack Obama and the creation of Team Jack, which has raised more than $8 million for pediatric brain cancer.
You have free articles remaining.
Register for more free articles
Stay logged in to skip the surveys
"We are the Midland University Warriors, and when you think of 'warrior,' in the dictionary it should be Jack: the ultimate warrior, the epitome of battling cancer with courage and grace," Jamrog said.
Jamrog said Midland was impressed by Hoffman's grades in school, his accomplishments on the football field and character in everything he does.
"Our scholarship is offered contingent upon meeting Midland University's requirements for admission and your continued display of character and leadership," he said. "We hope you accept this offer as you would be a great addition to the Warrior family."
Jack Hoffman said he was thankful for the offer, saying: "Go Midland."
"Not a lot of kids get to go on college campuses, let alone go inside and see one, so I thought it was pretty darn cool," Hoffman said.
Andy Hoffman thanked the university and was appreciative of Jamrog getting his son on the field and offering him the scholarship.
"With Coach Jamrog's efforts when he was at Nebraska, or Coach Pelini or Rex and all of those guys, we were able to have a platform to do what we were able to do," he said.
Andy Hoffman also commended the players in attendance, saying that football was a big part of his family's life.
Jack played center for the West Holt Huskies in Atkinson, the same position his dad played. His number, 75, was worn by five previous family members.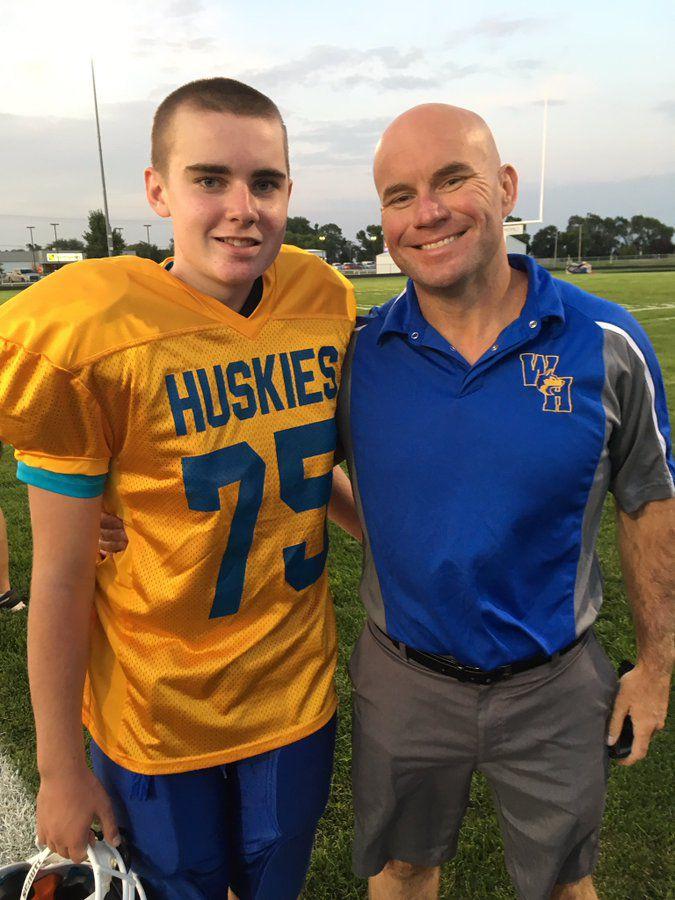 Jamrog thanked Team Jack for the work that it has done and commended Hoffman for his character and courage.
"The countless hours and the trips back to Boston with Jack and all that he's gone through, to tell you what, it's touching," he said. "There's more to life than football, gentlemen, and this is a perfect example."