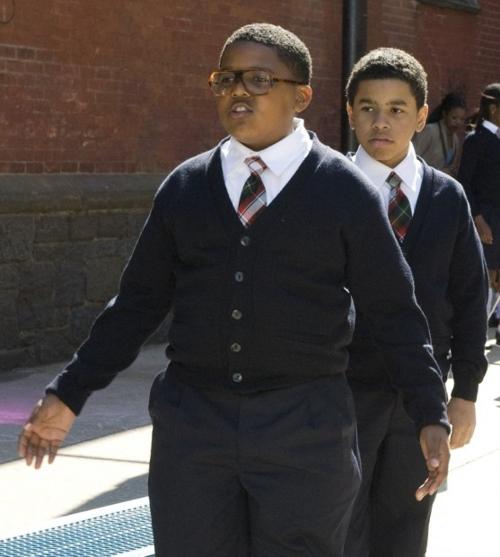 Earlier this week, our senior editor Craigh Barboza wrote about his night at the Manhattan premiere of Notorious, the biopic about legendary rapper Notorious B.I.G. Today, Craigh writes about his phone interview with Christopher "CJ" Wallace Jr., Biggie's son. CJ, who is 12, plays his father as boy in the movie opening nationwide this weekend. CJ lives in Los Angeles, but flew back to New York to shoot his scenes. Craigh talks with him about his dad, his favorite music artists and if he has any big plans for the future. Click on read more below for the full interview.
Photos courtesy of Fox Searchlight
Sons often try to follow in their father's footsteps. In Notorious, you literally step into his shoes. What was it like portraying your pops on screen?
It was great because I got to learn more about him, and what he was
like as a kid ¦ how hungry he was. It was a good experience overall.
Tell me about your role in the movie and what you feel you brought to it that no one else could have because of who you are?
I play [Biggie] as a boy. I feel that what I brought to the table "
I'm not braggin' or anything " but I think I did very well in the
movie. Other people may look like him and dress in the same exact way.
But I did well because I know how to react [in the scenes, like the
ones on the playground and on the street corner] because my
grandmother, she told me about him and his actions and other things.
So you had a degree of access that another kid actors might not have had?
How old were you when your father was murdered?
I was something like four or seven months.
So you must not have understood at the time. At what age were you told about his death that you were old enough to understand?
It was like three or four years ago, when I was maybe 8. My mother [singer Faith Evans] told me. She sat me down and told me how great he was. How big he was.
You must have heard a lot of stories about him. Which one sticks out the most for you?
That he kept a box of clothes on the rooftop of his apartment building
in Brooklyn, and that he had sneakers and cool clothes in there.
There's a scene like that in the movie. You two were raised under different
circumstances. Big grew up in the Bedford-Stuyvesant section of
Brooklyn and you go to school in L.A. But are you someone who's
constantly told "you just like your daddy"?
Yeah, I hear that a lot. I go to Catholic school and my father went to
Catholic school so we both wear the uniform, and my mother tells me I
look just like him. I've seen pictures of him in that uniform with the
thick glasses I wear in the movie. I also rub my nose the exact way he
I think you have a few more years before you have to decide what you
want to do in life, but are you as passionate about anything right now
as your father was about music when he was your age?
I want to finish school. Then I want to go to college. I want to go to USC and play football.
Whose music are you downloading?
Jay-Z, Kanye West, Lil' Wayne. I like a lot of music.
Last question: You recorded a new version of your father's hit One More Chance for the Notorious soundtrack. If you had one more chance to hang with your pops, where would you go and what would you want to do together?
I'd want to go to the gym with him and play basketball, because I know I'd beat him. I'm better than he was in basketball.