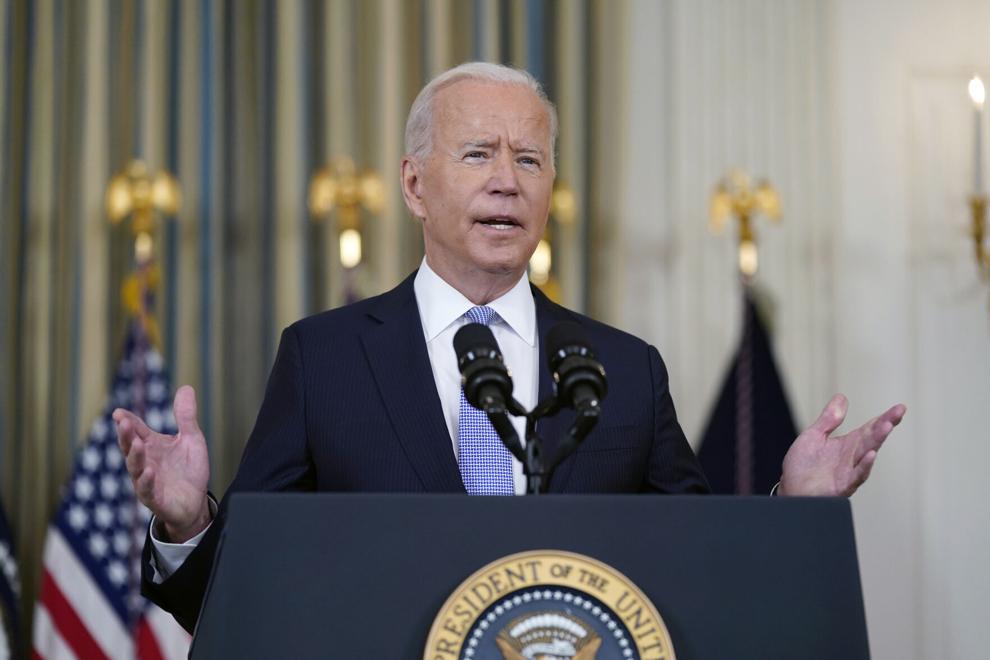 After a rough month for President Joe Biden, Republicans think they have more than historical precedent on their side to retake the Senate in 2022.
Traditionally, the party out of the White House does better in the midterms. But the surging Delta variant, a chaotic withdrawal from Afghanistan and intra-party fissures on Capitol Hill have all threatened Biden's agenda -- and his ability to communicate it throughout the summer -- giving Republicans more to work with as they try to retake the Senate.
Biden's approval rating stood at 52% in a recent CNN poll conducted by SSRS, with 69% of Americans saying things are going badly in this country. Sixty-two percent of Americans said that economic conditions in the US are poor -- up from 45% in April. That's bad news for Democrats, who only enjoy a majority because Vice President Kamala Harris is the tie-breaking vote in the chamber.
But it's far too early to assume that the national mood heading into the fall will look anything like the political climate of November 2022.
And the worsening atmosphere for Biden hasn't yet altered which Senate races are most competitive. Pennsylvania, where GOP Sen. Pat Toomey is retiring, is still the seat most likely to flip partisan control -- for the sixth month of CNN's Senate race ranking. The top 10 Senate seats most likely to flip are based on CNN's reporting and fundraising data, as well as historical data about how states and candidates have performed. As the cycle heats up, more polling and advertising spending data will become factors.
Despite the roadblocks on Capitol Hill -- many from within their own party, as moderates and progressives in both chambers squabble over timing, scope and size of legislation -- Democrats are hoping to have significant accomplishments to tout by this time next year. The Senate has already passed the bipartisan infrastructure bill, while a much more expansive economic package, if passed, would enact much of Biden's economic agenda. Republicans see a massive spending bill they can attack Democrats over, but Democrats are hoping it'll give them tangible kitchen table benefits to talk about, like lower prescription drug costs and paid family leave.
Republicans have also given Democrats some ammunition to fire up their base in an off-year election where turnout, on both sides, is an open question without former President Donald Trump on the ballot. Texas' six-week abortion ban has reinjected reproductive rights and the Supreme Court into the national conversation. Nationally, public opinion is firmly on the side of abortion rights -- fewer than one-third of Americans want to see the Roe v. Wade decision overturned, according to a set of three polls released over the past week. It depends what state they're running in, but Democrats may look to use this issue to paint their GOP opponents as out of touch, especially in places like Nevada and New Hampshire.
The map of competitive Senate races doesn't look anything like California, which Biden carried by nearly 30 points last year, but Democrats have been heartened to see that running on Covid restrictions can be an effective message after this month's GOP-driven recall of California Gov. Gavin Newsom failed. About 48% -- a plurality in the California exit poll -- said that the Democratic governor's coronavirus policies were "about right." Another 18% said they were "not strict enough." Nationally, support for vaccine mandates has grown, with more than half of Americans supporting them for the workplace, in-person classes and concerts and sporting events, according to CNN's recent poll.
One reason, Democratic and Republican strategists agreed, that Newsom was able to capitalize on that message is he had a foil in Republican Larry Elder and was able to credibly tie him to Trump. And while that may have worked uniquely well in California, Trump -- even without a social media presence -- is still leaving his footprint on primaries as he hand-picks some candidates and torches others.
The former President, who had already endorsed in North Carolina earlier this summer, made endorsements in open GOP primaries in Pennsylvania, Georgia and Nevada over the past month, while Republicans in Ohio, Arizona and Missouri are still duking it out over fealty to him.
It remains to be seen, however, just how much those endorsements matter.