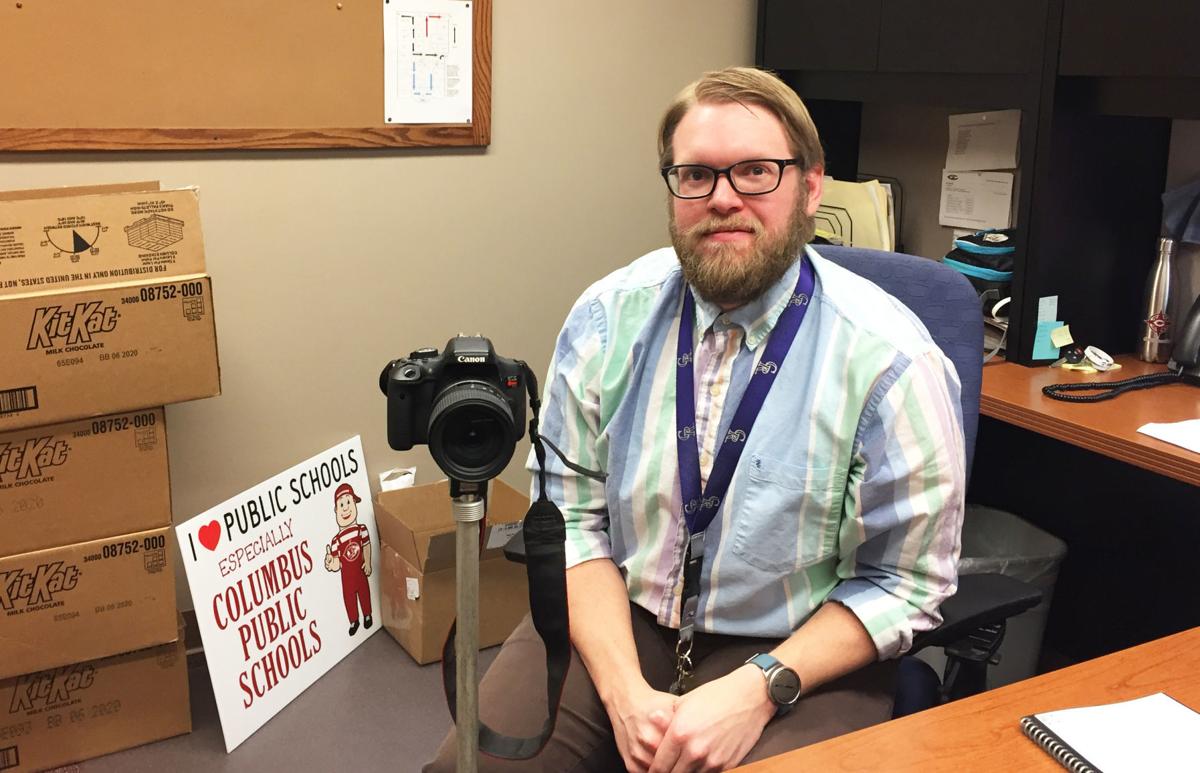 When Isaiah May was being interviewed for a communications specialist position with Columbus Public Schools last summer, he was asked what he would do to profile teachers if they decided to produce an informative series.
May proposed a series in which he would spend time with teachers, get to know them, and more specifically, learn more about what they do professionally.
Fast forward to 2020 and May's project has grown faster than he or anyone else envisioned. The new series, entitled "Meet Us," began production in November and began streaming in December. Already, there have been four "Meet the Teach" segments profiling various teachers throughout CPS and two "Meet the Team" segments profiling other faculty members like para educators, custodial staff, kitchen staff and administration members. A third "Meet the Team" segment is slated for release Tuesday.
The genesis of the project came from a survey that was presented to teachers and faculty members at CPS during the summer about communication through social media and the internet. Nicole Anderson, marketing/foundation director for CPS, said the survey revealed that faculty members don't always get to know their counterparts at other schools encompassing the district.
"Back in July, we had the plan started of 'Meet the Teacher,'" Anderson said. "Since then, in administrative meetings, we made it even bigger to make it more, 'Meet the Team,' because we are a team in this district and every single person who is employed and has a position in Columbus Public Schools is part of that team that makes it a great day for every student that we see."
Anderson and district administrators decided to present a question regarding the vision of the series when they interviewed candidates for the specialist position, and May's vision ended up being one of the reasons he was brought on board. His process is a relatively simple one: He spends around two hours with a teacher or a faculty member, recording their job process, whether it's a middle school teacher conducting his or her class or a lunch lady making meals.
He asks questions about their job and their personal life, getting some interesting responses along the way.
"We do a fun question part at the end, where we quiz them about some of their favorite stuff and it's insightful," May said. "(It's) little things like, 'Oh, I like that,' or 'Oh, we share that,' or 'I wouldn't have pegged them as a rock music person,' or a green favorite color person, but you get to see a little bit behind the scenes."
The people spotlighted in the series to date include some faculty members that aren't as prominent as others, in addition to several longtime employees like Sandy Seckel, a second-grade teacher at West Park Elementary, and Joni Ebel, a seventh-grade math teacher at CMS. Those particular videos have provided an opportunity for former students to revisit their educational careers in the district through their memories with those particular teachers.
"Sandy Seckel, she was the one that brought out a lot of the alumni," May said. "It's been warmly welcomed that way to see that. I'm sure the teachers go on there and read those comments and get to see, too, if they care about it."
Anderson set two primary goals when the project was first proposed: To have the program provide an avenue promoting staff members across the district and also promoting CPS across the area and state. She is thrilled with the overall response to the project, as it has gone beyond what she and others envisioned when they sent out the initial surveys.
"I think we raised the level of what our initial anticipation was," Anderson said. "That's a great thing. Isaiah has amazing skills and has taken Dr. (Troy) Loeffelholz's and my idea to another level, which has been wonderful. I think the response from the community has been amazing. (We've got) fellow staff members chiming in on Facebook, commenting on Facebook and our community; student body and alumni as well (are) reaching out to say hello again to a staff member that they haven't seen since graduation."
May has also been pleased with his work, and though there will be things to improve on as the series continues to evolve over the coming months and years, he said he's glad that the response has been so great and that people are tuning in to check it out.
"When I post these, I always want to (say), 'We're excited and we want to meet these people, these are great people and these are our team members,'" May said. "These are not only who your students interact with, but your friends and your co-workers, too. When you see these things, these are the people that are educating your child and if we can make them look like the rock stars that they are, then that's great."
Be the first to know
Get local news delivered to your inbox!