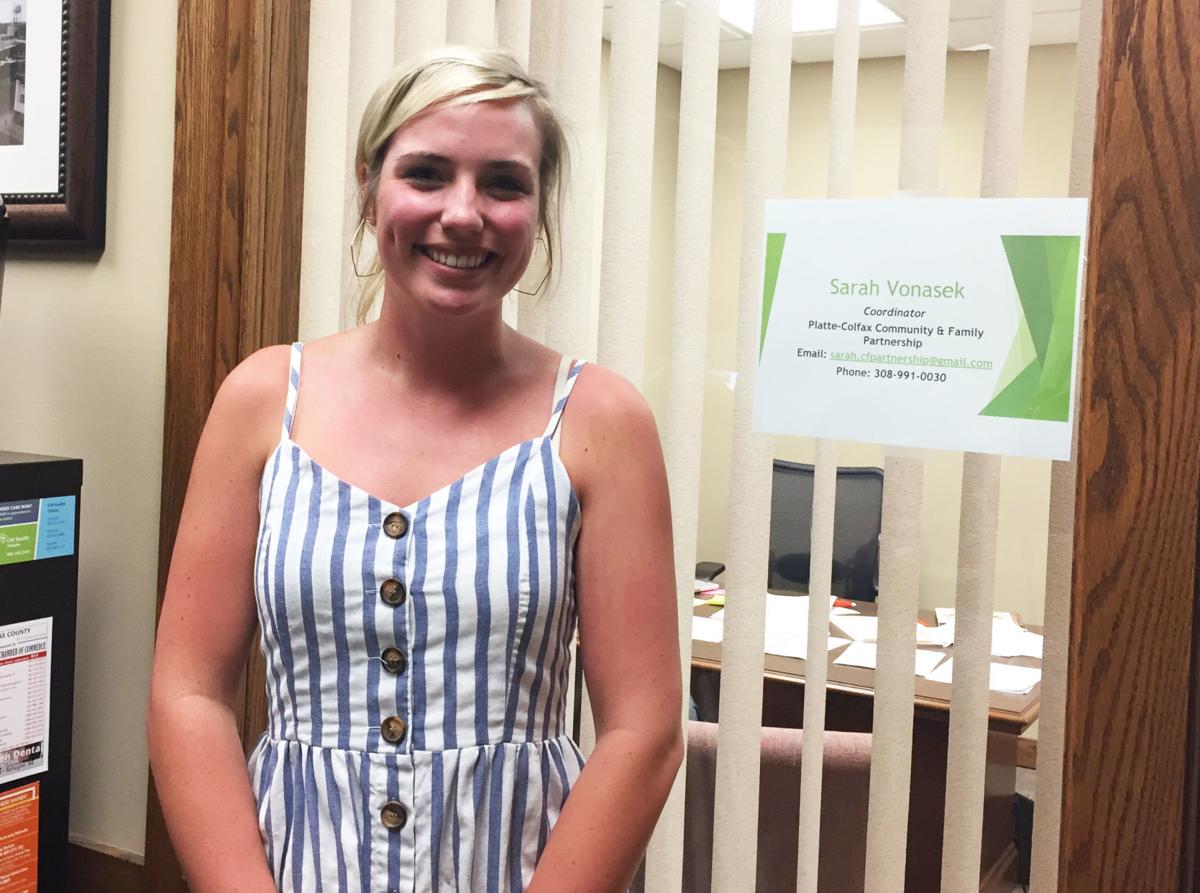 The Platte-Colfax Community and Family Partnership has a new leader ready to serve Columbus-area families.
Sarah Vonasek became the partnership's new coordinator recently after several months of working as an intern at Columbus Community Hospital. She also served as a substitute teacher with Schuyler Community Schools, and it was there that she was approached in regard to taking on leadership of the initiative, formerly known as the "Zero 2 Eight Collaborative."
"I was substitute teaching and Bill Comley, the principal at Schuyler Elementary, sat down and asked me about myself (and) said, 'I think you would be great for this position,'" Vonasek said. "That's how it started. I interviewed (for the job) at the beginning of May and at the end of May, I accepted the position and started the job."
Vonasek said she expects to be the perfect fit for the role that helps young families navigate the challenges and struggles of everyday life. She has worked in child care most of her life, mainly in Lincoln after graduating from the University of Nebraska-Lincoln with a degree in Child Youth and Family Studies in 2018. However, even someone as qualified as Vonasek went through a bit of a learning curve adapting to the responsibilities of running such an ambitious project like the Platte-Colfax Community and Family Partnership.
"I didn't know how much community involvement we had," Vonasek said. "I knew it was, 'Community and Family Partnership', but I didn't know exactly how many programs that actually meant."
There are plenty of programs that Vonasek now has under her command. The main goal of the organization is to promote healthy family relationships and prevent child abuse and neglect. Through these programs, like PIWI (Parents Interacting With Infants), parent-child interaction therapy, home visitor support, Royal Family Kids Mentoring Club and community response, parents and children alike have opportunities to create relationships that will be nurturing and long-lasting.
"Anything that you can imagine that has to do with families and with children, we have some part of," Vonasek said.
Vonasek does have Columbus ties, having worked at CCH and going to church in Columbus. However, she makes her home in Schuyler and will eventually marry a Schuyler Central High School grad.
With a family likely on the way, she said she wants her organization to promote healthy relationships without changing the core mission that has guided it in recent years.
"It's really just making sure no one's trying to reinvent the wheel," Vonasek said. "The mission is still the same, (but) I have creative flexibility now where I don't have to do the same thing that's always been done. With this partnership, we can look at different avenues to put our interests in. Being a month in, I'm still trying to figure out what that will mean."
Despite her rookie status, she has already earned the respect of those with whom she has worked with. Pat Heimes, executive director of the Columbus Area United Way, praised Vonasek for her work ethic and preparedness, noting her bright future and strong working relationship.
"Sarah is going to be a delight to work with," Heimes said. "She has taken on this responsibility (and) there's a lot to learn in a very short time to get up and running. We want her to bring these two communities together as far as helping people and families and there's a lot of coordinating efforts that will be going on. Sarah has taken this responsibility very well and I think she has a lot of great strengths and seems to be very engaged. We're looking forward to working with her."
It's still all new for Vonasek as she continues to acclimate to her new position. The nerves are still there, but she's slowly getting used to everything she has to do and understands the nature of making sure that children and families are safe, sound and secure in Columbus and Schuyler.
"Once a little ripple gets started, it expands and that's how I see this position," Vonasek said. "You constantly are planting seeds and hopefully over time, that will affect a lot of people in a positive way and a healthy way. Healthy families are important for child development and development over the lifespan."