As he continues to take steps to gradually loosen restrictions in the state prompted by the spread of the coronavirus, Gov. Pete Ricketts said Friday he believes there still is a possibility that Nebraskans may be able to watch the Huskers play football this year.
That could occur "under certain conditions," he said, and he believes "there could be fans participating," but the season might be delayed.
"I think it's something we should start taking a look at," the governor said, but he expects the NCAA will take the lead in determining the fate of this year's college football season.
However, he said, he believes there may be "an opportunity to make that happen."
The first home game is scheduled for Sept. 5. 
Ricketts offered that response in answer to a question at his daily coronavirus news briefing after noting that Nebraskans will need to "continue social distancing measures the rest of the year."
The question he is grappling with, the governor said, is "what is the right speed to return to a more normal life?"
Ricketts noted that highway deaths could be lowered to almost zero if speed limits were set at 5 mph, but that's not the choice that is made in living a normal life. 
"We can slow the spread of the virus, but not stop it," he said.
Ricketts has been gradually loosening some restrictions that he began to impose in March. In Lincoln, restaurants will be able to resume inside dining service Monday, with restrictions limiting seating to one-half of the restaurant's capacity, requiring 6 feet of distancing between tables and limiting dining parties to six people.
Barbershops and salons will also be allowed to reopen, with everyone required to wear a face mask.
Ricketts said it's hard to predict exactly when the virus may peak in Nebraska, noting that predictive models keep changing. Earlier estimates suggested that it was likely to peak at the beginning of May.
Increased infection numbers reflect, in part, the results of increased testing, he noted.
"Models change constantly," he said.
New data shows 1,104 meat-processing workers in Nebraska have tested positive, he said, and three workers have died. Most of the coronavirus deaths in Nebraska have been residents of long-term care facilities. 
Thirty of 968 tests recently conducted by the state's new Test Nebraska program were positive, the governor said. That testing program has moved to Lincoln and will continue for those who have been referred for testing at the Lancaster Event Center from 8 a.m. to 6 p.m. Saturday.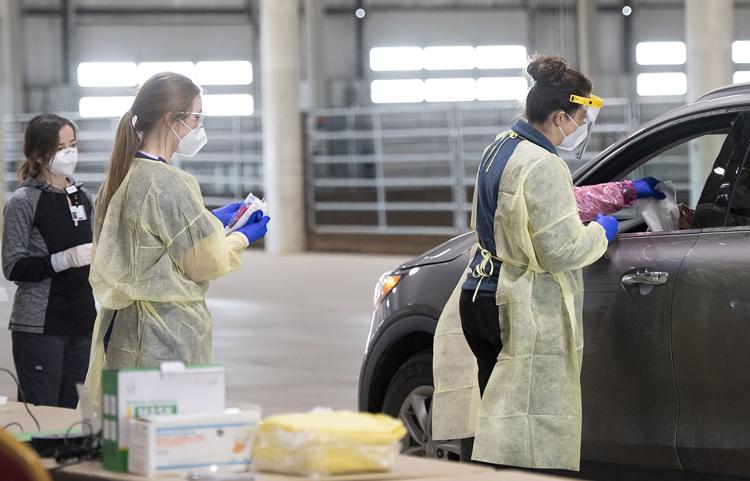 Testing will move to Schuyler on Monday.
The state has ramped up its testing to more than 1,500 a day for the last nine days in a row, the governor said.
Ricketts said he remains focused on preserving and protecting capacity in the state's health care system to provide care and treatment for coronavirus patients, and that goal is being achieved.
Asked if testing will be expanded to include North Omaha and South Omaha, where minority populations are centered, the governor said that will occur.
South Omaha houses a large Latino population, which includes workers at meat-processing plants. North Omaha counts a large black population.
On a related matter, Ricketts said the state is in "very strong financial condition" as it begins to grapple with the budgetary and spending ramifications of the sharp reduction in revenue that will occur as a result of the economic impact of the virus.
Ricketts said his administration is "starting to make those preparations" to consider how the state needs to respond, but he said it will continue to provide needed services while constraining spending as it "adjusts to new realities."
Responding to sharp criticism directed at him by MSNBC host Rachel Maddow for his handling of the outbreak of the coronavirus infection in Nebraska's meat-processing plants, Ricketts said she is "factually wrong" in describing the situation in Nebraska.
"She's got her own agenda," he said.
Concerned about COVID-19?
Sign up now to get the most recent coronavirus headlines and other important local and national news sent to your email inbox daily.