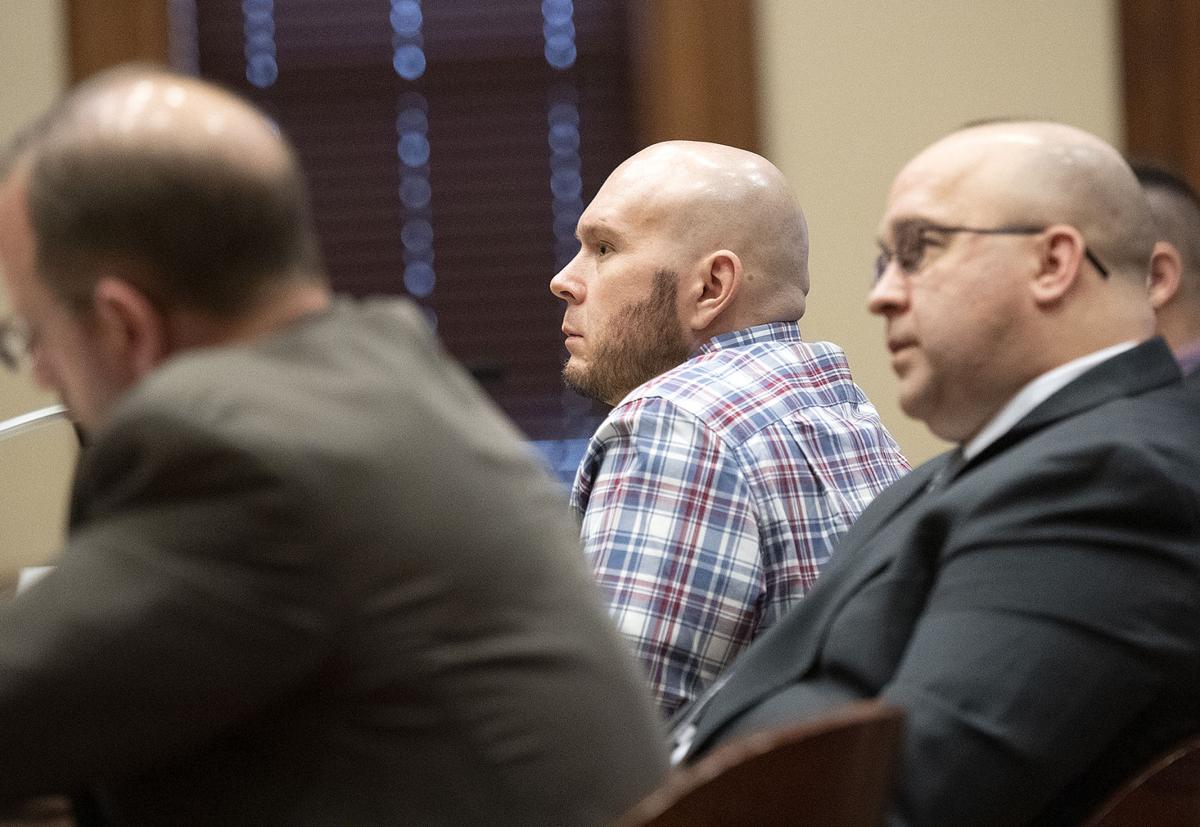 BEATRICE — After deliberating for nearly nine hours, the jury returned Thursday afternoon finding Joshua Keadle guilty of second-degree murder here for the killing of a 19-year-old Peru State student who disappeared early Dec. 3, 2010.
Word spread at 2:30 p.m. that jurors had reached a decision in the 2½-week-long case, sending attorneys and spectators back to the third-floor courtroom at the Gage County Courthouse. 
Tyler Thomas' family, some wiping away tears, walked out of the room as the district court clerk polled each of the jurors on the decision.
Keadle sat wide-eyed at the defense table. 
Second-degree murder is an intentional killing without premeditation.
A day earlier, prosecutors argued that Keadle was guilty of first-degree murder -- a planned, intentional killing -- for taking Thomas, of Omaha, out to a boat ramp along the river early the morning she disappeared.
Her body never was found. 
Assistant Nebraska Attorney General Doug Warner said Keadle took her there intending to isolate and kill her, then dumped her in the river. He called the defense all "cover-up, lies and deceit." 
On the other side, defense attorney Matt McDonald had told jurors that the state wanted them to wildly speculate about what happened despite a timeline that didn't fit.
You have free articles remaining.
Keadle maintained he left Thomas there -- alive -- when she refused to get back in his Ford Explorer because she was angry he wouldn't drive her to Omaha.
McDonald said it was more likely that Thomas fell in the river or jumped, given how drunk and out-of-control witnesses said she was that night. 
After the verdict, another of Keadle's attorneys, Jeff Pickens, said they were disappointed with the decision. 
Keadle had been nearing the end of a 15-20 year sentence on an unrelated sexual assault in Dodge County, but now will face 20 years to life in prison when Gage County District Judge Rick Schreiner sentences him April 29.
If the jury had found him guilty of first-degree murder, he would have gotten an automatic life sentence.
Calls to Thomas's parents Thursday afternoon went unanswered. 
But Vince Powers, who represented them in a wrongful death lawsuit that resulted in a symbolic $2.64 billion judgment against Keadle, called it a great result and said he was happy for the family. 
"They never quit. They wanted justice, and today they got it," he said.
Attorney General Doug Peterson thanked jurors for their diligent deliberations and the members of the Peru State College community and the public who searched for Thomas following her disappearance. He said he also appreciated law enforcement's "extraordinary effort in not giving up on this case and the excellent work done by the prosecution team."
"While we have never been able to bring Thomas' body home, we are hopeful that today's verdict will bring her family some semblance of closure from their long years of uncertainty and suffering," Peterson said.