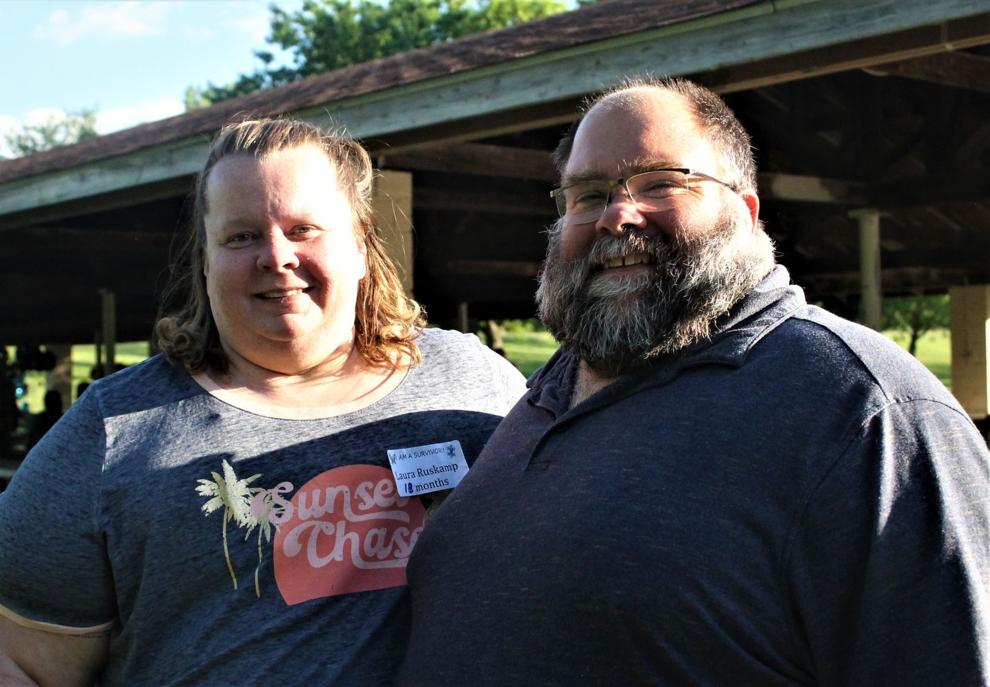 Laura Ruskamp's life was turned upside down when she felt a pain in her breast about two years ago.
After undergoing a mammogram in David City, Laura found out she had Stage 3 breast cancer. What followed was eight rounds of chemotherapy and several trips to the doctor, all culminating in her getting a double mastectomy to remove the cancer.
Laura, who lives in Dodge, said she decided on the procedure because there was a 50% chance the disease could also be found in her right breast.
"I wasn't going to let it beat me," said Laura, who is an 18-month cancer survivor.
Although this was a trying period, Laura's husband, Ryan, who was also her caregiver at that time, credited the doctors, nurses and Columbus Cancer Care in helping Laura through her diagnosis.
The Columbus Cancer Care Foundation wanted to honor cancer survivors and caregivers like Laura and Ryan as it held a picnic Tuesday evening at Pawnee Park.
The evening consisted of a meal and raffle items, as well as the creation of a Puzzle of HOPE and the closing ceremony called "Prayer in the Air." The last part entailed a prayer named "What Cancer Cannot Do," before balloons were released to honor people who either passed away from cancer or are currently diagnosed with it.
The Puzzle of Hope allowed folks to put their painted handprints on a puzzle piece along with a person's name or a message to someone. The puzzle piece was made large enough to fit an entire wall.
"It's been a wonderful afternoon," Columbus Cancer Care Dr. Joan Keit said. "I think people are enjoying it. We've made this an event for our cancer survivors and caregivers to come together and have some camaraderie."
The attendees noted their enjoyment of the occasion.
Suanne Boswell, a 27-year cancer survivor, said Columbus Cancer Care has been terrific for the area.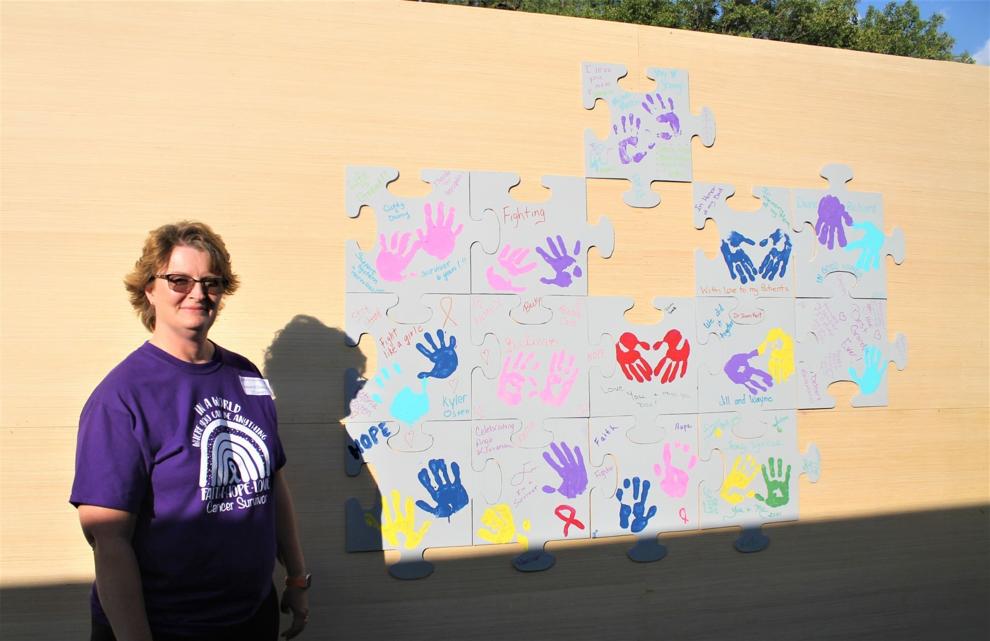 "It's a wonderful local group," she said, praising the organization for its level of care and providing patients free trips to their doctor appointments.
Boswell said she first learned that she had cervical cancer after going through a routine Pap smear. The test came back abnormal, and following more examinations, she learned that she had the disease.
"I was shocked," said Boswell, who was diagnosed in Columbus. "I had just gotten married six months prior. So (being) a newlywed, finding out that you have cervical cancer, really takes you back. Because the first thing you think is, 'Am I going to have children?'"
She ended up not having any biological kids but she adopted two boys who are now 17 and 12. Boswell said she has a pair of "wonderful" sons and "they completed our family."
In the end, Boswell considers herself fortunate when it comes to her cancer diagnosis. She underwent two surgeries without having to do other treatment options. 
"I was lucky that it didn't spread anywhere," she said.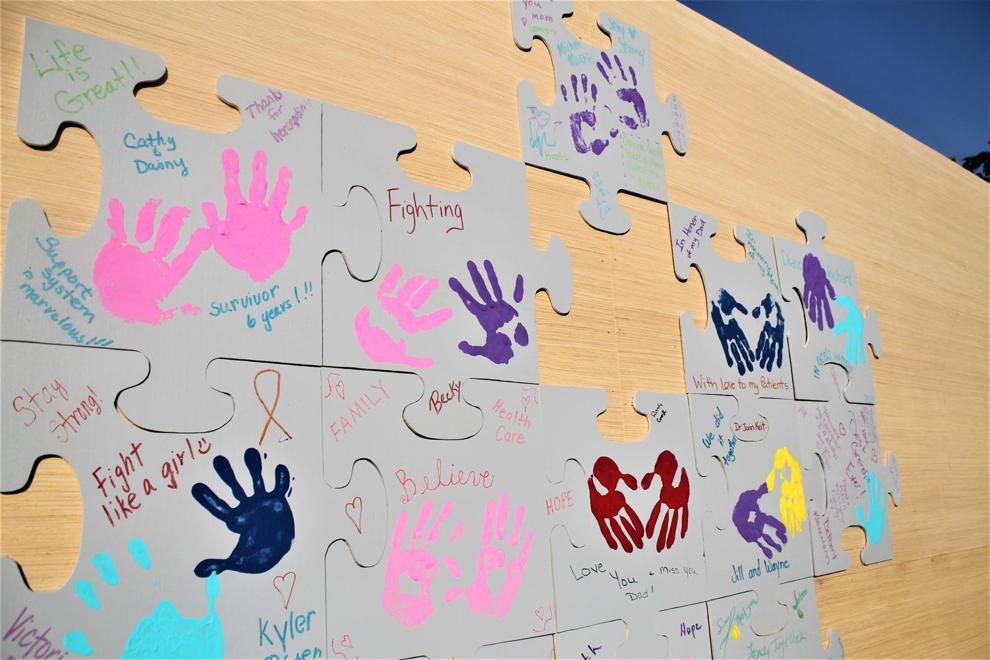 Boswell said she has become an advocate for both kids and adults to get their human papillomavirus (HPV) vaccine because HPV was what led her to get cervical cancer.
"That was 27 years ago when they didn't know what HPV was," said Boswell.
As for Ruskamp, Ryan said his wife was "a trooper" during her cancer diagnosis. An owner of a day care, Laura missed only two weeks of work while undergoing chemotherapy, he said, adding his job was also accommodating.
"She would have chemo on Monday and Thursdays were her bad days," Ryan said. "… I tried to be there for her the best I could and just be strong for her. It was hard for me, too, to see her go through all of that."
Laura said their families and friends were phenomenal in helping them out. Their children, who were ages 8 and 10 at the time of her diagnosis, were also understanding, she added.
"We were very open with the kids," said Laura. "They were amazing through it."
After such a trying time in their lives, Ryan and Laura are preparing to celebrate their 15th wedding anniversary in September.
"I can't be thankful enough being able to see her get through this and to be able to celebrate our anniversary coming up," Ryan said. "… There's a lot of emotions. It's awesome where we are at now."