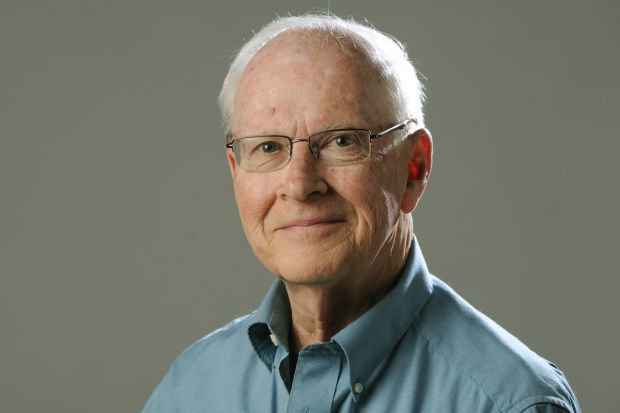 Aspirational is the word.
Transformational is the goal.
Blueprint Nebraska, the ambitious state economic development plan spearheaded by the Nebraska Chamber of Commerce, envisions these results by 2030:
* add $15,000 to the annual income of every Nebraskan.
* bring 43,000 new 18-to-34-year-old residents to the state.
* secure additional annual research and development investment of $200 million. 
Former state Sen. Jim Smith of Papillion, who is executive director of Blueprint Nebraska, briefed a large Lincoln Chamber of Commerce luncheon audience at the Country Club of Lincoln last week.  
"It's a road map," Smith said, "a catalyst to move the state forward."
A little curiosity and a little sleuthing led to this:
The bill that created the University of Nebraska at Omaha was approved by the Legislature on April 20, 1967, on a vote of 31-18.
But just two weeks earlier, a motion to kill that proposal lost on a narrow 21-25 vote.
And, even more remarkably, just one week before the bill was passed, a motion to return the proposal from its position awaiting final enactment in order to kill it lost on a 24-24 tie vote. Close call.
Clearly, there was a ton of wheeling and dealing during that following week with legendary Sen. Terry Carpenter of Scottsbluff, sponsor of the bill, working his legislative skills.
They included bartering, compromise, persuasion and vote-trading -- along with threats and terror. 
Carpenter was the master legislator, the guy who could build package deals and get big things done. Or occasionally create legislative chaos just for fun. 
UNO has developed into a growing urban university with more than 15,000 students and an increasingly attractive and inviting campus, emerging from the declining and underfunded municipal University of Omaha on Dodge Street.
Five decades later, UNO has spread its wings far beyond the constraints that had been part of the legislative deal at the beginning of its birth: no doctoral programs, no on-campus dormitories. This would be a commuter urban campus in contrast to the University of Nebraska-Lincoln.
What has developed might have been predictable, but it's a big change for the university, for UNO and Omaha, and for UNL. And more change is either churning or underway today. 
Looking back at the legislative record, it's remarkable to see how much a single vote mattered.  
Peter Edelman, professor at Georgetown University Law Center, anti-poverty attorney, scholar and author, was in Lincoln last week to help promote his new book about the criminalization of poverty in America.
Edelman argues it's "not a crime to be poor."
Issues discussed in the book include the impact of money bail and the criminalization of child support debt, public benefits, education and homelessness.
Legal Aid sponsored a luncheon event in Omaha and ACLU of Nebraska co-sponsored a book talk at Francie & Finch Bookshop in Lincoln. 
"School children, poor women, victims of domestic violence, the homeless, disabled veterans, public benefit users and so many others find their lives turned upside down through over-criminalization, jail sentences and increasing 'debts to society,'" the book talk promotion stated.
"In one of the richest countries on Earth, for far too many it has become a crime to be poor."
Finishing up
* Standing Bear's entry into the U.S. Capitol this week is a very big deal. His statue will be formally welcomed into Statuary Hall on Wednesday with the major elected leaders of both the Senate and the House from both political parties on hand to honor him.  
* Sloppy language from me last week: Military aircraft already are flying over Lincoln, both from the 155th Air Refueling Wing at the Lincoln Air National Guard Base along with some that are assigned to the 55th Wing at Offutt Air Force Base. There'll be many more when runway construction at Offutt begins. 
* John Bercow, the colorful Speaker of the British House of Commons, actually said this last week: "Up with this we cannot put."
* Alarm bells are ringing: The decline of foreign students at UNL is a financial, educational and cultural blow and not likely to change when foreign visitors may have reason to feel that they no longer are welcome in the United States. 
* A glance at the rich and valuable cultural mix at UNL comes with this look at summer graduates contained in Regent Tim Clare's most recent newsletter: Those students hailed from 35 countries, 38 states and 85 Nebraska communities. 
* Trouble in the neighborhood, but quickly resolved. Cultiva, nestled along 11th Street, serves coffee to the mayor, state senators, doctors, lawyers, gubernatorial and legislative staff members and students throughout the week; its weekend breakfast crowd is a composite slice of a richly diverse and textured neighborhood, little kids included. Johnny-Cakes, please, with sliced bananas on top.  
* Dustin Sedoris has withdrawn from the 2nd District Democratic congressional race, handing his endorsement to Kara Eastman, the 2018 Democratic nominee. 
* Frank Solich and his Ohio Bobcats don't have a game on Sept. 28 when the Huskers host Ohio State in Lincoln. Just saying.  
Don Walton, a Husker and Yankee fan, is a longtime Journal Star political and government reporter.
Catch the latest in Opinion
Get opinion pieces, letters and editorials sent directly to your inbox weekly!