I still remember Oct. 18, 2016, very well.
That afternoon, I stood inside an airport hangar in a small western Colorado community and watched as then-Republican presidential candidate Donald J. Trump spoke to a large audience about how he was going to "drain the swamp" if elected, "Crooked Hillary" and his dislike for the fake news media.
While speaking about the latter and calling journalists all sorts of things, I witnessed a man in the crowd attempt to jump the fence blocking the media from the general audience. Law enforcement apprehended him and he was escorted away to boos from his peers.
Trump's rally had me a bit nervous, mostly because after weeks of persistence, that morning I had been invited by his staff to interview him on his plane after the rally was finished. At the time, I was the managing editor of a news media company in Colorado.
"How is this going to go?" I asked myself, suddenly starting to think of Trump's anti-journalist talk during this rally and on television.
Fortunately, I didn't have much time to think about it. Not long after that one man was taken into police custody, a phone call came into my cell from a restricted number.
"Is this Matt Lindberg?" the voice asked.
Suddenly, I was tapped on the shoulder by a tall man in a black suit, black sunglasses and with an earpiece – he looked like he was from "Men In Black."
My photographer and I followed the man outside the back entrance of the hangar, where we were told to wait. Within a few minutes, we were escorted to the base of a row of steps that went directly onto Trump's personal plane. As the rally ended, we were patted down and told we would board the plane and wait for Trump's pending arrival.
Once inside, I was a bit taken aback. The plane was, to say the least, immaculate. It was draped in the color gold from practically head to toe, with the exception being the light tan luxury seats and couches, as well as the brown tables. There were televisions throughout it.
After about 10 minutes of waiting, I was called to the front area of the plane where Trump was sitting. President Trump is a very polarizing figure to this day. Most people either love or hate him, no in between. He's known for being outspoken, passionate or bombastic, depending on whom you ask.
Admittedly, I had my preconceived notion as to who I was going to be talking with based on what I had read and seen on television and during the rally that had just ended. But Trump was strikingly different once on the plane and we were sitting a few inches across from one another.
He asked about my family and quickly invited my father to come aboard (he wasn't there, to Trump's surprise). He was composed and offered thoughtful responses to questions asked, gathering his words carefully before speaking.
People often ask me how I feel about President Trump. I can't say I agree or disagree with everything he has said and done since taking office. Factoring into my opinion on him is the lone interaction I had with him, which I would say was very positive. He was kind, respectful, soft-spoken – which comes as a surprise to many people when they hear the story.
What's unfortunate is how divided the country is today on many levels, which isn't on any one person. But people get hostile, even, childish, more so than ever when it comes to just about everything – particularly politics.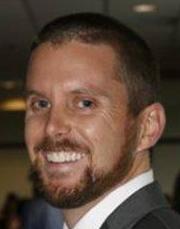 The Telegram on a weekly basis prints a column by Republican strategist and son of former President Ronald Reagan, Michael Reagan. He's had headlines like "Trump versus the crazies" and written some strong-worded pieces criticizing Democrats. We also often print other Republican writers and a variety of cartoons that poke fun at the Left, understanding our audience's preferences.
But there are Democrats and people of other political parties who live here, so we do print cartoons and writers who share a different point of view. We recently printed one titled "Trump's ego is keeping the government shutdown" by Graham West, and some of the reactions on our Facebook page were downright nasty.
People were calling each other obscenities, criticizing The Telegram by claiming we only print "Liberal views" and are writing "fake news." Some of the insults were getting so out of hand that we monitored posts all morning before taking it all down.
Here's the thing. We're OK being criticized, but it would have a lot more merit if the people making the comments could back up their claims with facts instead of insults, swears and nonsense. Much of the negative rhetoric can be proved wrong if one looks at our paper more than just the one day they criticize it.
Our opinion page is meant to reflect the many views and people in the community. Yes, Nebraska is dominantly red, but the community we live in is diverse. If it was solely one view, it wouldn't be an opinion page.
Also, views on our opinion page are not ours unless otherwise specifically marked – as 'Our view' editorials written by our editorial board.
I'm not a fan of President Trump's "fake news" attacks, but I'm glad he has since clarified it as the mainstream media and not just news one doesn't like. The term ultimately has done more harm than good because people have changed the meaning to the latter.
Support local journalism. It takes skill and time, it requires attentive listening to all kinds of people, sorting through mounds of data, early mornings, late nights and a handful of people who live in a community and report about what's happening under tight deadlines because they care about it. It doesn't come with grandiose rewards or a big fat paycheck – it certainly isn't easy as some claim it to be. Journalism is a critical component of democracy, so losing it could cause irreparable damage to our country.
When I get frustrated by President Trump's sometimes ridiculous Tweets and the onslaught of back-and-forth between him and INSERT A NAME, I tend to think about that day on his plane.
At the end of our roughly 25-minute conversation, we took a picture, shook hands and I began exiting. Trump told me he was disappointed my father wasn't there because he would have given him a tour of the plane.
"He would have loved my plane!"
Matt Lindberg is the managing editor of The Columbus Telegram. Reach him via email at matt.lindberg@lee.net.