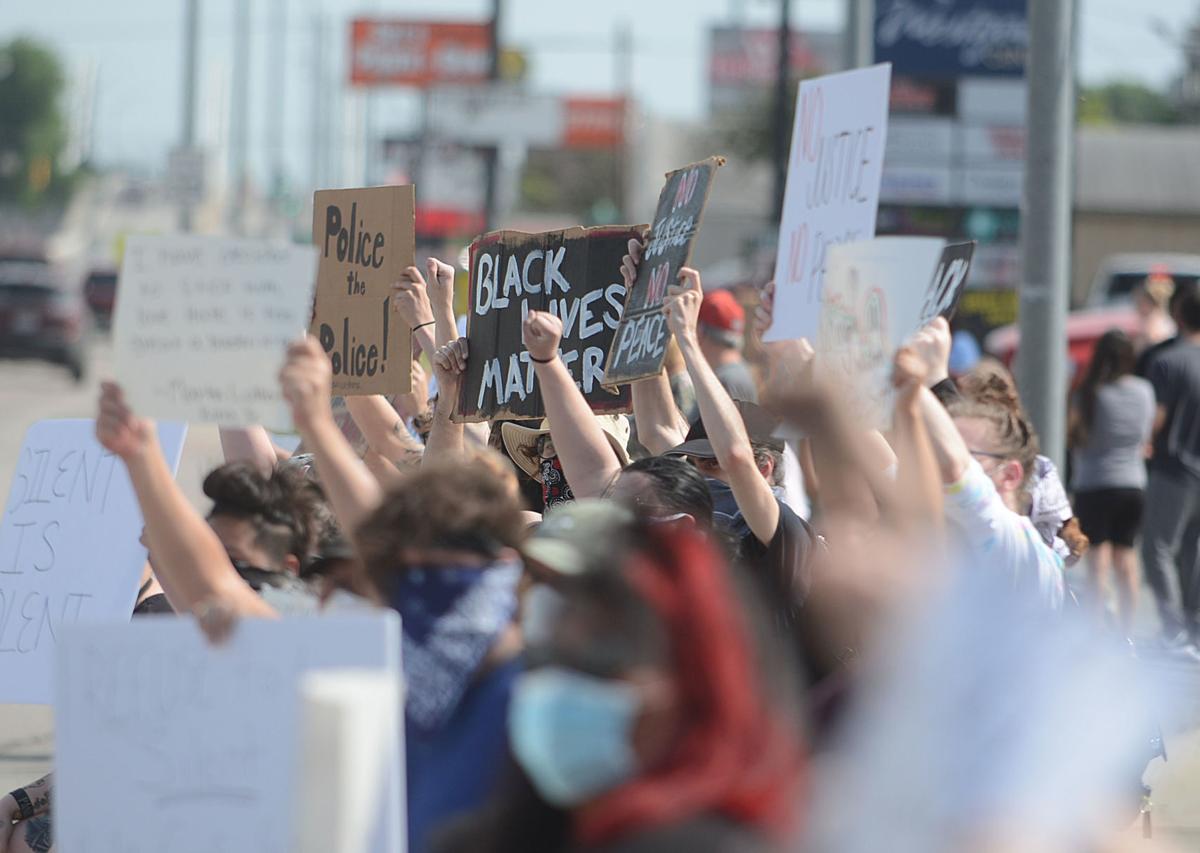 They say a picture is worth a thousand words, and the image on the front page of Wednesday's Telegram and the one featured on A3 in Thursday's edition certainly proved it.
Although simple, the photos told you everything you needed to know about Columbus. They showed Black Lives Matter protesters and area law enforcement officers (police, firefighters, etc.) standing together, some with masks on and others with big smiles on their faces. It was reported the Columbus Police Department also handed out water and pizza at the end of the rally to all those on hand.
Columbus brought a little hope to the world during turbulent times that have included the ongoing COVID-19 pandemic and issue with police brutality across the country. Protests have taken place throughout the U.S. following the death of black Minneapolis resident George Floyd, and some of them in places as near as Omaha and Lincoln have turned into violent riots.
There were rumors circulating on social media Tuesday that the local protest could bring visitors who had intent to turn the rally into violent chaos, which rightfully resulted in confusion and stress among residents. Fortunately, those rumors proved untrue.
There are some who question the intent of a local rally's purpose to begin with, as some local residents on social media said it would not bring about change properly or that "All Lives Matter." All lives do indeed matter; however, history shows there is a growing and disturbing pattern of unarmed black men being killed by police in this country. It may not be a problem in the Columbus area, where law enforcement and citizens have, for the most part, always had a great relationship built on trust and respect. Participants recognized and stated that, but it's equally their right to be able to have a peaceful protest to raise awareness just as it is someone else's right to not participate or to hang a Trump 2020 banner on their house or on their car bumper.
Unfortunately, there are looters out there who have ransacked, plundered, marauded – whatever word you want to use – cities and communities for selfish and immature reasons, using Black Lives Matter as a cover for their stupidity. Those people should be ashamed as they only take away from the actual issue.
Columbus participants should be applauded for how they handled themselves. They weren't getting up in the faces of officers, yelling obscenities or being destructive. They respectfully chanted "I Can't Breathe" and held up their signs without wreaking havoc.
Let's also praise our local police department and area law enforcement for their efforts. They showed up to the rally to prevent possible danger and keep people safe, not look for trouble. Their intent was clear as they already had bottled water and pizza on hand to share with participants after the rally ended.
At the end of the day, those photos should remind us that we're all people, and while there are some bad apples in every profession and of every color, a group of bad apples shouldn't define everybody else.
Columbus is a shining example of what good local law enforcement and a community should look like. Let's be thankful for what we have here in rural Nebraska – little old Columbus – but let's also not forget how lucky we are to have them and stop pointing the finger at folks who want to raise awareness for those less fortunate.
George Floyd and countless others deserved better.
This is America, and Columbus provided some much-needed hope for it.
Catch the latest in Opinion
Get opinion pieces, letters and editorials sent directly to your inbox weekly!