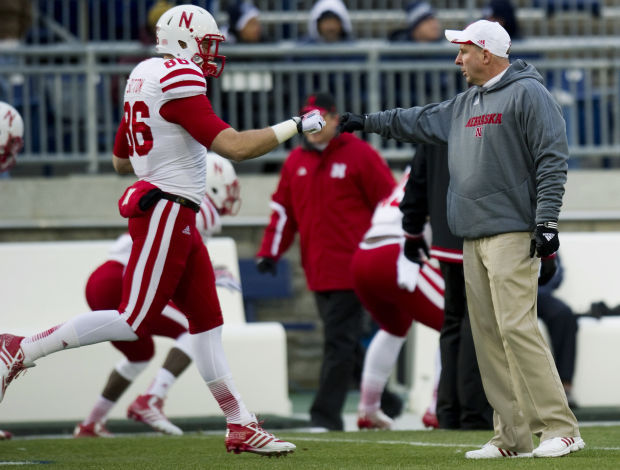 There's sure never a dull moment over at Memorial Stadium on any given gameday.
Nebraska came into the game with some momentum after going on the road a week ago and beating a physical Penn State team. This week, another physical run-oriented team in Iowa was on the docket for the Huskers.
Glancing at the box score and the 38-17 final, it would appear as if Nebraska's defense got drubbed. However, upon further examination, the NU defense actually played pretty good. The Huskers held Iowa to just 281 total yards of offense. Bruising running back Mark Weisman rushed for just 72 yards with two scores on 24 carries -- a meager 3.0 yards per carry.
Nothing out of the ordinary -- turnovers, bad special teams and a decimated offense.
Ron Kellogg III threw two early interceptions, and Ameer Abdullah fumbled. Iowa downed a punt at the Nebraska 1-yard line, and Jordan Westerkamp called for a fair catch on another at the 3-yard line.
"Starting right away with those two early turnovers, we put our defense in a pretty bad spot," left tackle Jeremiah Sirles said. "You don't want to start a game like that. That's just been something that's happening to us. It's almost become who we are, and that really sucks."
In many ways, this Iowa game was a perfect microcosm for the entire 2013 Husker season.
Early struggles with turnovers and field position plagued NU Friday, much like the way the Huskers stumbled out of the gate to begin the year and have been plagued by turnover woes all season.
Then Nebraska responded at the end of the first half and beginning of the second with 10 straight points, cutting the Iowa lead to four. Kind of reminiscent of when NU looked to find its stride with dominant wins over Illinois and Purdue in October.
After Abdullah found the end zone early in the third quarter, again cutting the Iowa lead to just four, Nebraska self-destructed with back-to-back penalties. The first flag, a very suspect pass interference call on Zaire Anderson down the sideline on third down, caused Bo Pelini to erupt on the sideline and draw an unsportsmanlike conduct penalty for nearly hitting the official with his hat during his tirade.
Reminds me of the suspicious release of the profanity-laden Pelini audio tape right after the UCLA loss.
Then came the injuries. Throughout the season, Nebraska has lost its senior starter at quarterback, an All-American offensive linemen along with four other starters along that line, its top tight end and its top slot receiver.
And that's just on the offensive side of the ball.
Against Iowa, the injury bug struck again. Abdullah went down not once, but twice. Avery Moss, Taariq Allen, Sirles and Kellogg III all went down as well.
"It's been incredible what we've gone through," Pelini said. "I told those kids in there who were hurting, 'You don't have to apologize to anybody. You've got to walk out there with your head held high.'"
This Nebraska football team appears to be in neutral, if not in reverse after Friday's display.
But it's about more than winning. Right?
It seems that first-year Athletic Director Shawn Eichorst would agree, as he released a statement in support of Pelini Saturday morning. It's his policy to not comment on coaches until after the season when they can fully be evaluated, leading to widespread speculation on Pelini's job status.
No shooting from the hip -- I like that.
Plus, firing Pelini would have put Nebraska on a slippery slope. Prospective replacements would be hesitant to go to work for an AD that fires a coach after winning at least nine games every year. And yes, Pelini still has a chance to get win No. 9.
Despite not getting over the hump and winning a conference championship, BCS bowl or a national championship in his six seasons, Pelini has done much more good than bad for this program.
He runs a tight ship, and players don't regularly make headlines for the wrong reasons. Players graduate at one of the highest rates in the country.
Pelini has his players' backs, and they most certainly have his. Team chemistry that's that tight can be a dangerous thing to mess with when deciding whether Pelini should stay or should go. With as much young talent is on this team, especially in the defensive front seven, a major change at the top could cause a major setback.
"He's a guy that will go in the ring and fight 12 rounds for you and give it his all," freshman linebacker Michael Rose said of Pelini. "He's been a guy that's helped so many of these guys get out of situations coming from home. He's been a father figure to a lot of guys who don't have a father figure in their lives."
Now for the thoughts of a fifth-year senior.
"I've spent five years with this guy, and he's made me the best man that I could possibly be," Sirles said. "I'm the best man possible because of that man upstairs and what he's done for this program. I hope he returns because I hope that in 10 years I can bring my wife or my girlfriend and I can say, 'This is Coach Bo. This is who made me who I am.'"
And how about a fan-favorite who likes to tell it how it is?
"Bo Pelini is a father figure to me. He's literally changed my life," wide receiver Kenny Bell said. "I would play for Bo Pelini against Satan himself and a team of demons at the gates of the underworld. I love Coach Pelini, and I can say that with confidence for everybody in that locker room, every guy that's played for him. People don't appreciate how much more this game is to the guys that do it every day. Yeah, it's a fun thing to play on Saturdays, but it's a livelihood for us. It's what we do.
"It's fun at times, but on days like this you really have to rally around each other and look at what really matters. Coach Pelini and this staff have changed the culture of the men around this place. You can see it in everything that we do."
For many Husker fans, that says it all.
For Pelini, he's confident in the job he's done at Nebraska. He may not have the win-loss total fans have desired, but he makes up for it with how he's handled his job of molding boys into men.
"If they want to fire me, go ahead. I believe in what I've done," Pelini said after his team's loss to Iowa. "I don't apologize for what I've done. I don't apologize for anybody, myself or this staff. Our record since I've been here speaks for itself. This program's heading in a good direction. If you choose not to think so, that's your prerogative. All I know is that myself, the staff, the people associated with this program since I've been here can look at themselves in the mirror and feel good about what they've done."
Dylan Guenther is the sports editor for The Columbus Telegram. Contact him at dguenther@columbustelegram.com with questions, comments and story ideas. Or follow the Telegram Sports Staff on Twitter at CTelegramSports.
Be the first to know
Get local news delivered to your inbox!