When the original Keystone pipeline cut through the extreme northeast corner of Platte County and down the length of Colfax and Butler counties in 2009-10, it stirred few complaints from property owners along the route.
Area officials said last week they expect a similar reaction following the Nebraska Public Service Commission's narrow 3-2 vote to approve TransCanada's "mainline alternative" route for the proposed Keystone XL pipeline, shifting the project east to run parallel to the original pipeline.
"I had no complaints," said Mark Arps, who saw how TransCanada treated property owners from a personal standpoint and worked with the Canadian company on the job as Colfax County's highway superintendent.
Arps' wife's family owned agricultural ground along the pipeline path near Bellwood and he worked with TransCanada as construction proceeded.
"They treated (my wife's family) real nice, doing exactly what they said they would do," Arps said. "They kept their promises."
The highway superintendent said TransCanada tore up county roads as the pipeline was going in the ground, but the company brought in its own certified grader operators to rebuild and gravel local roads.
The pipeline infrastructure also added to property tax payments going into local coffers, Arps said.
Last week's decision by the state commission rejects TransCanada's preferred route for the Keystone XL stretching across the outskirts of several area communities to the west of Columbus, including Albion, St. Edward, Genoa, Fullerton, Silver Creek and Stromsburg.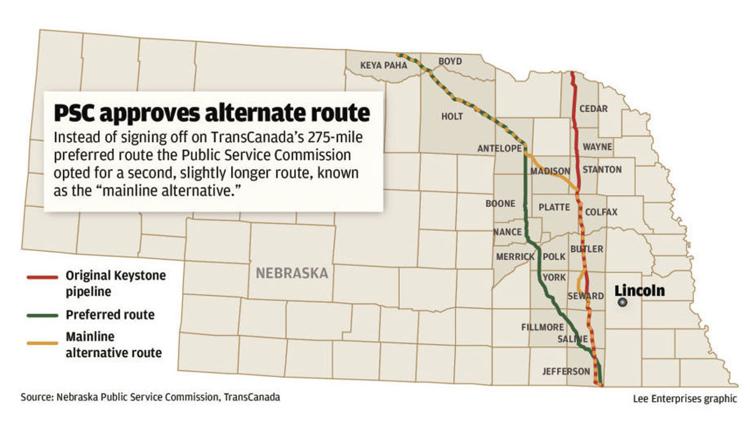 The Lincoln Journal Star reported that TransCanada didn't immediately say whether it will pursue Keystone XL construction along the alternate route through Platte, Colfax and Butler counties.
"As a result of today's decision, we will conduct a careful review of the Public Service Commission's ruling while assessing how the decision would impact the cost and schedule of the project," Russ Girling, the company's president and CEO, said in a Nov. 20 statement.
The alternative route would impact about 40 new landowners, mostly in Madison County, who aren't along the preferred route and don't have the original Keystone pipeline cutting through their land already, according to the Journal Star.
The alternative route to the north and east of Columbus would impact only a couple of landowners in Platte County, according to County Assessor Tom Placzek.
With the original pipeline, the assessor said, TransCanada did a "good job" of addressing any ag-related issues, such as the threat of environmental damage as a result of pipeline leaks.
"There were no complaints from what I heard," Placzek said. "They didn't impede things (crossing fields during construction) any longer than they had to and farmers were able to plant their fields."
Colfax County Commissioner Gil Wigington said the county has had pipelines running through it for years and complaints were few and far between when the original Keystone began shipping crude oil from Alberta, Canada, to Steele City in southern Nebraska.
"I hope it gets built," Wigington said of the Keystone XL.